TOURISM TODAY: Miami Heat Dancers will "shake it up" to Bahamian song at Heat games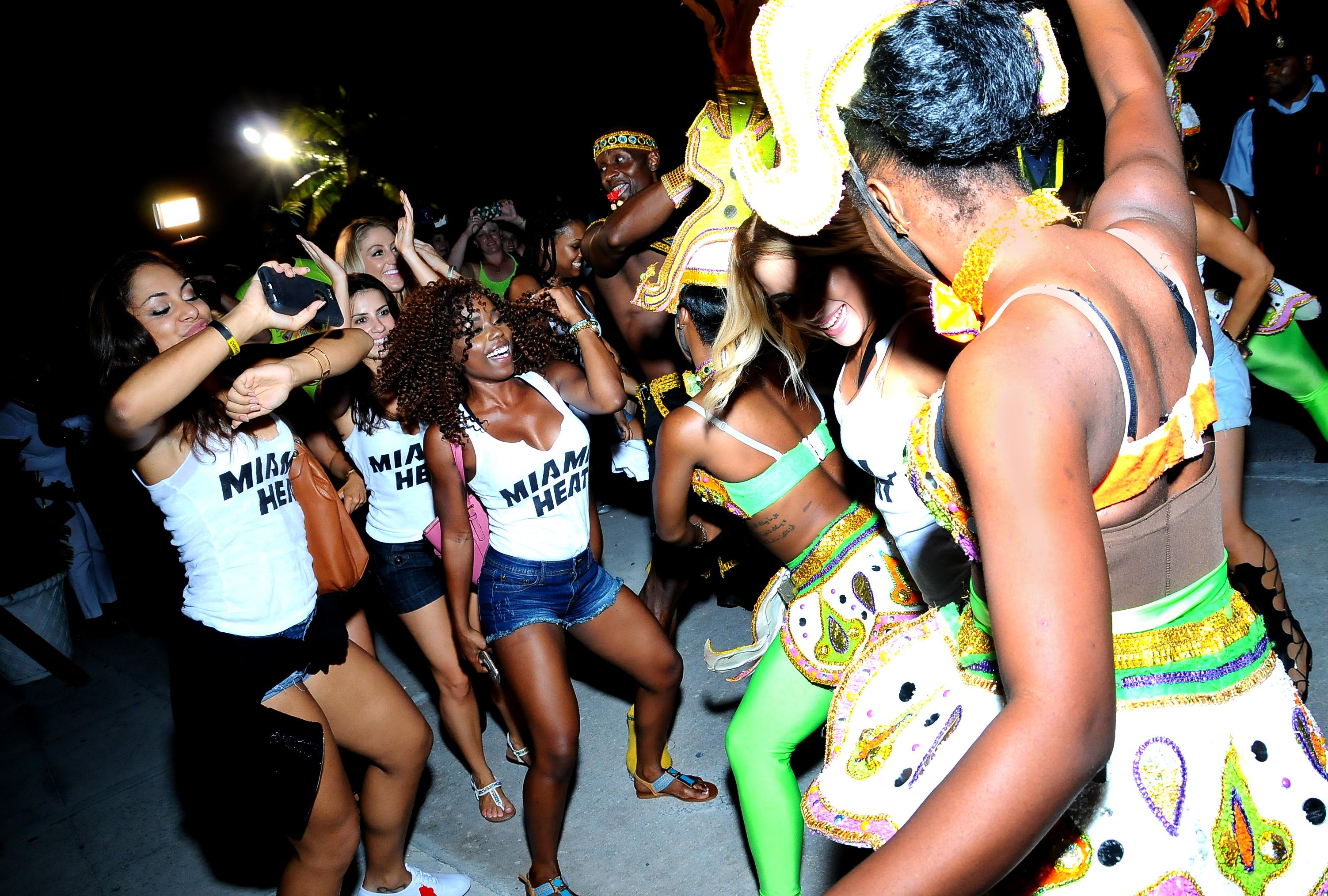 Stevie S' 'Hold your Head' To Headline Promotional Video
He's used to 'shaking it up' in The Bahamas, but now Bahamian Superstar musician Stevie S' famous song will be played in the Miami Heat's American Airlines arena as part of an going partnership between the basketball team and the Bahamas Ministry of Tourism (BMOT).
Over the last several days, 25 Miami Heat dancers were in New Providence to experience all the island has to offer along while they participated in a photo shoot.
On Saturday, September 19, the Ministry of Tourism hosted the beauties to a special dinner at Frankie Gone Bananas at Arawak Cay.
That dinner included a fiery performance with limbo man Action Jackson, a special dance lesson from Stevie S and a vibrant Junkanoo rush-out.
Stevie S said the opportunity for his song to be played at the arena during any Miami Heat's home games was an "extraordinary opportunity." 
"It feels good to be international and any opportunity to be international makes me feel good," he said.
Clara Stroude-Vazquez, marketing manager of the Miami Heat, said it was important for the women to visit The Bahamas.
"It is very important for us to interact with our partners and since The Bahamas Ministry of Tourism is a partner it is important for us to use our talent – the Miami Heat dancers – to do things that are going to promote the Islands of The Bahamas to the world," she said.
"I love it here. The people are so warm, friendly and inviting and so it was easy to come here and shoot a poster here because everyone here is so nice. It was easy to interact with everyone and get what we needed to get done."
The women also had a chance to do some playing.
The dancers had a Dolphin Encounter experience at Blue Lagoon Island, visited Barabbas' Junkanoo Museum and visited Stuart Cove for a Scuba experience.
Bianka, one of the dancers has been to The Bahamas a number of times, but said this time was special.
"I've had the most incredible time. The weather is beautiful and the water is crystal clear. We got to experience Junkanoo, try on costumes and learn about the culture and it is such a beautiful culture," she said.
"It's been such a great opportunity to travel with my team. But I love coming here for vacation. It's beautiful, so relaxing with beautiful people and great food." 
Another dancer, Carin, said there was no better way to visit The Bahamas than with the Miami Heat.
"We definitely did a lot of work but we also did a lot of play.  It's great to be in The Bahamas. Everyone is so hospitable and it's a great country."
Over the last few weeks, Miami Heat's All-Star small pointer Luol Deng has been doing pre-season training at Atlantis Paradise Island.
 That training will end on September 25.
BMOT has a five-year partnership with the Miami Heat that began in 2013.
 Next month, The Ministry of Tourism will host a number of the Miami Heat's major corporate partners to further promote the Islands of The Bahamas.