The Island House Brings New Offering To New Providence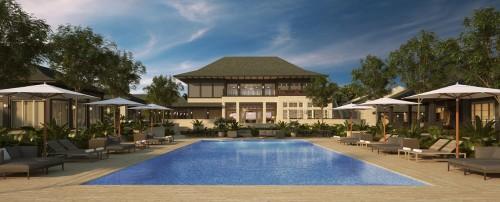 There's a new hotel on the block in New Providence and it's already getting lots of local and international attention. Just over a month ago, the multi-million dollar boutique hotel The Island House opened in southwest New Providence just a stone's throw away from the luxury Albany Resort. The Island House is a luxurious extension of Mahogany House- a popular restaurant among locals and international visitors. The new hotel features 30 rooms, a spa, a 25-metre lap pool, two squash courts, a movement studio, a tennis court, gym, movie theatre and three restaurants.
Social Coordinator Keisha Taylor said she believes The Island House is a different offering from any other hotel in New Providence. "What's different about The Island House is that it is small and intimate. It is a boutique hotel but it still has the luxury side of it and it still has all the amenities of a resort. So it is not just a bed and breakfast. While you are staying here it can just be you and your group but you still have a lot to do," she said.
Ms. Taylor added that there is a lot of international buzz about the new hotel. "It is the new place to be. It is the new place to visit and we are getting a lot of large groups that are coming and they can all stay here. Internationally, we are getting a lot of comparisons to other five-star hotels. The Bahamas now has something new to come to on the western end," she said. "We've had a lot of European visitors who have loved the hotel as well as American and Canadian visitors. We are getting a lot of corporate visitors because we are not a beach property. We've been opened for five weeks and we have been pretty full. We were booked prior to opening." The Island House is opened to the international and Bahamian public. Ms. Taylor says the hotel is also looking to support Bahamian businesses. "This is definitely a place where artists can showcase their work. We have 10-featured Bahamian artists and their work has been showcased throughout the entire property. That has been very important to the owners and that this is a Bahamian offering," she said.