Road Fever Success for Bahamas Junkanoo Carnival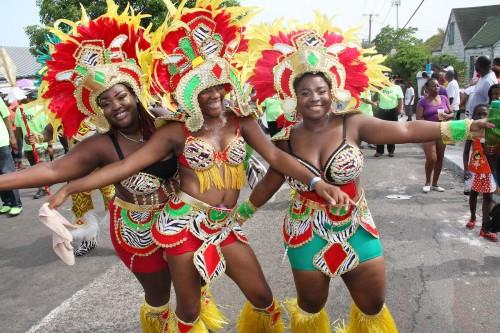 The Bahamas National Festival Commission along with the Bahamas Carnival Band Owners Association (BCBOA) ended the Bahamas Junkanoo Carnival 2015 season with a successful Road Fever event, as Bahamians made a 'nick of time' dash for costumes for the street parade. 
Roscoe Dames, CEO of the BNFC, said participation in Road Fever was a clear demonstration of Bahamians celebrating life in a free, non-violent manner. "It was an enthusiastic event filled with fun-loving participants without incident," said Dames. "This speaks volumes that our community is filled with people who want to be free in expression but at the same time be respectful to one another and not be offensive." President of the BCBOA Dario Terrelli said the Road Fever event was well received by the Bahamian people and visitors alike. "Bahamians showed up for Road Fever in significant amounts and we feel good about this first time around," he said. "Everyone had a great time on the road and people are already talking about doing it again next year." Terrelli said he met many Bahamians living abroad who returned home for the event as well as visitors from the Caribbean, Bermuda, Miami, New York and England. He said there was a spike in demand for costumes as party revelers made a mad dash to purchase costumes at the last minute to heat up the streets. Most carnival companies were busy catering to the hundreds of last minute requests received in the 72 hours leading up to Road Fever.  
"People were standing outside of our doors and the calls were coming in," he added. "I've spoken to a number of bands and the sentiments were the same, there has been an increase in demand for costumes." Floridian Cece Campbell traveled to Nassau for Bahamas Junkanoo Carnival via a Carnival Cruise ship that was docked for one day.  She traveled to the island with a group of family members whose roots stem from Cat Island.  Campbell said they were already thinking of planning their trip around Road Fever next year in anticipation of staying longer to participate in the event.  
"We loved the Junkanoo Carnival and we can't wait to be a part of it next year," she said. Road Fever started at the Thomas A. Robinson National Stadium (Bahamas Games Roundabout), traveled northwest along Sports Centre Road. At the roundabout it turned right onto the street formally known as Bethel Avenue; continued north to the six legged roundabout. It then turned east onto Thompson Boulevard and continue onto Nassau Street. Lastly, the parade turned left onto West Bay Street and onto The Western Esplanade and continued west through to "Da Cultural Village" and ended at the West Bay Street exit.