Cinemax HBO Latin America Films Bahamas Junkanoo Carnival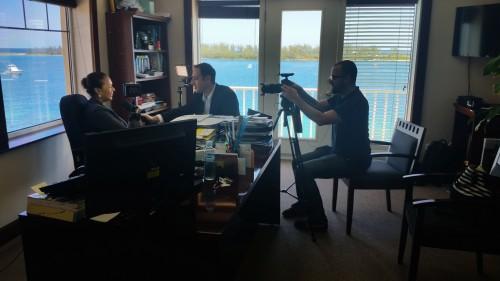 Film To Attract Potential Tourists
Bahamas Junkanoo Carnival continues to get a lot of media attention, especially from Cinemax HBO Latin America.The company filmed a short documentary on Bahamas Junkanoo Carnival and interviewed Joy Jibrilu, director general of The Bahamas Ministry of Tourism.
Cinemax HBO Latin America provides unique and recognized HBO content with the best movies and series from major Hollywood studios.  
The network has an 82 per cent reach with 40 million households and 140 million viewers in the region. In just a couple of weeks, the broadcaster will air an exclusive capsule named "On Site." This 60-second capsule will rotate across its most relevant day schedule, showing images of Carnival. The film will show Latin Americans that The Bahamas is more than beaches but also culture, fun, food, music and great people. The Bahamas' closeness to Latin America makes it a popular choice. American Airlines and Copa Airlines are the main airlines connecting The Bahamas to Latin America, accounting for almost 90 per cent of total air traffic. Bahamasair and JetBlue follow them respectively. In the case of Panama, which is only a two-hour non-stop flight on Copa Airlines, The Bahamas is considered an easy and convenient get away. The economies of Latin American countries continue to show a trend of economic growth and The Bahamas has tailored its promotional strategy to target these markets more effectively. International travel among Latin Americans is growing, as more people have ready access to disposable income for travel. Though many remain price conscious, The Bahamas offers a range of options in accommodations and many discounts in the off-season to appeal to this growing market. There's no visa requirement for Latin Americans to travel to The Bahamas.