The World Comes To The Bahamas For IAAF 2015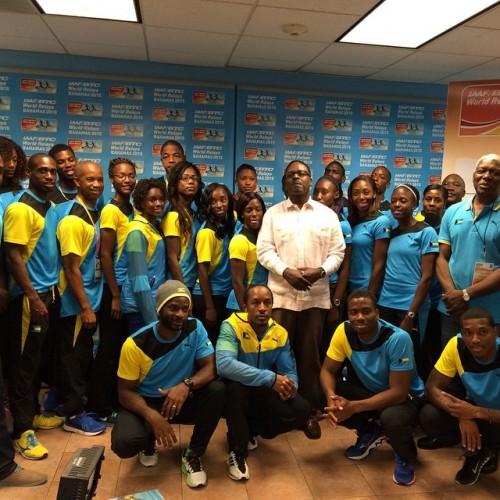 Over 800 athletes and more than 100 journalists from around the world are in The Bahamas this week for the BTC IAAF World Relays – one of the most highly anticipated track and field events of the year.
The buzz about The Bahamas has strongly hit social media with live posts on Twitter, Instagram and Facebook. "People have been tweeting about coming to The Bahamas and when they arrive they are Instagram saying that they are in The Bahamas," says Bahamian Olympian Ramon Miller. "Everyone is staying at Atlantis and it is one of the biggest showcase resorts around the world and they get a chance to do some activities and so it is always a major plus." Olympian Chris Brown, who is the team captain for Team Bahamas, said sports tourism is becoming an essential part of the country's number one industry. "I think sports tourism has given The Bahamas more exposure than it has had before. I think it also helps with the development of future athletes and it's a great idea and I hope that it can be bigger and better in the future," he said.
  Minister of Youth, Sports and Culture Dr. Daniel Johnson said The Bahamas is looking to host the IAAF for many years to come. "We are bidding to see if we can make The Bahamas the home of the IAAF World Relays. We are a small group of people capable of great things. And when you examine it, you will see that we hardly ever do it alone," he said. The tickets for IAAF are sold out as thousands of people are expected to head to the Thomas A. Robinson National Stadium in New Providence to cheer on their respective nationalities. Dr. Johnson said the Bahamian team will also have a great amount of support. "You will have every person, fish, bird and dog pulling for you and running with you. The most medals we have is in relays and that tells you what we do as a country," he said. "Team Bahamas is not just the athletes on the field. It is the taxi drivers. It is that our streets should be absolutely spotless. It is the people serving food, making beds. It is every single person- the lights, water, beaches – every single thing that makes up this country is a part of that team." Gates open at 3:00 p.m. on Saturday, May 2 and the opening ceremonies begin at 7:00 p.m. Bahamians are encouraged to wear aqua on Saturday and yellow on Sunday to support Team Bahamas.