Owyn Ferguson Is The New Jr. Minister Of Tourism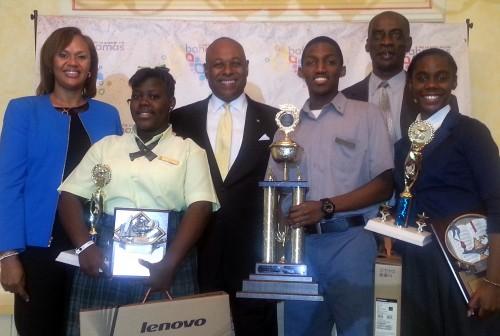 After beating out 14 youth tourism ambassadors from around The Bahamas, Owyn Ferguson of St. Anne's School has been named the new junior minister of tourism. Ferguson like other senior students participated in the Junior Minister of Tourism Speech Competition held at Superclub Breezes recently. Finishing second was Latess Bartlett of Mary Star the Sea Catholic School in Grand Bahama and third place went to Michel Anderson of Acklins Central High School, Acklins.  
Competitors delivered three to five-minute speeches on the topic "Tourism: Remaining Competitive in a Global Environment." They also answered a "mystery question". Ferguson succeeds Taliah Cooper from Preston H. Albury High School, Eleuthera, who was the first Family Islander to win the prestigious title. The new junior minister of tourism, won a Patrick S. Bain Scholarship redeemable at the College of The Bahamas, a laptop, a $500 cash prize, an all expense paid trip to Caribbean Tourism Organization's Youth Conference and his school also won a $500 cash prize and a floating trophy. Ferguson is also expected to produce a platform he will work on during his one-year tenure. To do this, he will have to collaborate with the other youth representatives of tourism around The Bahamas. Overwhelmed with emotion, Ferguson said he was excited to take on his new responsibilities. "It's a great accomplishment. It is definitely an honour to be in such a prestigious seat. It was an honour to compete with my peers from the other islands," he said. "I want to encourage others to use their talents to better the country and attract those from other countries. I look forward to hand over the title next year so that they can experience this pleasure of being junior minister. I am looking forward to meeting new people; that should be wonderful." Coordinator of the Junior Minister of Tourism Programme Samantha Cartwright said the competition has improved from year to year. "When we started out, some of the competitors from the southern islands were so shy and reserved and now we see that they are competing against some of the larger islands of The Bahamas and making the finalists. So I am excited to see that they are showing us what we already knew – that they are among the brightest and the best. I look forward to seeing what this year will bring for our new candidate." Minister of Tourism Obie Wilchcombe said he was proud of the high level of presentations. "We all come from different islands but we are all one people and we see the outstanding quality that we have from Grand Bahama to Inagua. All of you presented so well today and you spoke of your country. You are here talking about your future and you are inviting yourself to be involved. In fact you are here as ambassadors because once you leave this room, you are someone else because you represent your island and you must now set an example," he said. "All of you are going to be a part of the Tourism Cadet programme because we are not going to allow you not to serve more in your communities. We want to see more young people become involved – more young people talking about the issues that affect this country and issues that affect the world. You have much to offer this country and we are going to make great use of it. Director General of Tourism Joy Jibrilu said the students awed her. "These are 16 and 17-year-olds and they spoke with passion, zeal, zest, confidence and fluidity that many adults in our community and in our country are unable to speak with. They answered a question that they had never seen before. The skill that it takes to do that, I'm left with a feeling not only that tourism but the future of our country is in great stead as demonstrated by these young people here today." Ms. Jibrilu said she was also impressed with the new junior minister. "To know that this young man will be representing us this year, he will truly represent that not only is it better in The Bahamas but that it is best in The Bahamas." In addition to the Ministry of Tourism, the Bahamas
Hotel and

Tourism Association (BHTA), Micronet, Lenovo and the Islands of The Bahamas Logo Store also sponsored the Junior Minister of Tourism programme.