Ministry Of Tourism Sponsors IAAF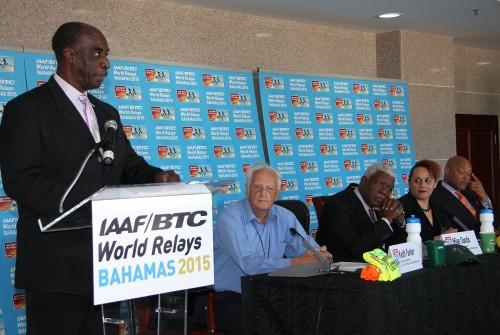 The Ministry of Tourism has become the public institution sponsor for the International Associations of Athletics Federation (IAAF)/BTC World Relays 2015 joining 12 others in one of the most anticipated track relay events in the world. The announcement was made at a press conference held just 30 days before the event. The event will be held May 2-3 at the Thomas A. Robinson Stadium. Permanent Secretary Harrison Thompson said the Ministry of Tourism, which represents the Islands of The Bahamas, is honoured to sponsor the event, particularly because The Bahamas is known to produce world-class athletes.
" The Ministry of Tourism was extremely excited when we found out that 47 countries and over 1,000 athletes and by extension others will travel to The Bahamas. We are hopeful that at the end of the day we will all make sure that The Bahamas is sold in the market as the best place in the world to be at any time of the year" he said. The permanent secretary noted that work has already begun in the United States to aggressively promote the event.  
  "If you travel to South Florida, you would see a number of billboards up already. Our team in the United States is working to reach the markets out there to ensure that we have representation throughout the world at the games. Working closely together with the Local Organizing Committee, we will ensure that the 2015 IAAF/BTC World Relays will be an outstanding and memorable sporting event for Bahamians and visitors alike" Mr. Harrison said. Also speaking at the press conference was Bahamas National Festival Commission CEO Roscoe Dames who noted that the IAAF, which is just a week before the inaugural Bahamas Junkanoo Carnival event, is important to The Bahamas. "The Bahamas National Festival Commission is privileged to be a proud supplier of the IAAF/BTC World Relays. This is an exciting global event that has become an important attraction for The Bahamas. These relays and the impact they have in uniting the country is exactly the kinds of events we want to get involved with and throw our full support behind," he said. Sponsors of the IAAF include Bahamas Telecommunications Company (BTC), the Ministry of Tourism, Bahamasair, Bahamas Waste, Commonwealth Brewery, National Sporting Authority, Bahamas Junkanoo Carnival, Milo, Mediterranean Shipping Company, Nassau Container Port, Broadcasting Corporation of The Bahamas, Coco Cola and Atlantic Medical.