Sporting Legends 'Pick Up' The Ball In Paradise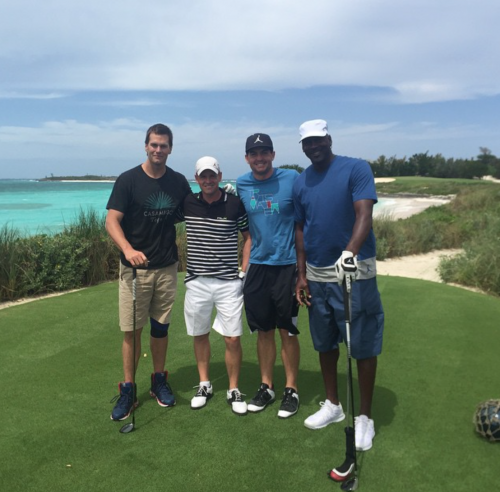 Thanks to two of the biggest legends in sporting history, The Bahamas has once again found itself on the receiving end of priceless publicity. 
While vacationing this weekend at the exclusive Bakers Bay Resort on Great Guana Cay in The Abacos, six-time NBA champion Michael Jordan was caught on candid camera playing a friendly pick-up basketball game alongside four-time NFL champion Tom Brady. The two 15-second videos filmed by vacationer and Instagram user @clairecroox10, went viral and have been featured by top notch sporting outlets including ESPN, Sports Illustrated and Golf Digest. The elated Jordan fan was at the right place at the right time.  
Professional golfers Keegan Bradley and Luke Donald were also on the court for the game and caught a bit of trash talking by the famed Chicago Bull player. "You guys don't have YouTube? Man you better put on Michael Jordan, for real," said Jordan, before sinking a basket. Well, Jordan got his wish as the viral video has been re-tweeted and shared by thousands across social networking platforms Twitter, Instagram, Facebook and Youtube. The professional athletes, Jordan, Brady, Bradley and Donald also took the sporting action off the court and onto the green where they were seen enjoying the more quiet sport, golf. Jordan definitely knows a thing or two about golf and The Bahamas. He famously hosted his annual celebrity golf invitation, Michael Jordan Celebrity Invitational Golf Tournament in the country for a period of nine years. If anyone knows, it's Michael Jordan, that it's simply 'Better In The Bahamas'.