Bahamas Tourism Teams Up With Legendary Nat Moore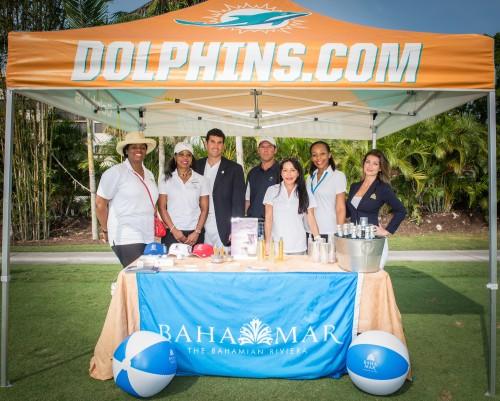 Miami, Florida (March 25, 2015) Hall of famers Bobby Bell, Richard Dent, Artis Gilmore, Bob Griese, Ted Hendricks, Moses Malone and Lawrence Taylor are just few of the more than 200 personalities, actors and community leaders who attended the 2015 Nat Moore Florida Golf Classic Celebrity Weekend recently held at the Seminole Hard Rock Hotel and Casino and the Trump National Doral Miami.
The Bahamas Ministry of Tourism also aligned itself with Nat Moore, a legendary sports icon, and former wide receiver and professional football player. The partnership included sponsorship alongside Baha Mar to participate in the three-day golf extravaganza. Moore, who has been visiting The Bahamas annually for the past four decades, played 13 seasons in the NFL and serves as an organizer with the Miami Dolphins. He is also one of the principal organizers of the Dan Marino and Miami Dolphins Alumni weekend getaways in The Bahamas. Proud of his partnership with the Islands of The Bahamas, Mr. Moore said, "This relation- ship is a continuation of a great synergy between my favorite tropical vacation locale, the Miami Dolphins and the storied history and tradition in our alumni".
Greg Rolle, Director of Sports for The Bahamas Ministry of Tourism said, "Moore's support, vigor and commitment to The Bahamas has been phenomenal. He has always moved rapidly and progressively on any opportunities to promote The Bahamas and its sports marketing initiatives." As a part of this partnership, the Islands of The Bahamas will be presented exclusively as the official vacation destination of the Nat Moore Foundation. Additionally, The Bahamas and Baha Mar Ltd. brands, along with all of its upcoming events, will prominently be displayed and presented during the weekend events. Proceeds from the 2015 Nat Moore Florida Golf Classic Celebrity Weekend will benefit the Nat Moore Foundation, which provides scholarships grants and programming to disadvantaged children and youth, ages 5 to 18 of South Florida.