Tropical Storm Kate Moves Toward Northwest Bahamas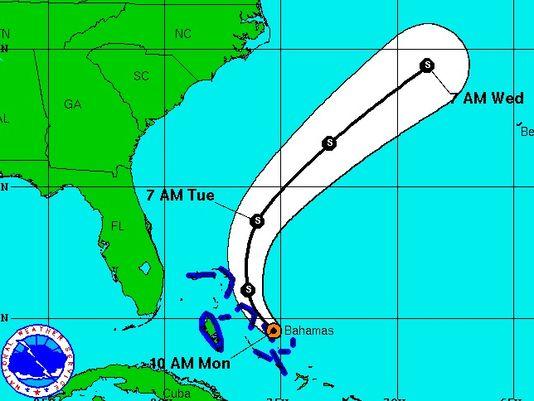 ALERT #6 ON TROPICAL STORM KATE ISSUED BY THE BAHAMAS DEPARTMENT OF METEOROLOGY MONDAY 9TH NOVEMBER 2015 AT 2:00PM.
 TROPICAL STORM KATE IS MAINTAINING ITS STRENGTH WHILE MOVING TOWARD THE NORTHWEST BAHAMAS.
 TROPICAL STORM WARNINGS REMAIN IN EFFECT FOR THE ISLANDS OF THE NORTHWEST AND CENTRAL BAHAMAS. THIS INCLUDES GRAND BAHAMA, ABACO, ANDROS, BIMINI, THE BERRY ISLANDS, NEW PROVIDENCE, ELEUTHERA, THE EXUMAS, CAT ISLAND, LONG ISLAND, RUM CAY AND SAN SALVADOR.
 A TROPICAL STORM WARNING MEANS THAT TROPICAL STORM CONDITIONS ARE AFFECTING OR COULD AFFECT THE MENTIONED ISLANDS WITHIN 12 HOURS.
 AT 1 PM THE CENTER OF TROPICAL STORM KATE WAS LOCATED NEAR LATITUDE 24.9 DEGREES NORTH AND LONGTITUDE 75.7 DEGREES WEST OR ABOUT 17 MILES NORTH-NORTHWEST OF ATHTUR'S TOWN CAT ISLAND, 25 MILES EAST OF ROCK SOUND ELEUTHERA, 115 MILES SOUTHEAST OF MARSH HARBOUR ABACO AND 89 MILES EAST OF NEW PROVIDENCE.
 TROPICAL STORM KATE IS MOVING TOWARD THE NORTHWEST NEAR 15 MILES PER HOUR. A TURN TOWARD THE NORTH IS EXPECTED TONIGHT FOLLOWED BY A TURN TOWARD THE NORTH-NORTHEAST ON TUESDAY. ON THE FORECAST TRACK THE CENTER OF KATE IS FORECAST TO PASS NEAR OR OVER ELEUTHERA THIS AFTERNOON AND OVER ABACO TONIGHT.
 MAXIMUM SUSTAINED WINDS REMAIN NEAR 45 MILES PER HOUR WITH HIGHER GUSTS. ADDITIONAL STRENGTHENING IS FORECAST DURING THE NEXT 48 HOURS.
 RESIDENTS IN THE WARNING AREA SHOULD READY THEMSELVES FOR TROPICAL STORM CONDITIONS AND POSSIBLE HEAVY RAINS WHICH COULD RESULT IN FLOODING IN LOW LYING AREAS.