Tourism Celebrates Tourism Week With Church Service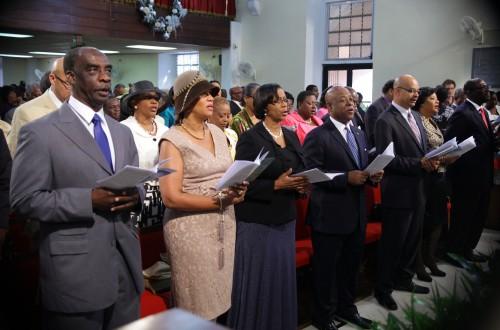 As part of this Golden Jubilee time, January 16 – 24, 2015 has been set aside as Tourism Awareness Week with activities beginning with a Church Service at Zion Baptist Church, Shirley Street. 
It continued with a Tourism Lecture Series and Exhibit at the Harry C. Moore Library at the College of the Bahamas; the "16 Weddings, 16 Islands, One Priceless Day" promotion event; Speakers Circuits throughout the nation; a Tourism Symposium which was addressed by the Perry Christie, Prime Minister of the Commonwealth of The Bahamas and Minister of Tourism the Hon Obie Wilchcombe; Tourism Long Service Awards Ceremony at Government House; and the 16th Cacique Awards honouring tourism's finest.
Members of staff of the Ministry of Tourism are pictured at the launch of the special week at the Zion Baptist Church Service on Sunday, January 18, 2015.  In front row are top executives, from left: Harrison Thompson, Permanent Secretary; Joy Jibrilu, Director General; Leslie Norville, Director of Human Resources; the Hon. Obie Wilchcombe, Minister of Tourism; Ellison "Tommy" Thompson, Deputy Director General; Carla Stuart, Sr. Director, National Planning & Special Markets; and Richard Sands, Financial Controller.