Stingray Feeding at Sandy Cay with West End Ecology Tours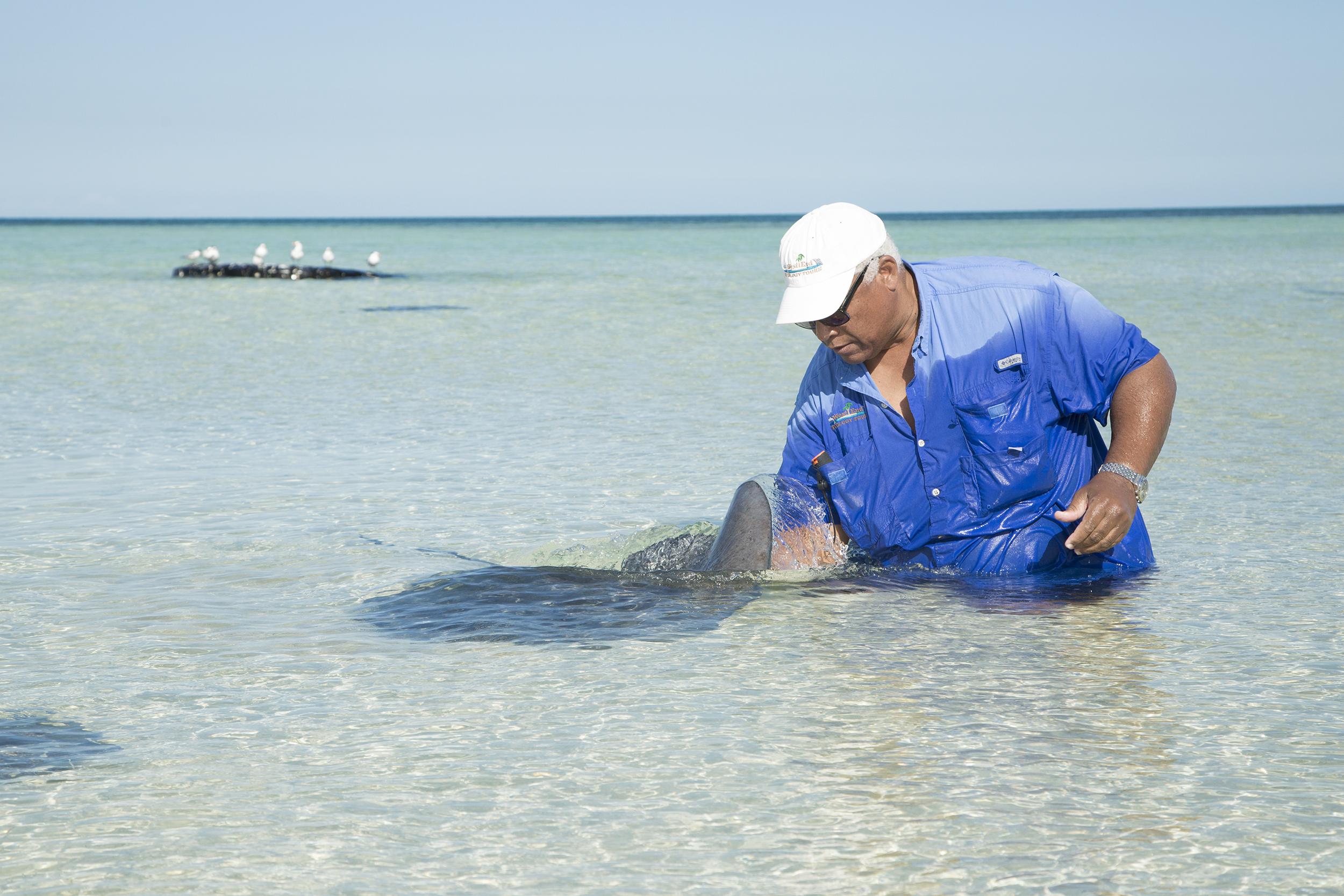 If you're thinking about experiencing an aquatic adventure like none other, then West End Ecology Tours' Stingray Feeding Experience is the perfect activity for you!
The tour is a new addition to the sustainable tourism product offering that is unique to Grand Bahama. It is operated by proprietors Keith and Linda Cooper who are residents of West End.
The four-hour experience begins at West End, with a 25-minute boat ride over to Sandy Cay, located just a few short miles off Grand Bahama's west coast.
This eco-lover's paradise is home to flocks of native birds, including Red-breasted Merganser, Double Crested Cormorants, Great Blue Herons and Brown Pelicans, along with a variety of sea life - the biggest stars of them all being the Stingrays.
The tour allows guests to hand feed the stingrays, which, unlike many persons presume, are harmless.
Keith takes his time with the guests to ensure that they are firstly educated on this species of fish which, he points out, are cousins to sharks, and then makes it his priority for guests to be as comfortable as possible, prior to the hand feeding experience.
Once guests are all warmed up, he shows each person, one by one, how to feed the stingrays, using smaller fish as bait.
The feeding experience is unlike any other.
Instead of throwing the food towards the stingrays, it is held between the fingers and placed underwater at the top of the sand, so as to lie in wait for the stingray, and then, just like that, the ray swims up and sucks the fish from between the feeder's fingers.
When asked how the tour came about, Keith explains, "About nine years ago, during stopovers to Sandy Cay, a few stingrays came very close to our boat after my wife Linda and I went fishing.  We soon discovered they were foraging for food".
He added that, "Once I realized that it was food they were after, I decided to snorkel with them. It was at that moment I realized that these animals are not aggressive and decided to engage in research about the behaviour and habits of these magnificent animals".
According to Keith, "We are proud to say that we have succeeded in bonding with a few of the rays and maintain a very careful balance of human interaction to allow the stingrays to continue their natural foraging and reproductive cycles".  
He added that "Our close encounters with marine and avian species encourage a respect for wildlife that we hope will provide memories for a lifetime".
Through their tours, Keith and Linda Cooper ensure that conservation and protection of all wildlife remain the key educational component.
The exhilarating adventure offered by West End Ecology Tours provides guests with a first-hand experience of the efforts that strengthen the destination's sustainable tourism product.
The tour is available for persons eight years and older.
For more information on the West End Ecology Tours, visit www.westendecologytours.com.