Back to top
STATEMENT BY THE HON. I. CHESTER COOPER M.P. DEPUTY PRIME MINISTER AND MINISTER OF TOURISM, INVESTMENTS & AVIATION SAUDI LOAN FOR TOURISM INCUBATION CENTERS EXECUTED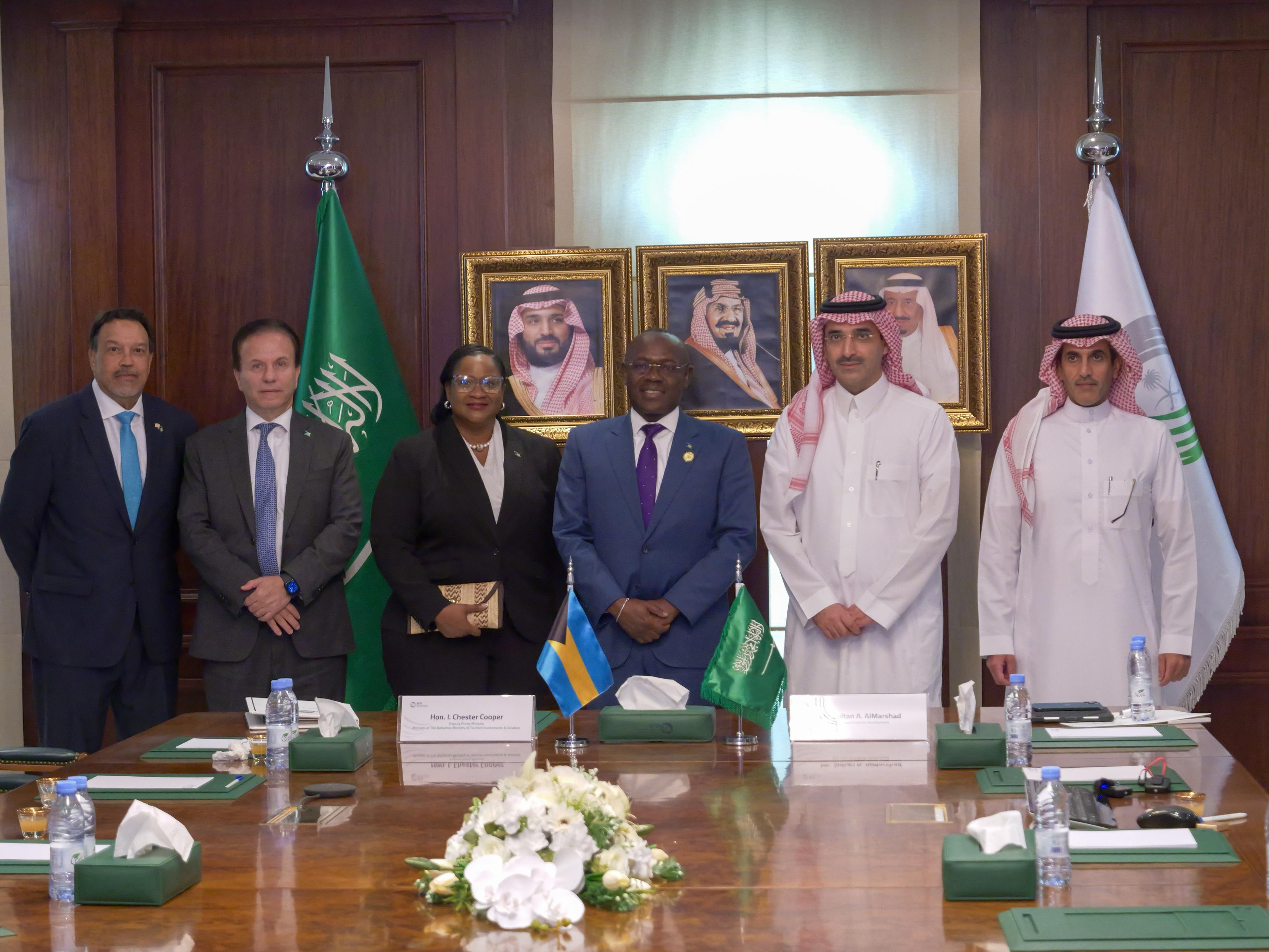 Photo caption: L to Right: Anthony Stuart, Senior Director, MOTIA; H.E Tony Joudi, Bahamas Ambassador to KSA & Qatar; Mrs Cecillia Cooper, DPM Cooper, Abdulrahman Al-Marshad CEO, Saudi Fund for Development (SFD)
Nassau (20 July 2023) - The Ministry of Tourism is pleased to announce that the Kingdom of Saudi Arabia and the Government of the Commonwealth of The Bahamas have executed a $10 million loan agreement to fund the Tourism Development Corporation's Business Incubation Centers.
The project includes the construction and rehabilitation of two-story facilities on New Providence, Grand Bahama and Exuma including delivery areas for tours and excursions, waiting rooms and restrooms.
It will also include funding to help approximately 50 small projects in New Providence, 25 projects in Grand Bahama and 25 projects in Exuma.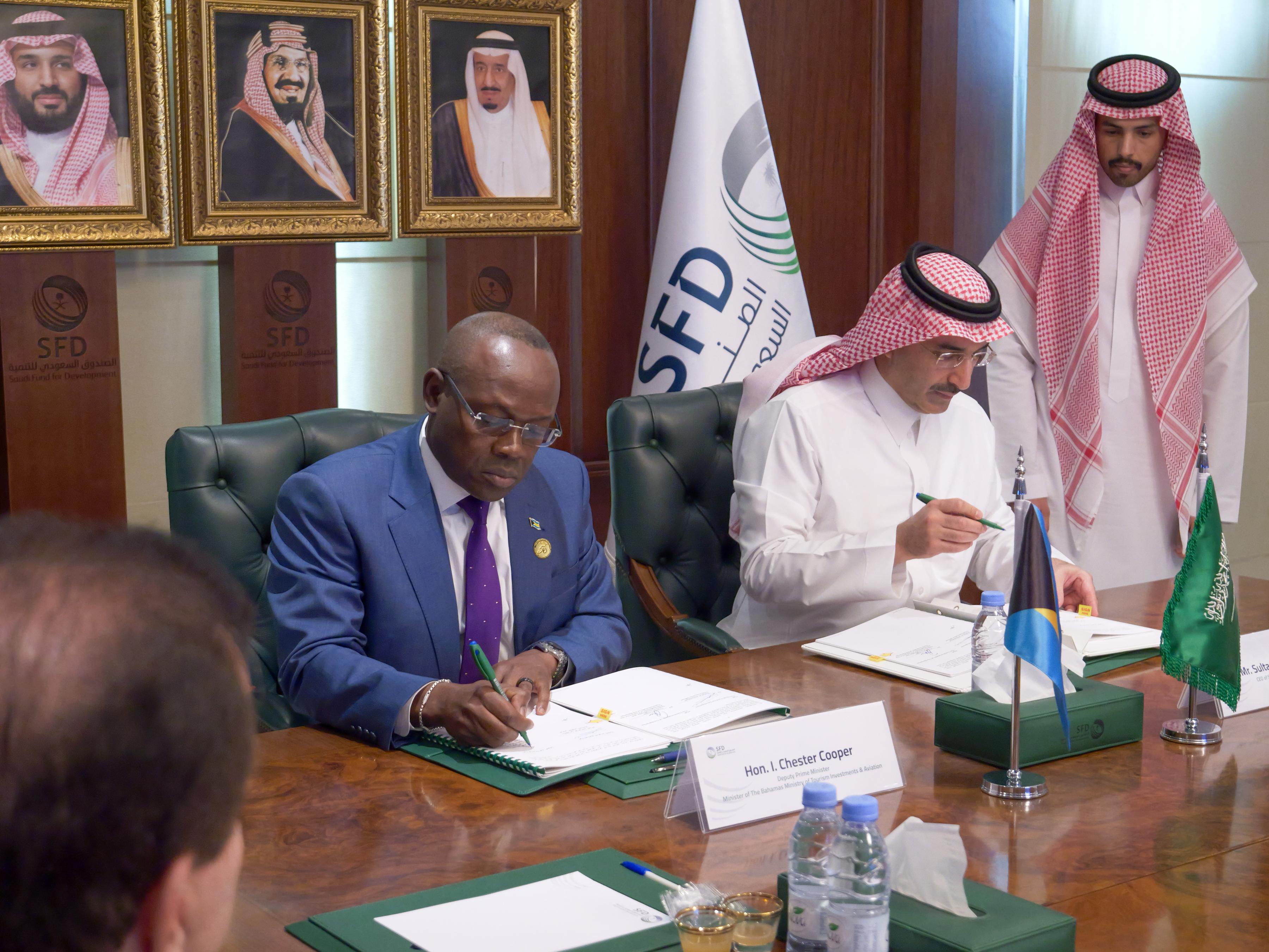 Photo Caption: Deputy Prime Minister of Tourism Investments & Aviation signs $10 million loan agreement to fund the Tourism Development Corporation's Business Incubation Centers.
Minister of Tourism, Investments and Aviation, the Honourable Chester Cooper, said the loan will facilitate the growth and enhancement of the country's tourism product whilst empowering entrepreneurs including women, youth and family islanders.
"These centers will include offsite tours and excursions, onsite experiential tours and retailers as well as local traditional food and beverage outlets, authentically Bahamian goods and services vendors as well as creative industries entrepreneurs, as we promised in our Blueprint for Change" Cooper explained.
"The overall project will contribute to the restoration and revitalization of Downtown Nassau and increasing the entrepreneurship pool within the sector and create job opportunities to enhance the tourism experience, in addition to accelerating economic growth in the region."
Cooper said the Saudi Fund for Development is offering highly attractive terms, which notably include a five- year deferment on principal repayments.
He added that it is the intention of the government to establish business incubation centers on other islands, including Eleuthera.
The Ministry of Tourism, Investments and Aviation entered into a Memorandum of Understanding with Saudi Arabia in December 2022 to create a unified strategy to share mutual tourism investment opportunities alongside day-to-day expertise in initiatives like sustainable tourism practices, management of tourism facilities and the sharing of insight, data and best practices.