Back to top
Silver Airways increases airlift from Florida to The Islands of The Bahamas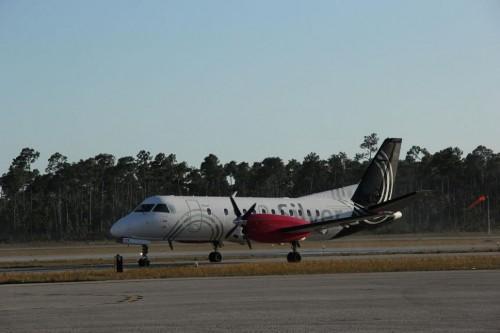 New flights to Marsh Harbour, North Eleuthera, and Freeport
Marsh Harbour, Abaco: Travelers flying out of Florida now have even more access to The Islands of The Bahamas with the introduction of several new Silver Airways flights.
Marsh Harbour, Abaco - Travelers flying out of Florida now have even more access to The Islands of The Bahamas with the introduction of several new Silver Airways flights.
On Saturday, February 14, Marsh Harbour International Airport welcomed the Silver Airways inaugural flight from Tampa, one of the airline's many routes that commenced this past weekend.
The 35-seater Silver Airways Saab 340B Plus turbo-prop aircraft received the traditional water cannon salute to mark the special occasion, and the excited passengers were greeted by Bahamas Ministry of Tourism and Abaco officials.
The airline now offers two new weekly nonstop flights between Tampa and Marsh Harbour on Saturdays and Sundays. In addition to the new nonstop service, daily one-stop connecting flights are also available.
Vice President of Marketing for the Tampa International Airport Christopher Minner arrived on the full inaugural flight, which he said is an indication that The Islands Of The Bahamas are in high demand for Tampa residents.
"I've been a part of the Tampa International Airport team for four years, and I can tell you that Marsh Harbour, every single year, is one of our number one requested destinations," Minner said during the welcome ceremony at Silver Airways check-in counter in the Marsh Harbour International Airport.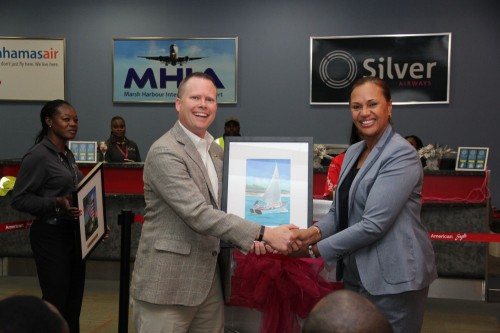 "[Tampa is] one of the fastest growing markets. We also have the largest percentage of originating travel of any major market in the state of Florida; 42 percent of the passengers at Tampa Airport begin their journey in Tampa Bay. That means they're looking for places to come and spend their money, [they are looking to] to stay in your hotels and eat in your restaurants. I know that this will be a tremendous boost for the economy of Marsh Harbour, and for The Bahamas," Minner added.
"The entire hospitality industry is genuinely excited about this new nonstop service," Tourism Director General Joy Jibrilu noted. "This inauguration is indicative of the confidence that the airline has in our commitment to embracing initiatives that will increase visitor arrivals as well as the airline's confidence in The Bahamas' tourism product."
Silver Airways accounts for more than 40 per cent of the airlift from Florida into The Out Islands of The Bahamas, according to Tourism Senior Director of Airlift, Tyrone Sawyer.
This past weekend the airline also introduced a new weekly nonstop flight between Orlando and North Eleuthera, and one weekly nonstop flight between Orlando and Freeport, Grand Bahama, both on Saturdays.
Seasonal service between Fort Lauderdale and Governors Harbour, Eleuthera, has been resumed with three weekly flights.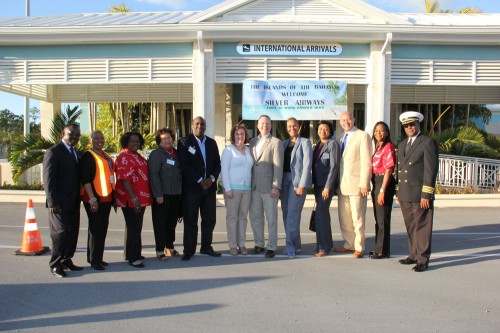 Silver Airways has also resumed service between Orlando and Marsh Harbour with daily service, and Jacksonville and Marsh Harbour with two weekly flights.
George Town, Exuma enjoys five weekly flights from Fort Lauderdale.
According to airline representatives, Silver Airways also added more flights for the peak travel season between Fort Lauderdale and Bimini, Freeport, Marsh Harbour, North Eleuthera and Treasure Cay, as well as between Palm Beach and Marsh Harbour.