Pure Silk LPGA Tournament To Provide Economic Boost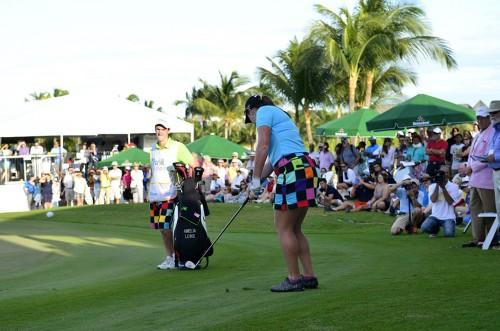 Ministry of Tourism officials are feverishly working towards staging the second Pure Silk LPGA Classic Tournament – an event officials are hoping will be a shot in the arm for the Bahamian economy.
The event is scheduled to be held February 2nd – February 8th at Ocean Club, Paradise Island.
Over 120 of the world's best female golfers are expected to play in the tournament.
This year's Pure Silk-Bahamas LPGA Classic, which offers a purse of $1.3 million, is the second event on the LPGA's 2015 schedule.
Golf Channel will provide 10 hours of live coverage beginning on Thursday, February 5th from 11:30 a.m.-2:30 p.m.
Live second-round coverage on Friday also is 11:30 a.m.-2:30 p.m., while live coverage of the final two rounds Saturday and Sunday will air 3:00 p.m.-5:00 p.m.
General Manager of Sports Tourism Development Virginia Kelly says the event promises to be fun for the entire family.
"We absolutely want Bahamians to come. Golf is free. Shuttles have been arranged for transportation to the golf course so you can just come and park your cars. Come on out and enjoy a couple of days in the sun with us," she said.
Ms. Kelly also spoke about the economic value of the tournament.
"In addition to the 120 players, they also travel with their family, their caddies, managers and their family members. So people who are directly connected with the tournament could bring in about 600 to 700 persons like that. And then we would have fans come along. We have someone who won a sweepstake who is coming and so we are really trying to get the word out about The Bahamas. We tried to do something different this year and we are seeing the traction."
Seven of the top-10 players in the Rolex Rankings and 18 of the top 25 have committed to play in the tournament, including defending champion Jessica Korda.
The early commitments list also includes world No. 1 Inbee Park, No. 2 Lydia Ko and No. 3 Stacy Lewis. Ilhee Lee, who won the inaugural edition, also is entered.
Locally, Bahamian champion Raquel Riley, who competed multiple times for the Bahamian National Team and Kathleen Ekey, a former Player of the Year on the Symetra Tour, have received sponsor invitations to the Pure Silk-Bahamas LPGA Classic.
Gates open at 7:00 a.m. each day. On Saturday, there will be a Kids Zone from noon to 5:00 p.m.
For more information visit www.puresilkbahamas.com