Pristine Waters of Exuma – Backdrop For Texas Couple's Dream Wedding In The Bahamas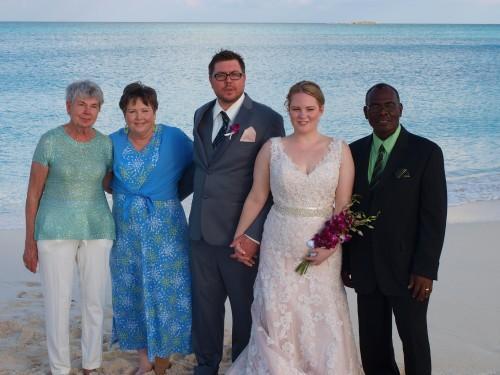 EXUMA, Bahamas (January 20, 2015) - The pristine, aquamarine waters of Exuma in The Bahamas served as the ideal backdrop for the dream wedding of Texan couple, Lauren Gough and Stephen Swangstu.
They were one of 16 American couples that won a complimentary dream wedding on 16 islands in The Bahamas, in The Bahamas Ministry of Tourism's  (BMOT)"16 Islands 16 Weddings One Priceless Day" social media contest. All weddings took place on January 16, 2015 at 16:00 hours.
Kathryn Gough and Judith Swangstu, the mothers of the bride and groom respectively, served as witnesses for the couple while some 12 other family members shared in the intimate, elegant and conch shell-lined beachfront ceremony.
Live steel pan music entertained the guests in the "seaside serenade" themed ceremony.
Guests ate an assortment of hot and cold hors d'oeuvres, red velvet wedding cake, and sipped on green caramel apple martini, the signature drink for the couple.
The couple selected Exuma for its wedding, a destination known for its unique 'swimming with the pigs' program and an activity which was a 'must do' item on the bride's bucket list.
"The Bahamas is also the most beautiful place in the world" said Stephen.
Often regarded as the playground for the rich and famous, Exuma is home to many famous stars including Johnny Depp, Nicolas Cage and David Copperfield.
A boater's paradise, rich in culture and history, Exuma is known for its beautiful mid-ocean sand banks, stunning beaches, blow holes, iguanas, bone fishing and breathtaking crystal clear waters.
More than 3,000 couples entered the social media contest, in which the couples simply had to share their love story and reason for wanting to get married in The Bahamas via Twitter, Facebook or Instagram.  The winners received round trip airline transportation, four-night luxurious hotel accommodations with meals, a wedding ceremony and reception for four, cash rewards from MasterCard®, a Mon Cheri bridal dress designed by David Tutera or Sophia Tolli, wedding rings by Steven Singer Jewelers, a tuxedo from 1-888mytuxes and gift bags from John Bull.