PM, Tourism Officials and Businesses Celebrate Royal Caribbean's Historic Homeporting: 1st Cruise Sailing from Port of Nassau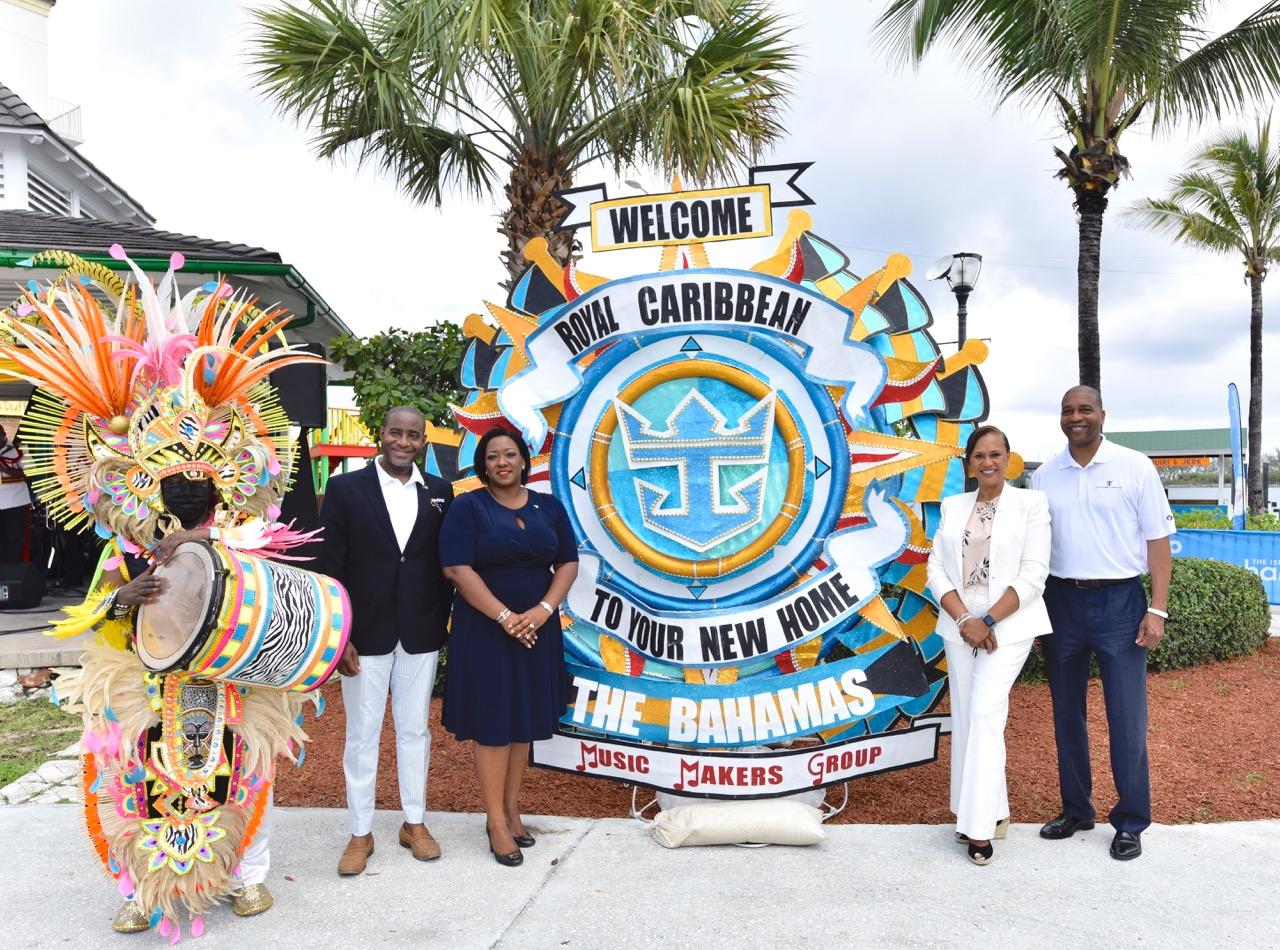 NASSAU, Bahamas, June 12, 2021 – With bands playing, national anthems ringing out and the pulsations of Junkanoo, Bahamian leaders, businesses and stakeholders celebrated a long-awaited historic milestone today as more than 1,000 passengers boarded Royal Caribbean's Adventure of the Seas ready to set sail from its embarkation port of Nassau for the first time in the cruise line's history, and a first for The Bahamas.
Prime Minister the Most Hon. Dr. Hubert A. Minnis, Director General of Tourism Joy Jibrilu, Parliamentary Secretary in the Ministry of Tourism & Aviation Travis Robinson, Royal Caribbean Vice President of Government Relations Russell Benford and others participated in what a guest described as "the first jubilant ceremony in nearly 16 months in downtown Nassau," and what the Director General called "a truly momentous occasion."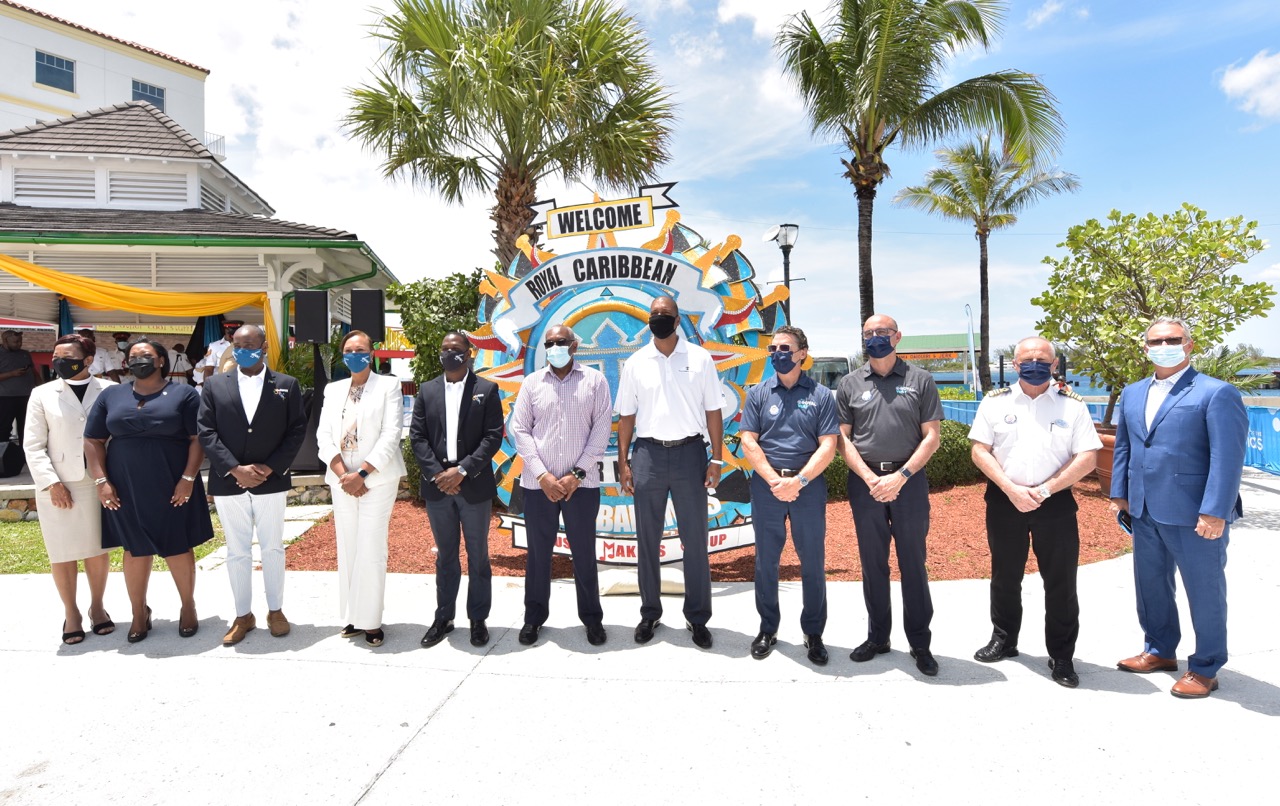 Limited attendance to comply with COVID restrictions did not dampen the spirit of the ceremony held in Pompey Square.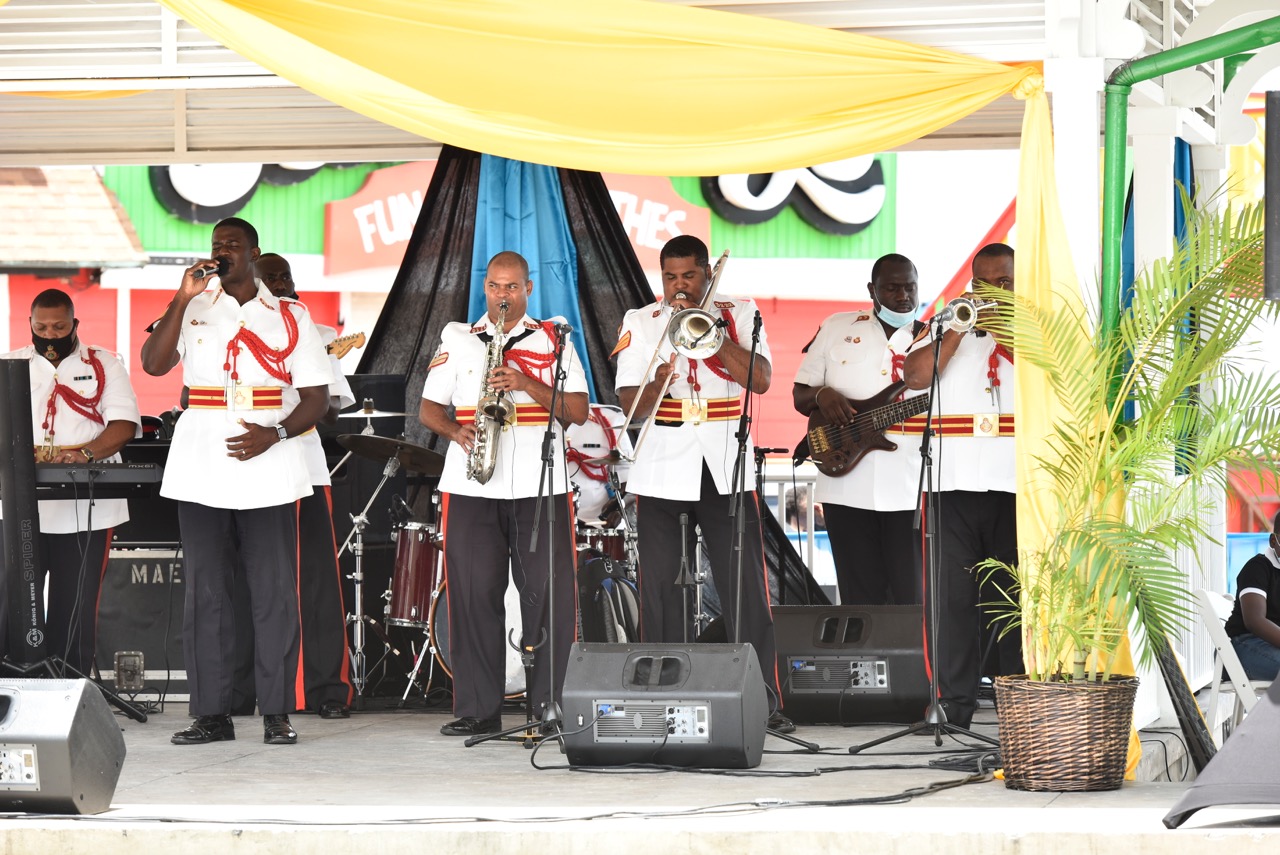 Welcoming back Royal Caribbean after the 16-month hiatus in cruising, the Prime Minister said, "We are grateful to have Adventure of the Seas homeport in Nassau and visit additional islands in The Bahamas over the seven night itinerary….This means that even more Bahamians across our islands can get back to work as our tourism sector continues its recovery."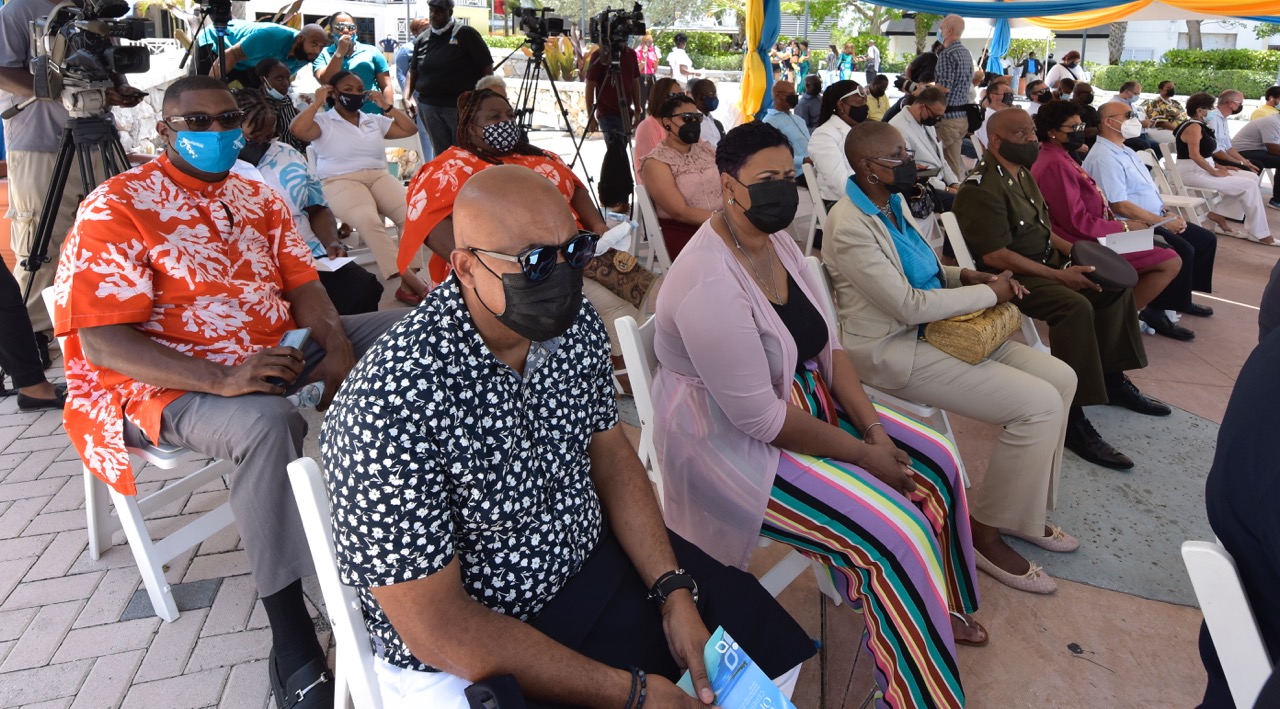 "One of the challenges for us as a heavily tourism dependent country," Prime Minister Minnis explained, "has been the question of how to better boost the benefits of cruising, including turning cruise guests into stopover visitors."  "This Royal Caribbean arrangement offers the best of both worlds: a cruise guest who adds on a hotel stay of one to two nights."
 "Today, this ceremony marks a turning point in the history of cruising in The Bahamas as Nassau port of call becomes a homeport for Royal Caribbean," said Ms. Jibrilu, describing the cruise line's journey to return to sailing after the COVID-19 pandemic forced a shutdown of cruising around the world. "Nassau," said Ms. Jibrilu, "was an immediately attractive candidate given proximity to America's cruise capital of South Florida, airlift options and accommodations capacity."
"The proposition for homeporting put forward by Royal Caribbean was immediately embraced by the Ministry of Tourism," she explained. "We, the Ministry of Tourism and the people of The Bahamas welcome back Royal Caribbean with open arms to rediscover once again why it's Better in The Bahamas."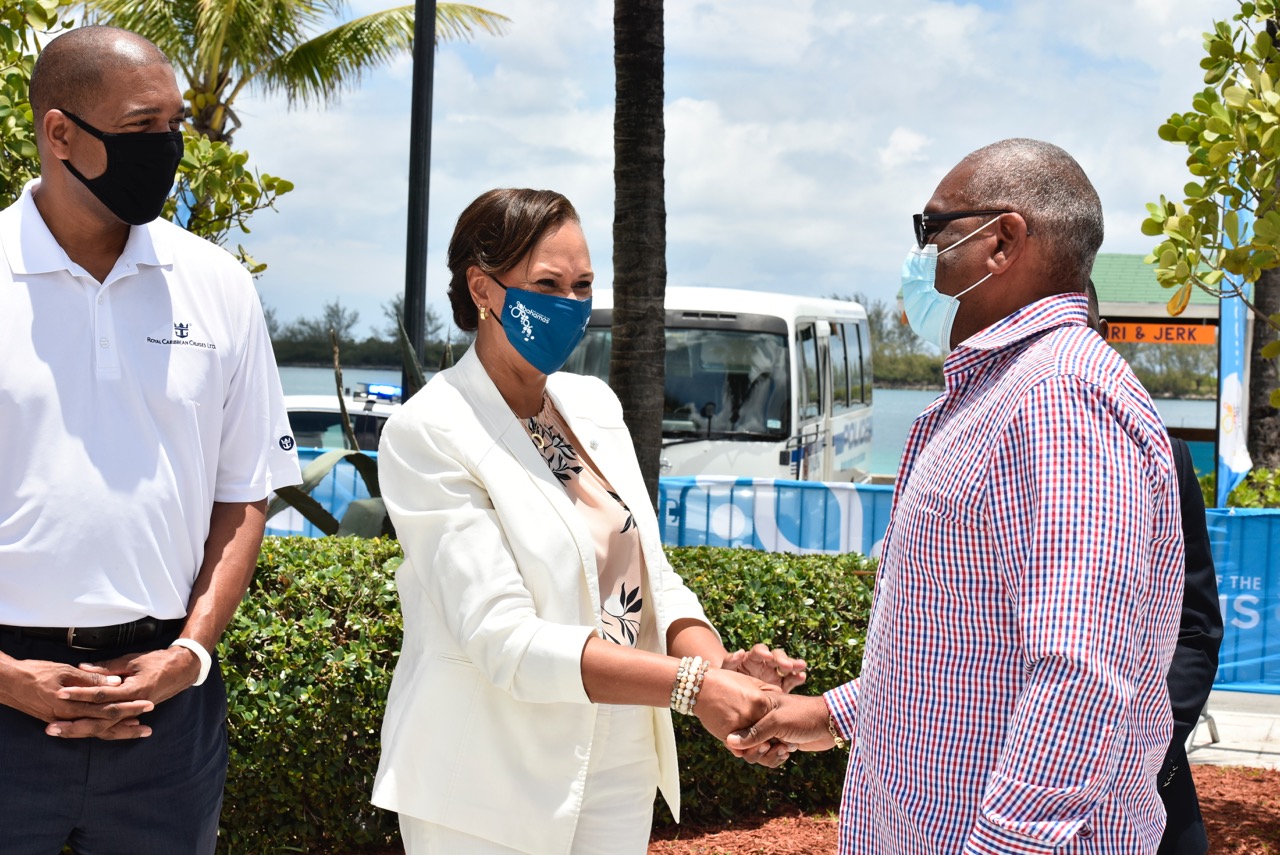 As Royal Caribbean begins its return to cruising, ships are sailing with new protocols in place, including limited capacity until further notice.
According to Mr. Russell Benford, pent-up demand is driving strong bookings. He noted that Royal Caribbean's first foreign port of call was Nassau, some 52 years ago.  
"We have always been committed to building on our relationship with The Bahamas, and with the help of the Minister of Tourism, the Director General and their terrific, energetic team who worked with us every step of the way, we are able to stand here today and celebrate the inaugural homeport sailing of Adventure of the Seas in Nassau," he said.
"What does homeporting mean?" Mr. Benford elaborated. "Already our partners are telling us they see a difference. With a limited guest capacity of about 25% of normal, we have about 1,000 guests onboard. One hotel told us they had 500+ reservations as a result. Bookings are up for Bahamasair and more flights have been added. NAD officials report an uptick in visitor arrivals and reservations in the coming weeks for both arrivals and departures."
Homeporting in Nassau by Royal Caribbean has provided an ideal business opportunity for local entrepreneurs. A number of Bahamian wholesalers and retailers are reaping the benefits of provisioning the ship. When sailing at full capacity, the vessel carries 3,800 passengers plus crew.
The cruise line held two workshops with the Bahamas Chamber of Commerce and Employers Confederation in Nassau and the Grand Bahama Chamber to share available opportunities for supplying the ships with food and beverage or their guests with tours and excursions. More than 620 people participated in the workshops, and the cruise line has fielded over 100 follow-up inquiries.
Of the business potential homeporting represents for local entrepreneurs, Benford said, "That translates into real business with dollars staying in The Bahamas." 
Royal Caribbean has also donated a grant of $250,000 to the Small Business Development Centre to assist small to medium-sized businesses that could benefit from homeporting and other projects that the cruise line has in The Bahamas.
Benford announced, "I am pleased to share this update with you which we have not yet made public, and that is, during the lockdown, we took the opportunity to upgrade Perfect Day at CoCoCay. We invested $70 million in upgrades, all with Bahamian contractors and companies."
"We really look forward to strengthening our relationships with the many stakeholders in Nassau and hope that it will enhance the overall visitor experience, increase debarkation rates and lead to an increase in visitor spend."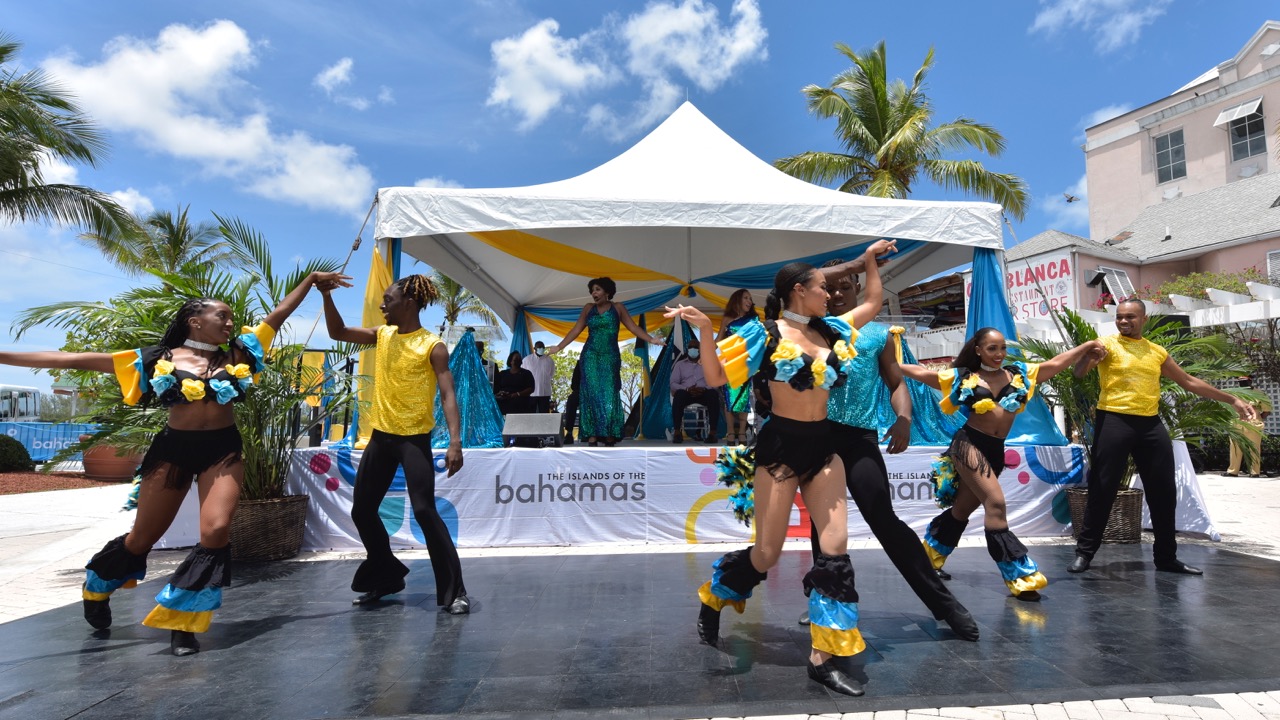 Adventure of the Seas will depart Nassau every Saturday throughout the summer on a seven-day cruise that includes calls on Perfect Day at CocoCay, Cozumel, Mexico and Grand Bahama where it will do major provisioning and fueling before returning to Nassau.
###