NORTHERN BAHAMAS SPORTS TOURISM SYMPOSIUM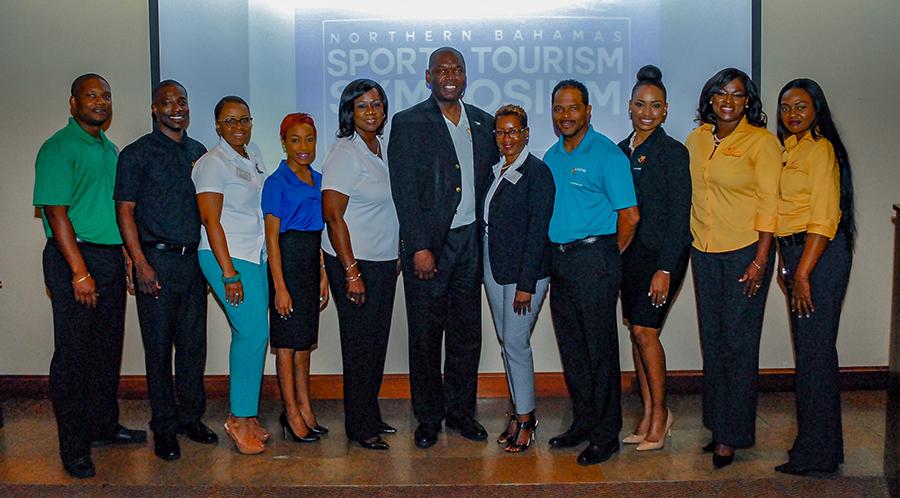 On Saturday, April 1st, the Ministry of Tourism's Sports Tourism Department held its inaugural Northern Bahamas Sports Tourism Symposium at the Pelican Bay Hotel.
The invitational symposium, organized specifically to assist sporting event organizers on Grand Bahama Island, Bimini, and Abaco, touched on the various aspects of planning world-class sporting events for the Northern Islands of The Bahamas.
Betty Bethel, Director, Ministry of Tourism, Grand Bahama Island, stated that "We realized that in our re-positioning of the destination, Grand Bahama fits perfectly with athletic events, various youth groups, and amateur athletic events".
With numerous key sports tourism influencers and stakeholders in attendance at the symposium, the event allowed for the development of a more cohesive approach to attracting sporting enthusiasts to our shores.
The symposium also created a new awareness that sports tourism is in fact a business and a great opportunity for the islands.
According to Virginia Kelly, Director, Sports Tourism, Ministry of Tourism, New Providence, "We need to let the Bahamian people know what we are doing in terms of building our sports tourism programme... We are letting the stakeholders know how we can do it ".
With a panel of seven speakers, numerous topics were covered, including event planning, marketing, sponsorship, packaging, partnership, and amateur sports.
Those invited were encouraged to ask questions, share ideas, and list any concerns during the open panel discussions.
Throughout the course of the symposium, it was evident that the goal of the event was to positively influence all stakeholders to host events that will not only gain international recognition but also to attract numerous visitors to the shores of these islands through various sporting activities. 
Nuvolari Chotoosingh, Manager, Sports Tourism, Ministry of Tourism, noted that "Sports Tourism is the fastest growing segment of the sports industry in the world. We are talking billions of dollars, so sports has really moved from being big business to being huge business and everyone is competing for that sports tourism dollar".
"Here in the Bahamas we are no different, we have staged a number of international sporting events, so we felt it was important that we pulled in all the organizations on Grand Bahama, Bimini, and Abaco, to share with you how the Ministry of Tourism's arm can assist you in preparing, planning, and executing world-class international sporting events," he said.
The Ministry of Tourism expresses its gratitude to all its partners and panelists who have helped to make this first time event successful. 
Jeffrey Pinder, Sr. Executive,Sustainable Tourism, MOT GBI, Jay Philippe, Asst. Manager, Sports Tourism, MOT GBI, Della Bridgewater, Operations Manager, Pelican Bay Hotel, Anya Hanna, Reception/Clerical Assistant, MOT GBI, Virginia Kelly, Director, Sports Tourism, MOT, Gregory Rolle, Sr. Director for Sports Tourism and Sales North America, BTO Florida, Betty Bethel, Director, MOT GBI, Nuvolari Chotoosingh, Manager, Sports Tourism, MOT GBI, Brooke Grant, Sr. Executive, Communications, MOT GBI, Carmel Churchill, Director, GBITB Marketing Services, Melesia Parker, Administrative Assistant, GBITB