New Program Seeks To Attract Cruise Officials To Experience The Bahamas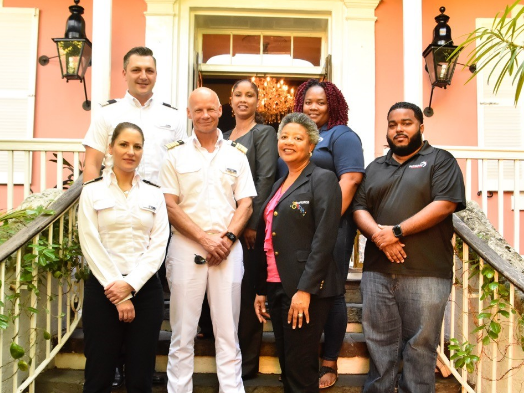 NASSAU, The Bahamas: The Cruise and Maritime Department of The Bahamas Ministry of Tourism & Aviation (BMOTA) has introduced an initiative designed to increase spend from cruise ship staff and crew.
The new Crew Program features a familiarization exercise that allows cruise ship employees to experience a taste of the hospitality, culture and tourism product of The Islands Of The Bahamas.
The program was officially launched earlier this year at a People-to-People Romance Tea Party at Government House which was attended by a number of captains.
Since then, several cruise line officials have been hosted to luncheons and tours at Graycliff Hotel and Restaurant, Chocolate Factory, Cigar Factory and Wine Cellar.
Senior Director of Cruise and Maritime in the BMOTA, Carla Stuart, called the program "an amazing opportunity."
"Our intention is to coordinate programs that incorporate cultural exposure, tours, shopping coupons for various interests of the crew and social and sporting activities," she explained. "It is important that we continue to reinvent ways to target this growing market. In that way, we are ensuring that we maximize opportunities for our country. Our Ministry is grateful for the cooperation and high interest which we have received in this program thus far."
Director at United Shipping, Andrew Malone, also touted the Crew Program.
"We have a very close bond with the cruise lines because we always stay one step ahead of the ships. Opportunities come at short notice and expectations have to be met in order to keep customer satisfaction. It's in this vein that we are happy to have the Crew Program. It is long overdue," he said.
Cruise lines that have been hosted so far include Celebrity Equinox; Celebrity Silhouette; Mein Schiff 1; Norwegian Bliss and Sunrays Motor Yacht.
BMOTA officials are currently developing a crew discount initiative to boost spending at scores of local businesses.
Other initiatives will include crew incentive awards, Inter-ship sports and heritage games.
MEDIA CONTACT
Kendea Smith
242-397-2786