National Association of The Bahamas Awards Bahamian Students With US Academic Scholarships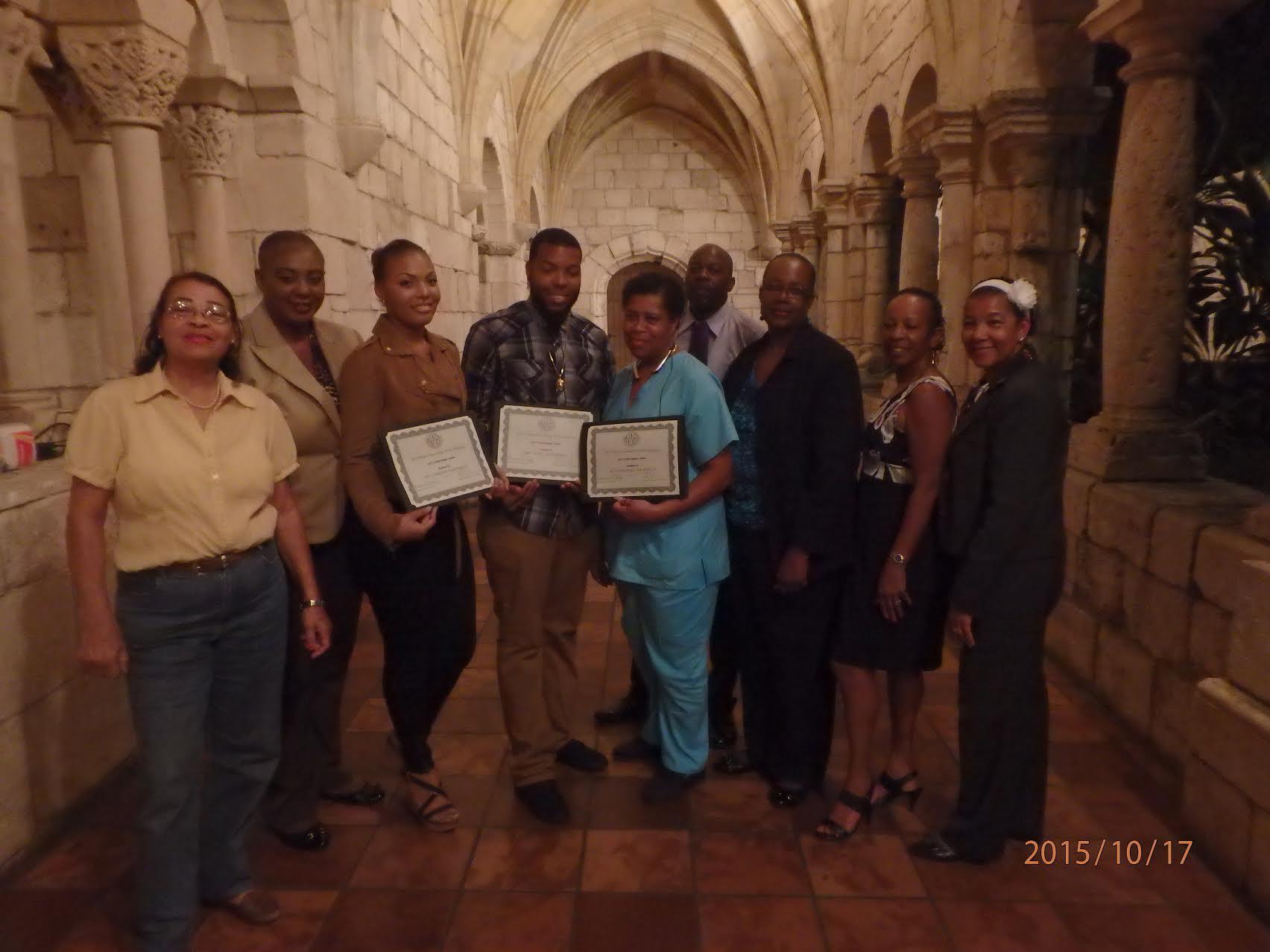 PLANTATION, Florida (October 25, 2015) – Seven students from The Bahamas were awarded academic scholarships from the National Association of The Bahamas (NAB) towards their educational pursuits at colleges in the United States of America. 
 The presentation was made during a special NAB meeting and cocktail reception held at the Ancient Spanish Monastery in Miami, Florida.
The scholarship recipients, six of whom are pursuing Bachelors programs and one a Masters of Business Administration degree are Javoncia Davis, a MBA Major at Hodges University, Cory Adderley, Automotive Technology student at Lincoln College of Technology; Ke'shira Nicholls, Social Work major at Spellman College, Ashley Darville, Events Management student at Lynn University, Jonique Russell a Culinary Arts major at Le Cordon Bleu, Carlton Adderley, Mechanical Engineering student at the University of South Florida and Eulond Kelly who is pursuing Computer Information & Technology studies at Barry University.
NAB is a charitable organization established in 1993 by a group of Bahamians residing in South Florida, to help Bahamians residing in South Florida and students studying there.  It provides annual scholarships of  $500-$1500 each, toward the tuition of Bahamian students or students of Bahamian descent enrolled in colleges/universities in the USA.   The scholarships checks are made payable directly to the universities of the enrolled students and students are expected to maintain a minimum 2.5 GPA.
Managed fully by volunteers, the organization also provides networking opportunities for Bahamian individuals and businesses toward building stronger and healthier economies in The Bahamas. 
NAB's President, Mrs. Rosamon Gomez, said the organization "is happy to provide the scholarships to the Bahamian students, the future leaders and business owners of The Bahamas," she said. 
"Some one paved the way for us and helped us along the way when we were pursuing a higher education, so it was just fitting for us to pay it forward and help these deserving students.  Every dollars helps and goes a long way in making a difference in these students lives," she said.
"It is no secret that college education is expensive and some of these students would have faced financial burdens and difficulties in getting here. We are proud of their initiative to firstly enroll in colleges and more importantly, encouraged by the outstanding accomplishments they have achieved in excelling in their field of study at the various colleges they are attending.   Not only are they making a difference at their college institutions, but are serving as role models for others wishing to attend college".  
Recipient Ashley Darville, who is completing her internship studies in Event Planning and Management at Lynn University said she "is grateful and relieved in obtaining the scholarship".
"The funds will certainly defray the costs of my education, but it will also allow me to focus my energies and attention on my studies and simultaneously, perfecting my craft," she said.
 Cory Adderley, a 24year old, 2008 graduate of St. Johns College, said he "is honored and grateful to NAB for the financial scholarship". 
 The future Master Automotive Mechanic said the scholarship would assist in making his dream a reality.
 Scheduled to graduate in June 2016, the 3.96 grade point student, said "as one of The Bahamas' youngest hybrid technicians, my training will help bridge the economic divide between the USA and The Bahamas in the repairing and distribution of hybrid vehicles".
 He advises students to "never give up on your dreams, no matter the obstacles.  Don't be afraid to keep striving.  Education is important and to not strive for one is simply not an option.  Complete determination is the key to success," he said.
 According to Ms. Gomez, NAB has provided hurricane relief efforts to Bahamians in the United States and in The Bahamas, assisted Bahamians in South Florida financially with housing, provided school supplies and Christmas gifts to children in The Bahamas, families of sick children residing at The Ronald McDonald House at Jackson Memorial Hospital, the Persis Rodgers Home, Unity House, Grand Bahama Home For The Aged, Bahamas Night at The American Cancer Society House, and so many others. 
Persons and business houses interested in helping or joining NAB can contact Ms. Gomez at 954-888-1113 or visit www.nabmiami.org