Back to top
Nassau and The Exumas featured in 2019 Sports Illustrated Swimsuit Issue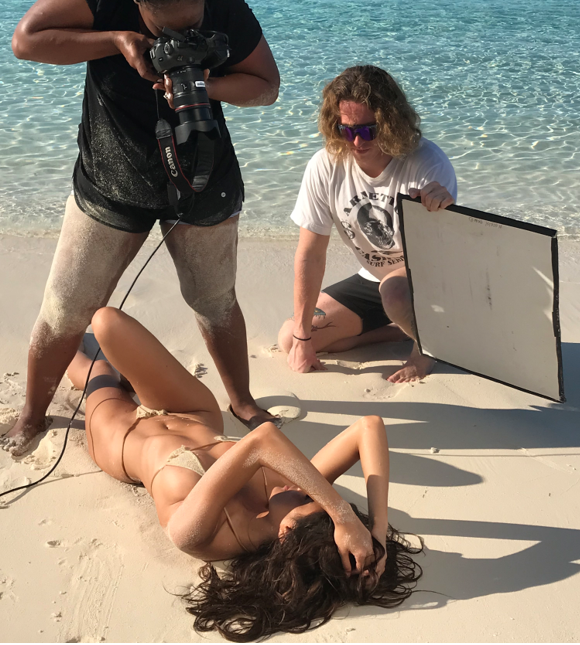 Photo Credit:  Janine Berey
NASSAU – May 8, 2019 – The Bahamas Ministry of Tourism and Aviation once again welcomed the highly regarded Sports Illustrated Swimsuit (SI) team to The Bahamas for the 2019 Sports Illustrated Swimsuit Issue shoot, which hits stands nationwide today. SI producers, crew and talent headed to Great Exuma and Nassau in February for a two-part project that will showcase the destination across SI's print and digital platforms bringing The Bahamas to the attention of more than 70 million consumers.
"We're incredibly honored that Sports Illustrated Swimsuit chose The Bahamas for its 2019 Swimsuit Issue shoot that highlights not one, but two of our remarkable islands, The Exumas and Nassau & Paradise Island," said Bahamas Ministry of Tourism and Aviation Director General Joy Jibrilu. "Our country features the most beautiful beaches in the world, offers exotic experiences and is easily accessible from the U.S. and they keep coming back to The Bahamas for just that."
"Nothing beats the beautiful beaches of The Bahamas," says SI Swimsuit Editor MJ Day.  "The Exumas and Nassau & Paradise Island's serene and pristine beaches are one of our favorite spots to shoot."
The Bahamas Ministry of Tourism and Aviation's local tourist offices played an essential role in supporting the shoots on Exuma and Nassau and remained readily available to provide counsel, island recommendations and assistance with engaging local resources.
EXPLORING EXUMA
In Exuma, the crew and models, such as Winnie Harlow and Kelsey Merrit, stayed at Grand Isle Resort & Spa on Emerald Bay Beach and experienced exciting, authentic Exuma activities including snorkeling Thunderball Grotto's underwater cave, playing dominos with local Bahamians, indulging in bites and conversation at Big D's Conch Spot and much more.
A TASTE OF LIFE ON NASSAU
For the first time ever, the Sports Illustrated Swimsuit Model Search competition took over The Cove at Atlantis for the 2019 edition of the magazine. The models sampled local cuisine, a Junkanoo parade, toured Nassau and interacted with dolphins and sea lions, took a marine rehabilitation tour at Atlantis Paradise Island and experienced all the water slides that Atlantis has to offer.
The 2019 issue hits newsstands Wednesday, May 8 followed by a weekend of launch events in Miami to celebrate the models and crew who played a role in this year's issue. The Bahamas will be featured in extensive photo and video content across SI's online and social platforms, further driving awareness around the destination. 
ABOUT SPORTS ILLUSTRATED SWIMSUIT
SPORTS ILLUSTRATED Swimsuit (www.si.com/swimsuit) reaches more than 70 million US adults annually and more men ages 18 to 34 than the Super Bowl. The iconic brand spans 20 product extensions, along with a vibrant experiential marketing business. Since debuting in 1964, Swimsuit has become a pop culture phenomenon and a revered launching pad for successful careers in TV, fashion, business and film. The fashion industry describes SI Swimsuit as the "Oscars of Swimwear," as an appearance in the issue is a crowning achievement
ABOUT THE BAHAMAS
With over 700 islands and cays, and 16 unique island destinations, The Bahamas lies just 55 miles off the coast of Florida offering an easy fly away escape that transports travelers away from their everyday. The Islands of The Bahamas have world-class fishing, diving, boating and thousands of miles of the earth's most spectacular water and beaches waiting for families, couples and adventurers. Explore all the islands have to offer at www.bahamas.com or on Facebook, YouTube or Instagram to see why It's Better in The Bahamas.