MOT and BHTA Assists COB With Special Seminar On Foreign Languages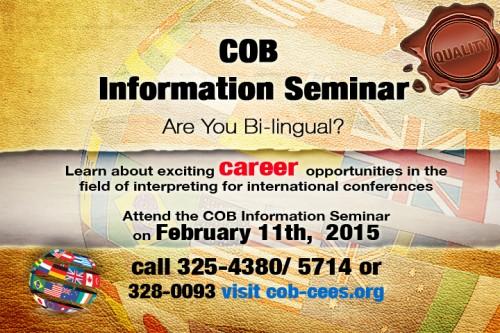 The Ministry of Tourism and the Bahamas Hotel and Tourism Association (BHTA) are collaborating with the College of The Bahamas (COB) to host a special information seminar for bi-lingual persons on Wednesday, February 11th, in the Arawak Cay Room at the Beach Towers, Atlantis Paradise Island.
The seminar will be hosted under the theme "Bridging the Foreign Language Skills Gap."
The aim of the seminar is to inform bi-lingual persons about exciting career opportunities in the field of interpreting.
Attendees will also learn important information about COB's specialized course to train interpreters that starts on March 7th.
In The Bahamas, there are currently only eight trained conference interpreters, forcing officials from the Ministry of Tourism, the courts and other entities to import the service.
According to Senior Director of National Planning and Special Projects in the Ministry of Tourism Carla Stuart, international conferences are beginning to become big business for The Bahamas.
"We have to seek interpreters so that when foreign speaking visitors come, language is not a barrier. There are very few interpreters available to service conferences. Right now, we are bringing in most of our interpreters and so when we talk about tourism and diversification – the whole goal is to provide employment opportunities for our people,"
she said.
"And so, that is another way of ensuring that the experience at the groups and conferences is enhanced but it also ensures that our people are benefiting from new opportunities that are created."
Officials say a conference can attract from 300 to 1,000 people to The Bahamas.
Dr. Christina Nwosa, Vice President of Continuing Education and Extension Services (CEES) at the College of The Bahamas, said the college sees this as a way to place the importance of being bi-lingual to the forefront.
"The information seminar is really to promote interpreting in modern languages and in this particular seminar we will be highlighting simultaneous interpretation for conferences and consecutive interpretation for courts. So the college has a mandate to provide this type of training outside of the regular degree programme that is offered by the College of The Bahamas," she said.
"The seminar is important because it gives persons an insight into what is available in languages. You have interpreting in translations and then you have other fields where you would need a foreign language. For example, you would have the flight attendants. You even have Immigration, Customs Officers – all those who interact with tourists, who do not speak English. And so they all need some knowledge of a second language."
Myrurgia Hernandez, CEO and Senior Translator of International Cultural Ltd., had similar sentiments.
She said there are many job opportunities available when one is bi-lingual.
"Some persons have a natural gift but some others still need some training and that has been lacking in The Bahamas and we have been in some collaboration with the college in that regard. It is also very important because it will give persons the opportunity to decide if this is what they want to do for a living or perhaps as a part time job. It is a very attractive income generator and it will also help The Bahamas to increase tourism," Mrs. Hernandez said.
The seminar will be held from 8:30 a.m. until noon.
The seminar is open to persons who speak English and a second language fluently, such as Spanish, French, Portuguese, Mandarin or any other foreign language.
Interested persons can contact the Continuing Education Centre at the College of The Bahamas at 325-4380, 328-0093 or 325-5714 or visit www.cob-cees.org.