LPGA To Teach Golf To Bahamian Students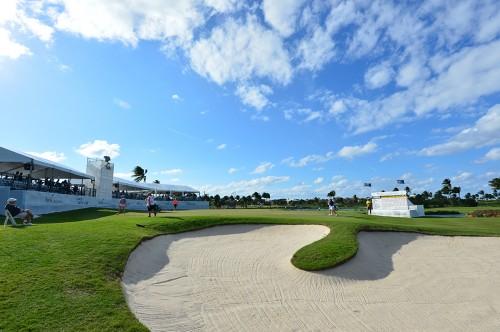 The Bahamas leg of the 2015 LPGA Classic Golf Tournament will take place at the prestigious Ocean Club on Paradise Island, February 2 – 8, 2015. The tour is said to be already having a positive impact on the local community as the LPGA's Emily Norell, begins training student volunteers at both public and private schools in Nassau.
In announcing the partnership between The Islands Of The Bahamas Ministry of Tourism and the Pure Silk LPGA Classic Golf Tournament, Tourism Minister, the Hon. Obie Wilchcombe said, "Tourism is a global force for economic development but in The Bahamas it is also the business of every Bahamian. Our industry must also be a catalyst for the improvement of the lives of the Bahamian people so I am particularly pleased that the LPGA has sent Emily Norell here to train young Bahamians".
The Ministry of Tourism has maintained that the economic importance of tourism to a destination is commonly underappreciated and extends well beyond core hospitality and transportation sectors.
"The impact on the community lasts much longer than the tournament itself. This training will prepare the students for a lifetime of enjoyment of golf. Learning to golf provides a solid foundation for those who want to play for fun or to compete as amateurs or professionals for future career purposes, both inside and outside of the golf industry" Minister Wilchcombe continued.
Greg Rolle, Director of Sports Tourism at the Ministry of Tourism, said The Bahamas is pleased to work with LPGA and its affiliates to bring the Pure-Silk Bahamas Classic back this year. "The Pure Silk LPGA Classic Golf Tournament is another high profile sports event that establishes The Islands Of The Bahamas as the Caribbean's leading Sports Tourism destination so we are very pleased to continue our partnership" he said.
In advocating the minister's position, Kara Manouzi, Regional Manager for Corporate Partnerships in the Bahamas Tourist Office added "We are pleased to partner with Pure Silk LPGA Classic; we hope that the students involvement in this aspect of our tourism product will not only improve their outlook of tourism as an Industry that is broad in scope, but will also germinate their innate desire to succeed. We want them to meet the players and realize that they can themselves become just as successful in whatever they choose to do".
The participating schools are C.R. Walker, C.C. Sweeting, Temple Christian, Queen's College and Akephran International Academy.The Pure Silk-Bahamas LPGA Classic is a women's professional golf tournament in The Islands of The Bahamas on the LPGA Tour. It debuted in May 2013 at Ocean Club Golf Course on Paradise Island.
This world-class tournament, attracts some of the biggest names in women's and will be televised on the Golf Channel.