LPGA Holds Junior Clinic At Ocean Club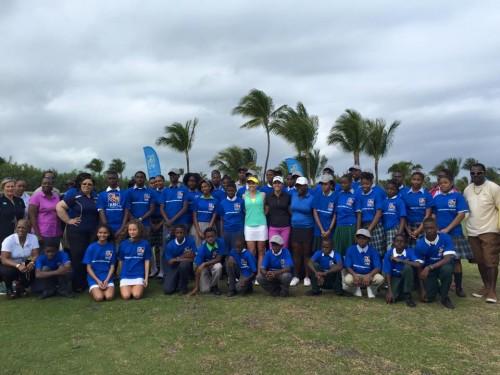 Over 50 students from several schools in New Providence got the once-in-a-lifetime opportunity to learn and play golf with some of the best female golfers in the world.
The opportunity came on Tuesday at the LPGA Junior Clinic as the athletes prepare for the third Pure Silk LPGA Bahamas Classic to be held at the Ocean Club Golf Course from February 5 – 8.
Tournament Director Matt Truax said the Junior Clinic is an important part of the event.
"One thing that has always been important to us is doing the little things we can do here and there for the community," he said.
"We want to get them exposed to the game and come out to enjoy some of the players. If nothing else we want them to have a good time to a place that they wouldn't normally get to go to."
L'Narjaye Minnis of Galilee School said he has played golf before, but was excited about the experience.
"It's a lot of fun because I am learning more than I did before. I would want to get more experience because it is becoming very clear to me that if I play more, I will become better at it," he said.
Jessy Delancey from C.V. Bethel has been playing golf for the last 10 years. She said learning from the pros is an invaluable experience.
"I really enjoyed the experience. The questions that I asked helped with my golf swings. My short term goal is to join the national team this year and this has helped," she said.
Meanwhile excitement continues to build for the tournament.
Over 120 of the world's best players are already in town to play for a purse of $1.3 million.
The field is headed by Rolex World Rankings No. 1 Lydia Ko, No. 2 Inbee Park, and No. 3 Stacy Lewis, the 2014 LPGA Rolex Player of the Year.
Six of the top 10 players in the current Rolex Women's World Golf Rankings are entered.
Raquel Riley, a former member of the Bahamas National Team, earned an exemption into the Pure Silk-Bahamas LPGA Classic after her victory in the Bahamas Golf Federation Qualifier.
A former winner on the Sun Coast Ladies Tour, Riley, 33, is in the process of completing her LPGA accreditation to become a Certified LPGA Teaching Professional.