Junkanoo Summer Festival Heats Up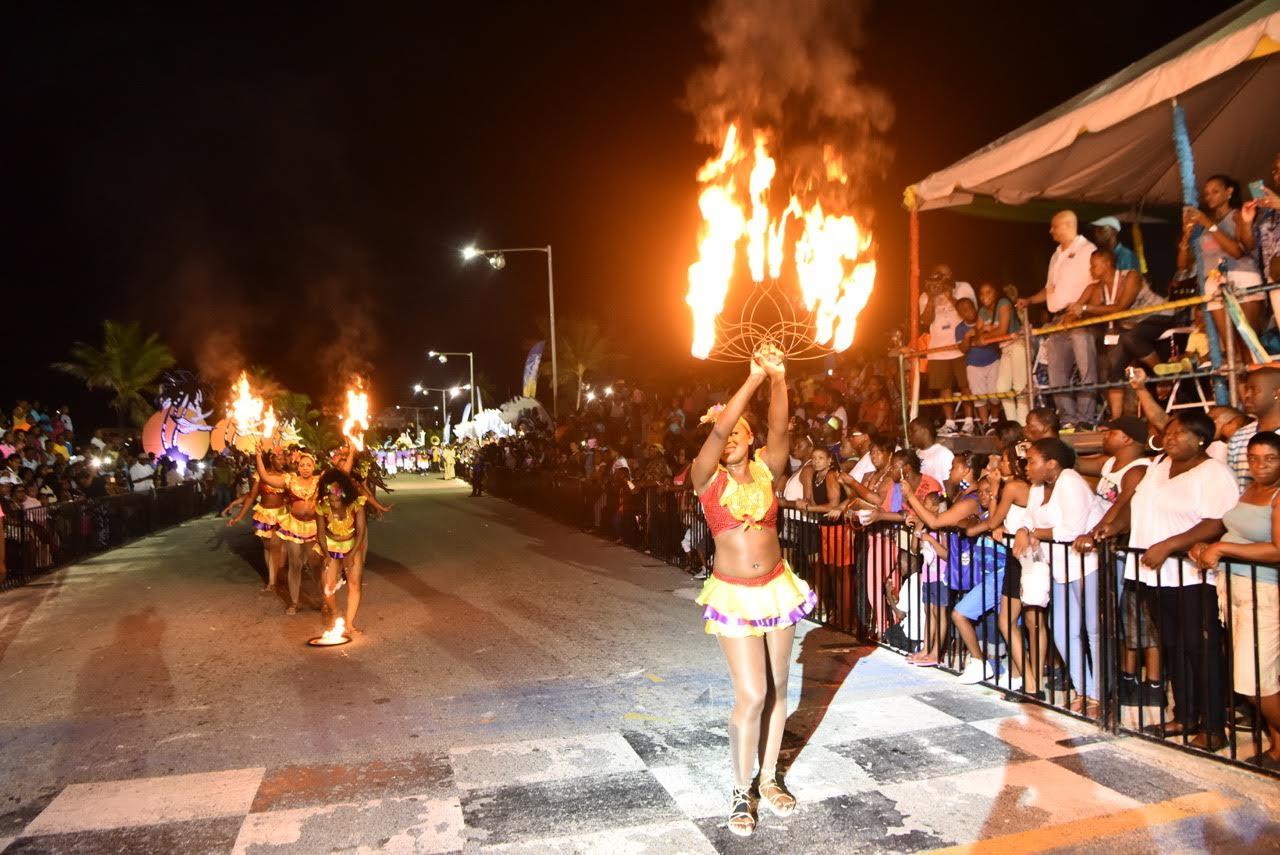 A thrilling battle between the choreograph dancers from the major Junkanoo groups and a face-off between the Royal Bahamas Police and Defence Force bands drew hundreds of spectators to Arawak Cay over the weekend for the second week of Junkanoo Summer Festival.
Depicting the theme, "It's Better in The Bahamas," the choreographed dancers enthralled the crowd with their moves and stunts.
With the glistening waters of Junkanoo Beach as a backdrop, visitors and locals were treated to the sights and sounds of The Bahamas.
Manager of the parade team Douglas Hanna said the judging for Junkanoo Summer Festival is different from the judging of Boxing Day and New Year's festivals.
"It is different because the focus is on a different event every week," Hanna explained.
"The focus [on Saturday] was the dance."
Next week the focus will be on the costume and overall performance. 
Douglas said the judges are also watching for crowd reaction.
"One of the things that is quite different than the major parades is that the groups are not only appealing to the judges but they must appeal to the crowd," he said.
"This is billed as an international event. We expect not only a local crowd but an international crowd. [The judges] are dealing with crowd appeal, costume and precision.
But Saturday's event was about more than just Junkanoo.
Popular Bahamian chef Jamal Petty hosted a cooking demonstration, which attracted scores of people. His dish of choice was conch tortilla soup.
Visitors and residents also got a chance to enter the pineapple, watermelon, and corn eating competitions or the crab catching, conch cracking contests.                                                                                                                             
For those who prefer arts and craft work, straw vendors and wood carvers gave participants a chance to learn their trades.
There was also a Kiddie Corner that appealed to children wanting to learn Bahamian games.
Casey Williams of Denver Colorado said she enjoyed learning how to plait straw.
"That's my first time," she said.
"It was really interesting. I've never done anything like that before. It's harder than it looks. I learned something new today.
Williams made a straw bookmark.
"It's something that I always wanted to try," she said. 
"It's a craft that I don't think a lot of people know how to do."
Williams is on vacation with her family.
"We love it," she said referring to the festival in general.
"I was here last year, we just love it; the food, the people, the music, it's a lot of fun."
Bulgarian visitor Zorro won the crab catching and conch cracking competitions.
"I've never done it before but I love it," he said.
"I'm quite brave so [it was] no problem.
"It didn't bite me, which is good," he said referring to the crab.
"It was fun. So far it's been nice. I would definitely come back.
"We are here for six days now but I'm already planning my next trip maybe next year. I'm doing a [tour] around the Caribbean and so far this is the best place."
The festival will continue every Saturday until the end of the month.