Jr. Minister of Tourism Preliminary Speech Competition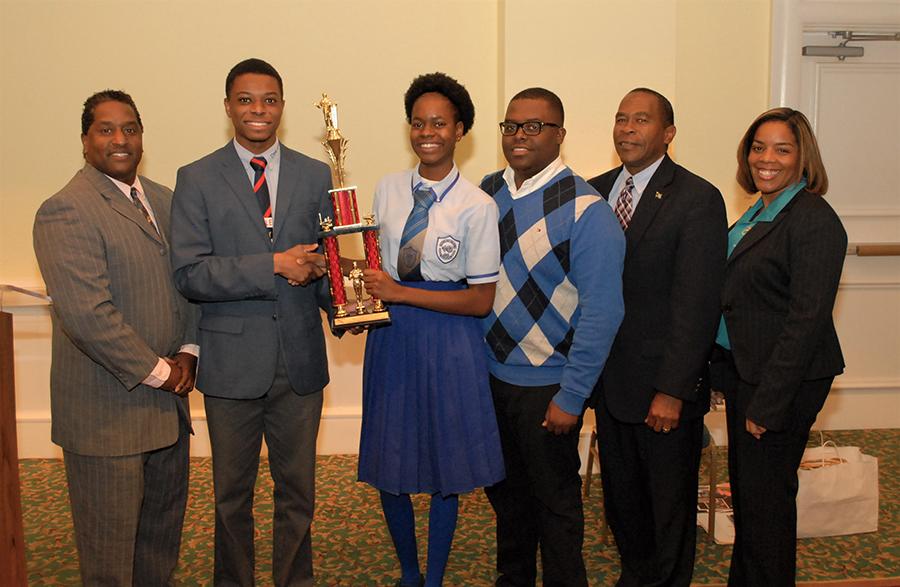 On Thursday, March 16th, the Training and Education Department of the Ministry of Tourism on Grand Bahama Island hosted this year's Junior Minister of Tourism preliminary speech competition at the Grand Lucayan Resort.
The program, which has been an annual competition on Grand Bahama Island for over 10 years, highlighted the speaking capabilities of eight finalists from several schools on the island, all vying to claim the title of the new Jr. Minister of Tourism for Grand Bahama.
All finalists, who were selected through a very rigorous screening process, shared on the topic "Strengthening Cultural Heritage for Tourism Growth". 
Outgoing Junior Minister of Tourism for The Bahamas and The Caribbean, Gabriele Josephs, Mary Star of The Sea Catholic Academy, noted that "These are some of the most foundational experiences I've had in the past year, so to give it up is certainly a bitter moment". 
According to Karenda Swain, Assistant Manager, Training and Education Department, Ministry of Tourism, "It's a tight competition and I can't even say which one would be the winner. The interview scores were close and as you're listening to the various speeches, you can tell they are very competitive".
The notion of such a stiff competition was evident throughout the morning, as many competitors fought through the nerves to deliver their most dynamic speeches.
Each speech was judged by a total of four members of the Toast Masters organization and timed by a member of the Ministry of Tourism. 
Based on a tally of cumulative scores, Nicholas Burrows (St. Georges High School) took home the third place trophy while Chardae Adderley (Mary Star of the Sea Catholic High School) came in second, and D'Asia Russell (Eight Mile Rock High School) secured the first place trophy and title of this year's Junior Minister of Tourism for Grand Bahama Island.
Third Place - Nicholas Burrows
Second Place - Chardae Adderley
First Place - D'asia Russell
In reference to Josephs, Russell said that "It has been an honour to be passed the baton from someone so great." 
She added that she is looking forward to the experiences that she will have as the new Jr. Minister of Tourism for Grand Bahama Island. 
With much help and preparation, Russell will represent Grand Bahama Island to the best of her abilities at the final Jr. Minister of Tourism speech competition, set to be held on April 6th, at the Breezes Resort in New Providence.
Swain noted that, based on the winner chosen at the end of the competition, "We are hoping that Grand Bahama Island can bring a consecutive win at the Junior Minister of Tourism competition in New Providence."