Back to top
Islands Of The Bahamas Launch Official Destination Sponsor At University Of Miami VS Clemson University Game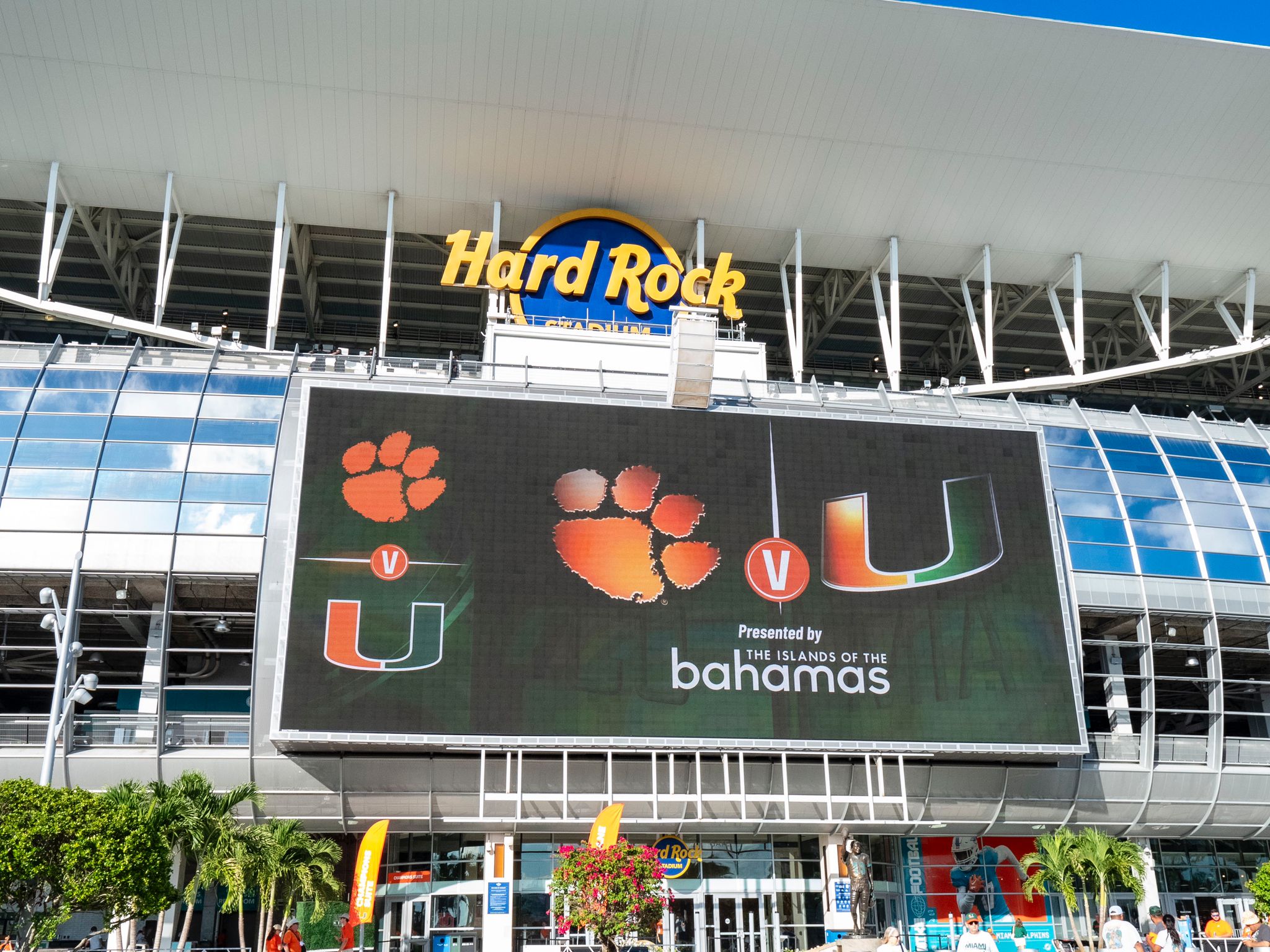 CORAL GABLES, Fla. – 26 Oct. 2023 –The Islands of The Bahamas officially launched its destination sponsorship during a game on 21 Oct. that saw the University of Miami Hurricanes go head-to-head against the Clemson University Tigers at the Hard Rock Stadium. The 'Canes grounded out a victory on their home turf by toppling the Clemson Tigers in double overtime, 28-20.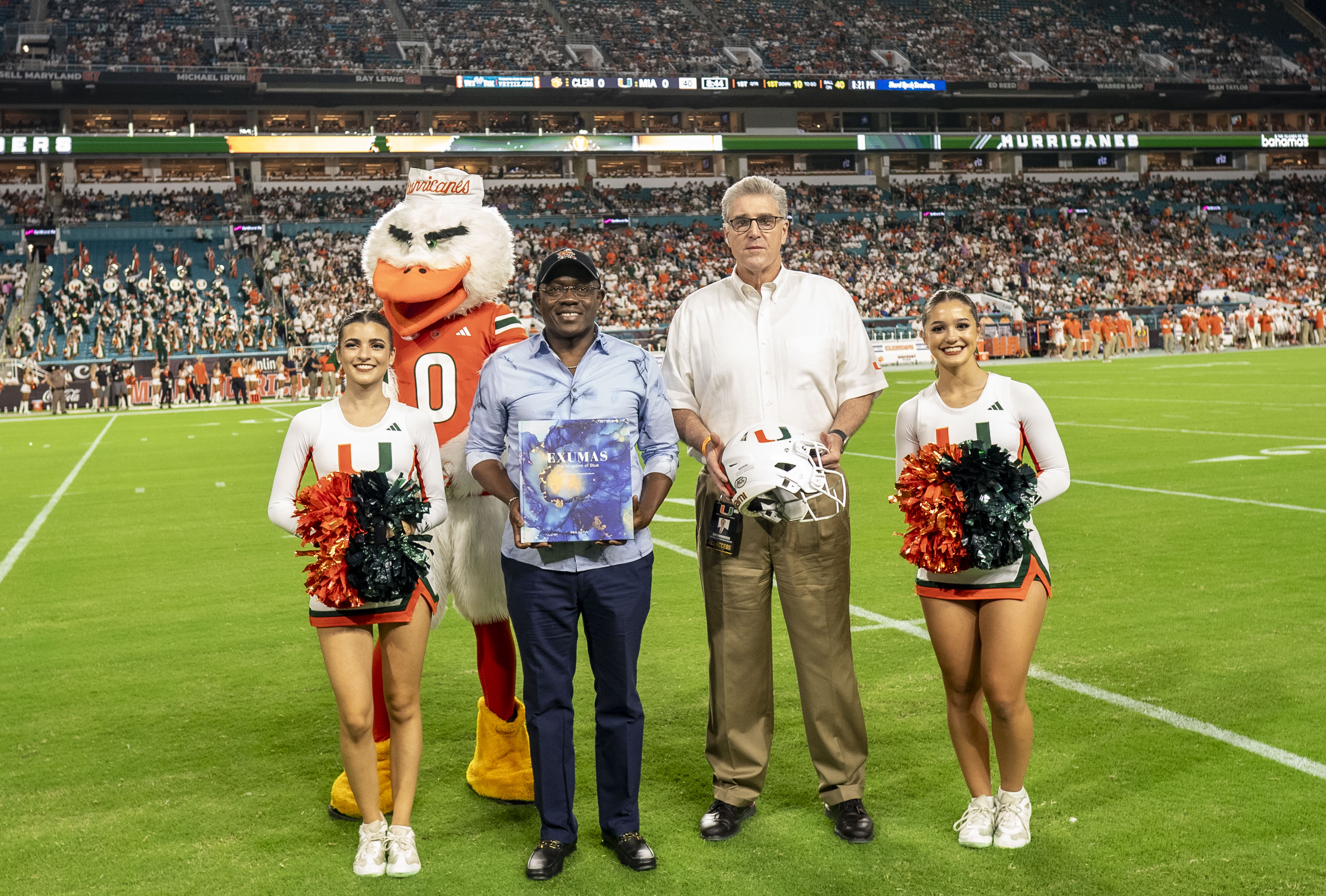 Deputy Prime Minister & Minister of Tourism, Investments & Aviation Hon. I Chester Cooper presented a special gift on-field to Athletic Director Dan Radakovich
On hand to mark the launch of the multi-year partnership was the Hon. I. Chester Cooper, Deputy Prime Minister and Minister of Tourism, Investments & Aviation. The deputy prime minister led a small delegation including Senator the Hon. Randy Rolle, Global Consultant and other Ministry executives at the official sponsorship game. DPM Cooper presented a special gift on-field to Dan Radakovich, UM Director of Athletics and met with Julio Frenk UM President and Josh Friedman, President of UM's Alumni Association. The deputy prime minister was also proud to host industry partners, Bahamian students, athletes, and professors studying and working at the university.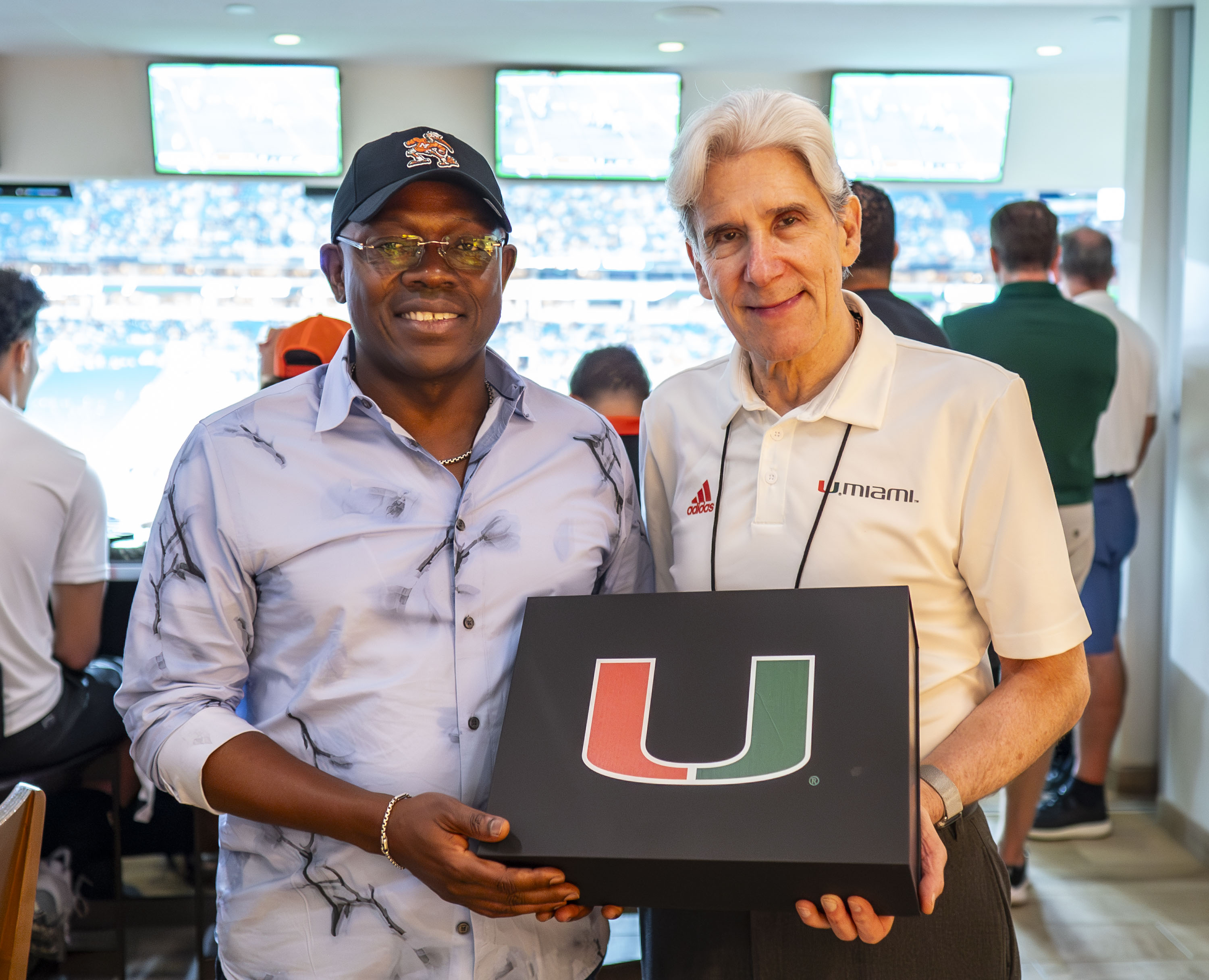 Deputy Prime Minister & Minister of Tourism, Investments & Aviation Hon. I Chester Cooper met with President of University of Miami Julio Frenk 
"We are very enthusiastic about the reach of this partnership and the opportunity to work with such an admired brand as the U," said DPM Cooper. 
The partnership further demonstrates The Bahamas' close relationship with Florida, specifically Miami, where the rich Bahamian heritage and culture continues to thrive. Bahamians were recognised earlier this year for their contribution to the growth of the area that is now designated Little Bahamas of Coconut Grove. 
"With the close proximity to our shores and deep roots that our island nation holds with Florida, I believe there are countless ways we can maximise this partnership to advance our sports and education sectors and more." 
Deputy Prime Minister & Minister of Tourism, Investments & Aviation Hon. I Chester Cooper and Senator Hon. Randy Rolle along with delegation and Junkanooers 
In the vibrant and bustling Fan Zone, attendees were able to engage with tourism representatives on the many offerings across the 16-island destination located just 50 miles away and were treated to the pulsating and rhythmic Junkanoo rush out. Thousands of attendees had the chance to enter the ongoing sweepstakes for an adventure of a lifetime in The Islands of The Bahamas.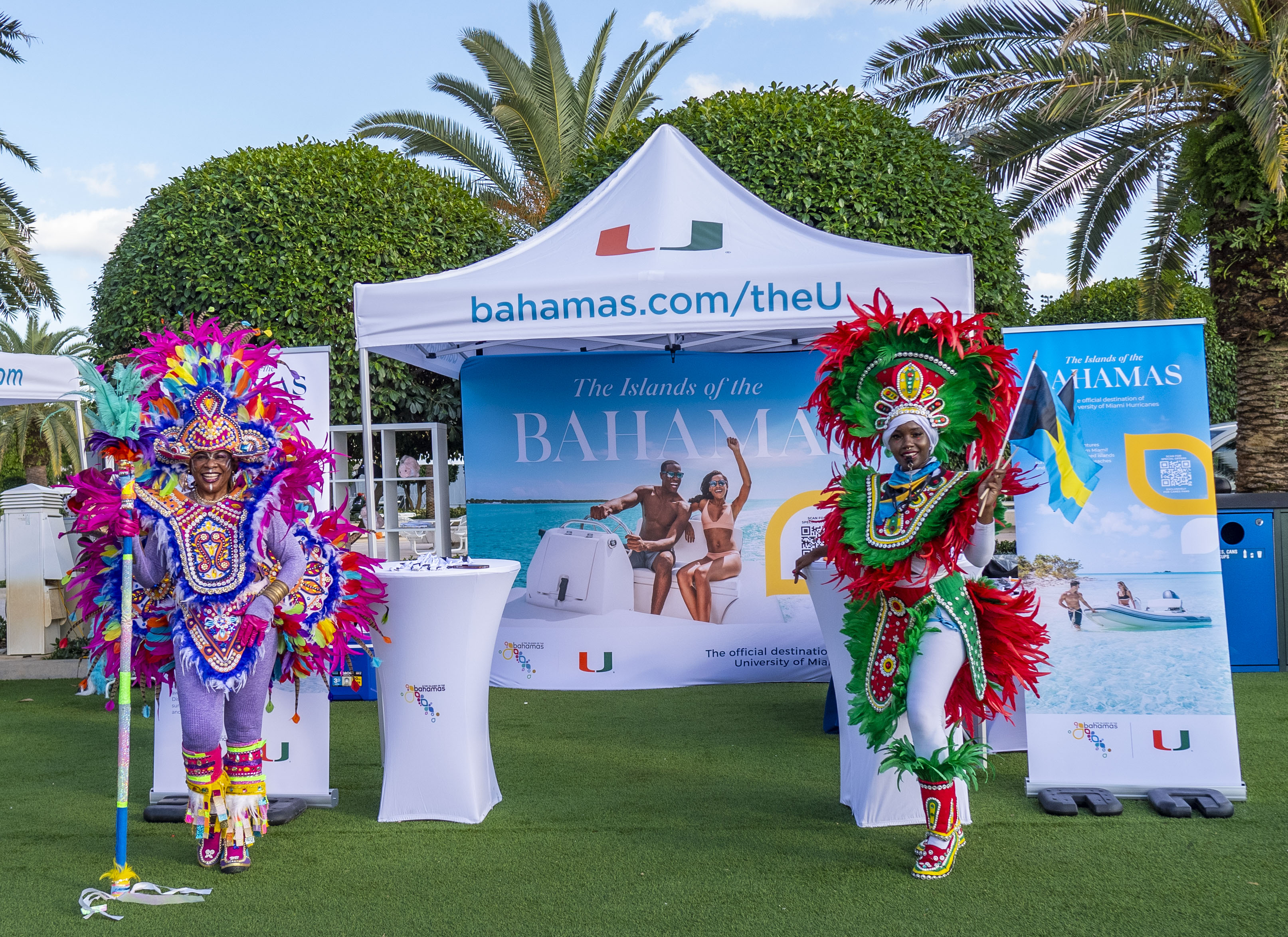 The Bahamas Ministry of Tourism, Investments & Aviation Tourism booth with Junkanoo dancers 
DPM Cooper said the Government of The Bahamas continues to work hard to increase tourist numbers and forward bookings for 2023 that should result in a new banner year of arrivals to the island paradise. 
"This is part of that broad-based strategic effort to position our national Sports in Paradise initiative and ensure that the message is out there that The Bahamas is open for business, with more exciting partnerships in the pipeline," he added. 
The agreement between The Islands of The Bahamas and UM includes game presenting sponsorships, Bahamian themed promotions and on-site activations across UM's football and basketball programmes. The Bahamas is known for being the backdrop of many successful major international sporting events, training sessions and more throughout its history and continues to lead the travel market as a mecca for sporting events. This multi-year partnership with UM is expected to strengthen the country's national "Sports in Paradise" initiative by positioning The Bahamas as the ideal destination for sports related meetings/conferences, tournaments, events and more. The partnership was facilitated by Legends, which has managed corporate sponsorships and multimedia rights for UM Athletics since April 2021. 
For more information on The Islands of The Bahamas x UM Athletics partnership, visit: https://www.bahamas.com/university-of-miami-athletics-partnership
ABOUT THE BAHAMAS
With over 700 islands and cays, and 16 unique island destinations, The Bahamas lies just 50 miles off the coast of Florida, offering an easy flyaway escape that transports travellers away from their everyday. The Islands of The Bahamas have world-class fishing, diving, boating and thousands of miles of the earth's most spectacular water and beaches waiting for families, couples and adventurers. Explore all the islands have to offer at www.bahamas.com or on Facebook, YouTube or Instagram to see why It's Better in The Bahamas.
University of Miami Athletics
The University of Miami's Department of Intercollegiate Athletics, a member of the National Collegiate Athletic Association (NCAA) and the Atlantic Coast Conference (ACC), supports more than 400 student-athletes across 18 sports. Miami has won 21 team national championships and 83 individual national championships in its storied history. UM Athletics is dedicated to developing and supporting its student-athletes in their efforts to achieve personal, academic, and athletic excellence, resulting in the highest standards of achievement. For more information visit www.miamihurricanes.com.
About Legends
Founded in 2008, Legends is a premium experiences company with six divisions operating worldwide – Global Planning, Global Sales, Global Partnerships, Hospitality, Global Merchandise, and Global
Technology Solutions – offering clients and partners a 360-degree data and analytics fueled service solution platform to elevate their brand and execute their vision. Currently, Legends works with marquee clients across business verticals including professional sports; collegiate; attractions; entertainment; and conventions and leisure. We are the industry leaders in designing, planning and realizing exceptional experiences in sports and entertainment. For more information, visit www.Legends.net and follow us on Facebook, Twitter and Instagram @TheLegendsWay.
MEDIA CONTACTS
Carter Toole
Sr. Associate AD of Communications and Digital Strategy
Carter.toole@miami.edu
Anita Johnson-Patty
Director, Global Communications
Bahamas Ministry of Tourism, Investments & Aviation
ajohnson@bahamas.com