INAUGURAL GB X-TREME 13.2 INTERCOASTAL CHALLENGE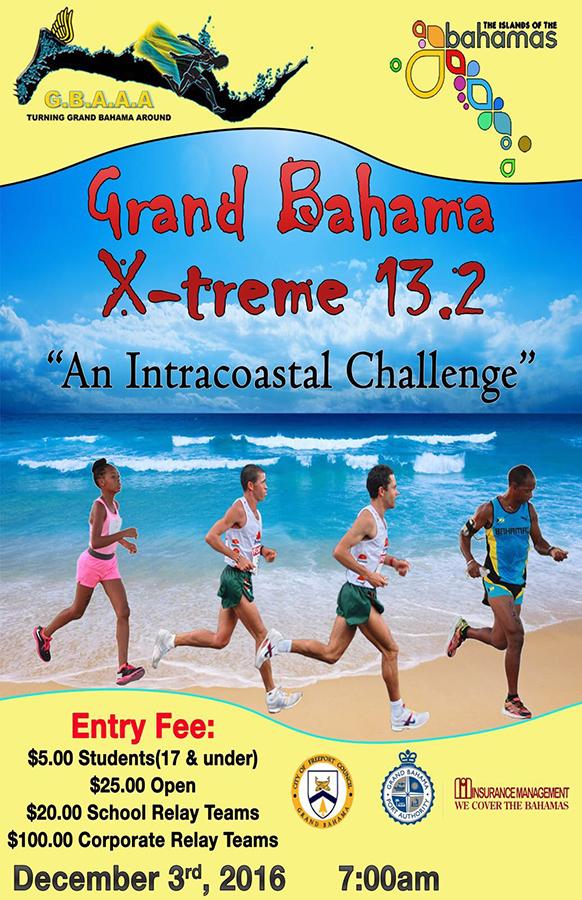 On Wednesday, August 31st, the Grand Bahama Amateur Athletic Association, in conjunction with the Ministry of Tourism, announced the first ever Grand Bahama X-Treme 13.2 Intercoastal Challenge.
This event will feature some of the island's most beautiful beaches and roadways, as participants put their athleticism to the test.
The event is scheduled to take place on December 3rd, 2016 at 7:00 am.  
The half marathon, which will begin at Pirates Cove, Taino Beach, is expected to attract at least 500 participants locally and internationally.
The competitors will include open division (international participants), corporate relay teams, school relay teams, as well as students looking to take on the 13.2 mile challenge.
The event is strategically planned during the winter season so as to attract athletes to compete along the warm shores of Grand Bahama Island.
The rigorous course will encompass diverse terrains and scenic views, including a run through the sand, over a bridge and across several roadways, offering canal views and even a preview of the Dolphin Experience facility.  
Jay Phillipe, Assistant Manager of Sports Tourism on Grand Bahama said that, "the marathon is intended to become a signature event promoting the Island of Grand Bahama."
He added that, "The Ministry of Tourism is proud to partner with such a unique running experience which will engage running enthusiasts and showcase the landscapes which make Grand Bahama so grand."
For more information on the GB X-Treme 13.2 Intercoastal Challenge, contact the Ministry of Tourism's Sports Tourism Unit at 350-8600.