Inaugural Arrival of the MS Boudicca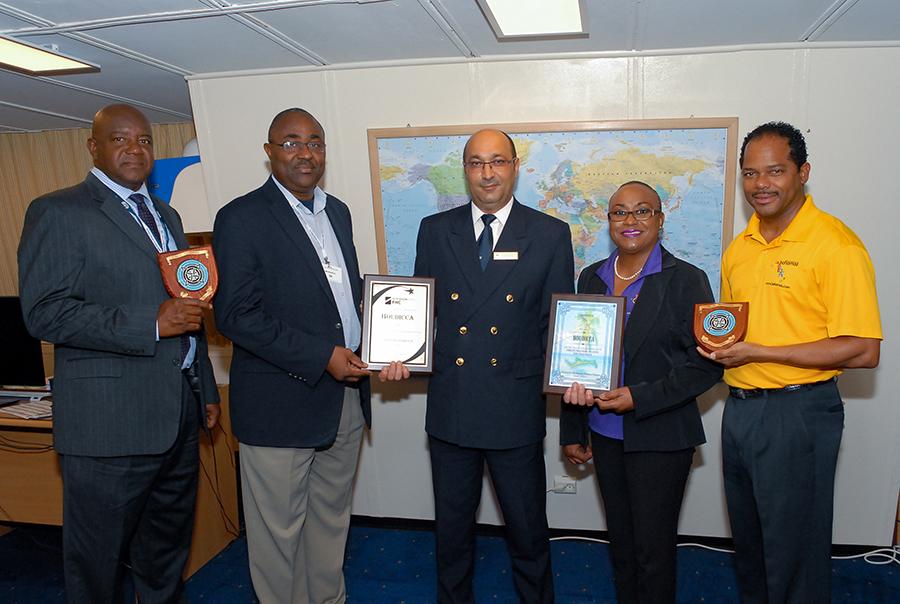 On Sunday, March 12th the MS Boudicca, of Fred Olsen Cruise Lines, sailed into Freeport Harbour on its inaugural voyage to Grand Bahama Island.
Representatives from the Ministry of Tourism, along with the Freeport Harbour Company, participated in a ceremonial plaque exchange with ship representatives on board the vessel.
(pictured from left) Nuvolari Chootosingh, Sports Tourism Manager, MOT; Anastas Batashki, Safety Officer, MS. Boudicca; Elaine Smith, Product Development Coordinator, MOT
The MS Boudicca, which sails from all ports around the United Kingdom, was built in 1973, and refitted in 2011, can hold up to 880 guests.
On the day of its arrival into Freeport Harbour, the vessel had been sailing for some 63 days, with a scheduled return to Southampton, England, port of origin, on March 26th, 2017.
According to Anastas Batashki, Ship Safety Officer, the ship's itinerary took the 656 guests on board the vessel to a number of ports throughout the Caribbean and South America before calling on Freeport Harbour.
Speaking to benefits of the inaugural visit to Grand Bahama Island, Manager for Maritime Tourism, Nuvolari Chootosingh, shared that "The Ministry of Tourism is seeking to grow its cruise business as much as possible, and this is a good opportunity for the island to get more business."
Speaking to the significance of the inaugural visit, Captain Orlando Forbes, Port Director for the Freeport Harbour Company said that "Any one- off stop really helps the community; taxi drivers and straw vendors are all impacted so it goes a long way."
He shared that the Freeport Harbour Company accommodated three unexpected calls last week, two Royal Caribbean Cruise vessels and one Carnival Cruise Line vessel, which all significantly benefited the local economy.
 (pictured from left) Charles Rolle, Manager of Operations, FHC; Orlando Forbes, Port Director, FHC; Anastas Batashki, Safety Officer, MS. Boudicca; Elaine Smith, Product Development Coordinator, MOT; Nuvolari Chootosingh, Sports Tourism Manager, MOT