Back to top
HURRICANE MATTHEW: All airports throughout The Bahamas close as Hurricane Matthew approaches (ALERT #30)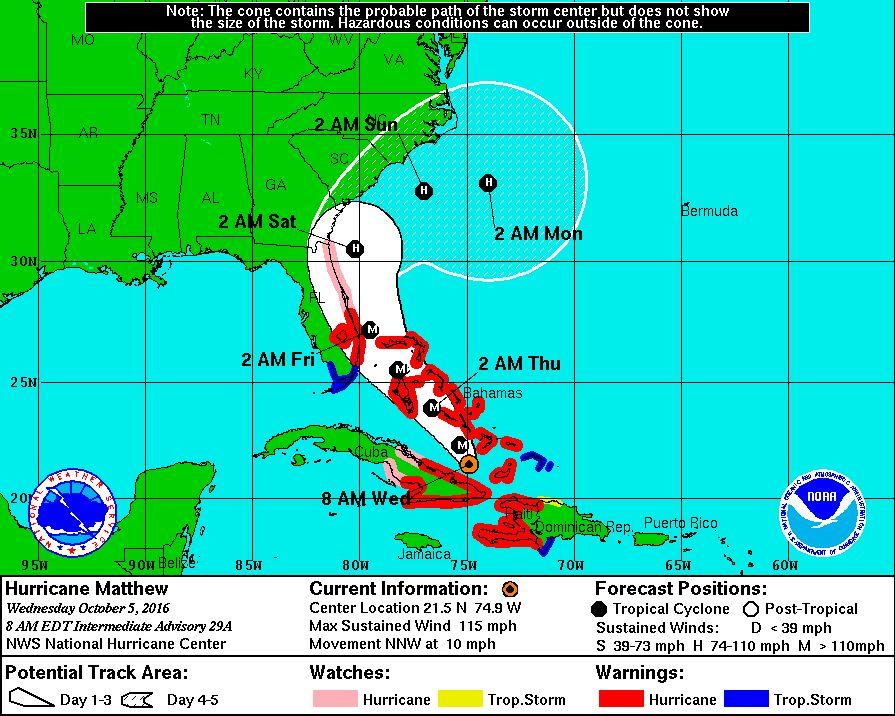 ALERT #30 ON HURRICANE MATTHEW ISSUED BY THE BAHAMAS DEPARTMENT OF METEOROLOGY WEDNESDAY 5TH OCTOBER, 2016 AT 9AM EDT
Nassau, Bahamas – Airports throughout The Bahamas closed today as strong winds, heavy rains and dangerous storm surges begin to spread over the country ahead of Hurricane Matthew. 
The storm slightly weakened as it moved over Cuba Tuesday night and is now listed as a category 3 storm.
According to the Department of Civil Aviation airports in Exuma, Long Island, Cat Island, Elethera and San Salvador closed on Tuesday.
Airports on North Eleuthera, the Berry Islands, Andros, Abaco, Grand Bahama, Bimini and New Providence will close today, Wednesday, October 5.
The Department stated that as of 11 a.m. Wednesday, "all airports in the Commonwealth of The Bahamas must be closed in the interest of the safety of the travelling public".
As of 9 a.m., Wednesday October 4, Hurricane Matthew was located 97 miles west northwest of Matthew Town, Inagua.
Hurricane Matthew is moving north northwest at 10 miles per hour and is expected to turn northwest tonight. The storm, packing winds up to 115 miles per hour, will move across The Bahamas throughout Thursday.
On its current path, the eye of Hurricane Matthew is expected to pass over or near Ragged Island Wednesday afternoon.
All cruise ships have now re-routed away from ports in The Bahamas to other destinations. The Port Department has advised that the Port of Nassau closed at noon on Tuesday. The Royal Bahamas Defence Force will take charge of the facility and be responsible for is reopening.
The Bahamas Ministry of Tourism (BMOT) is making final preparations and coordinating its efforts ahead of the storm.
The BMOT has fully activated its Emergency Coordinating Committee at the British Colonial Hilton in Nassau, in preparation for Hurricane Matthew. The committee represents a cross-section of the Ministry of Tourism that includes senior management and other officers who will monitor the storm's movements.
BMOT's crisis management team is liaising with the National Emergency Management Agency (NEMA), Bahamas Hotel and Tourism Association (BHTA), Nassau Airport Development Company, the Port Authority and other relevant authorities.
"Our thoughts and prayers are with everyone in the archipelago as this storm moves over the islands of The Bahamas," Director General in the Ministry of Tourism Joy Jibrilu said.
"We are praying for the best outcome and will being assisting in the recovery effort as soon as the all clear is given."
The BMOT is maintaining contact with all of its offices, representatives and visitors in the family of islands as Hurricane Matthew approaches.
The Islands Of The Bahamas will be releasing updates on the tracking of Hurricane Matthew on TourismToday.com and Bahamas.com/storms but we encourage everyone to access the National Hurricane Center and the Weather Channel for latest updates.