HURRICANE JOAQUN: All Clear for the entire Bahamas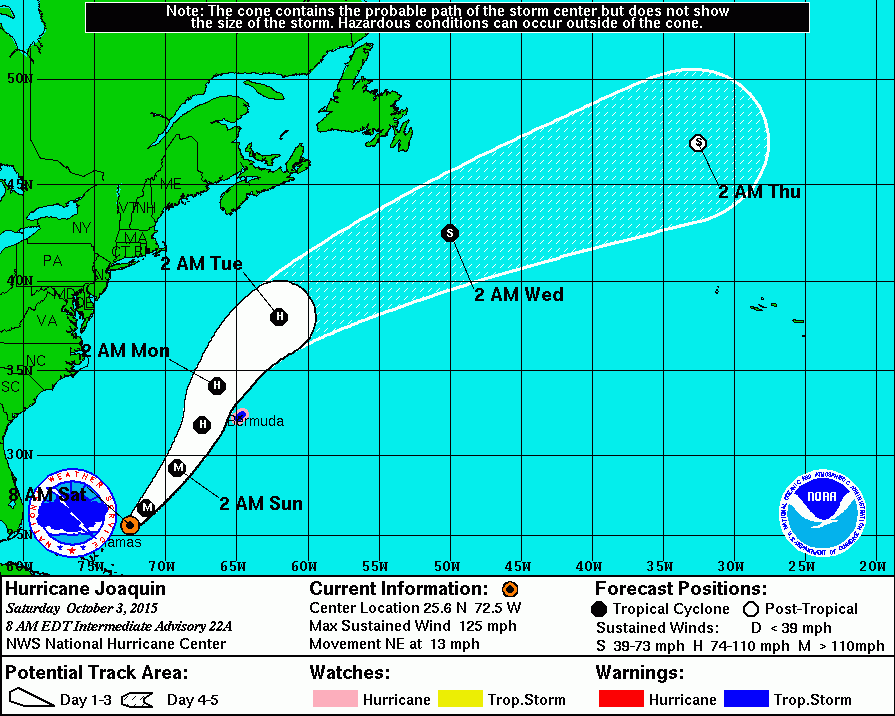 ALERT  #27  ON  HURRICANE  JOAQUIN  ISSUED  BY  THE  BAHAMAS  DEPARTMENT OF
METEOROLOGY SATURDAY 3RD OCTOBER, 2015 AT 9 AM EDT.


  …AN ALL CLEAR SIGNAL IS GIVEN FOR THE ENTIRE BAHAMAS AND THE TURKS AND
CAICOS ISLANDS AS POWERFUL JOAQUIN CONTINUES TO MOVE RAPIDLY AWAY FROM THE
                                   AREA.


AN  ALL  CLEAR  SIGNAL MEANS THAT ALL HURRICANE AND TROPICAL STORM WARNINGS
AND  WATCHES  ARE  DISCOUNTINUED  FOR  THE ENTIRE BAHAMAS AND THE TURKS AND
CAICOS ISLANDS.


AT  8 AM EDT THE CENTER OF HURRICANE JOAQUIN WAS LOCATED NEAR LATITUDE 25.6
DEGREES  NORTH AND LONGITUDE 72.5 DEGREES WEST OR ABOUT 165 MILES NORTHEAST
OF SAN SALVADOR 305 MILES EAST OF NEW PROVIDENCE.


HURRICANE  JOAQUIN  IS  MOVING  TOWARD  THE NORTHEAST NEAR 13 MPH, AND THIS
MOTION  IS EXPECTED TO CONTINUE THROUGH TONIGHT WITH AN INCREASE IN FORWARD
SPEED.   A  TURN  TOWARD THE NORTH-NORTHEAST IS FORECAST ON SUNDAY.  ON THE
FORECAST  TRACK,  THE CENTER OF JOAQUIN WILL CONTINUE TO MOVE AWAY FROM THE
BAHAMAS TODAY, AND PASS WEST OF BERMUDA ON SUNDAY.


MAXIMUM  SUSTAINED WINDS ARE NEAR 125 MPH WITH HIGHER GUSTS. SLOW WEAKENING
IS  FORECAST TO BEGIN LATER TODAY, FOLLOWED BY STEADIER WEAKENING ON SUNDAY
AND SUNDAY NIGHT.


HURRICANE  FORCE  WINDS  EXTEND  OUTWARD UP TO 50 MILES FROM THE CENTER AND
TROPICAL STORM FORCE WINDS EXTEND OUTWARD UP TO 205 MILES FROM THE CENTER.


EXTENDED FEEDER BANDS FROM JOAQUIN WILL CONTINUE TO PRODUCE GUSTY WINDS AND
SQUALLY  SHOWERS  OVER  PARTS  OF THE CENTRAL AND SOUTHEAST BAHAMAS THROUGH
TODAY AND TONIGHT.


SMALL CRAFT OPERATORS THROUGHOUT THE BAHAMAS SHOULD REMAIN IN PORT AS LARGE
SWELLS  AND  BATTERING WAVES WILL CONTINUE TO AFFECT THE BAHAMAS DURING THE
NEXT FEW DAYS.


THIS  IS  THE  FINAL ALERT ON HURRICANE JOAQUIN TO BE ISSUED BY THE BAHAMAS
DEPARTMENT  OF  METEOROLOGY.   HOWEVER,  THE  DEPARTMENT  WILL  CONTINUE TO
MONITOR  JOAQUIN  AND  ISSUE  NEWS ITEMS EVERY 6 HOURS.  THE NEXT NEWS ITEM
WILL BE ISSUED AT NOON EDT.