Hotel Accommodations At Grand Lucayan Sold Out For Upcoming Faith Fest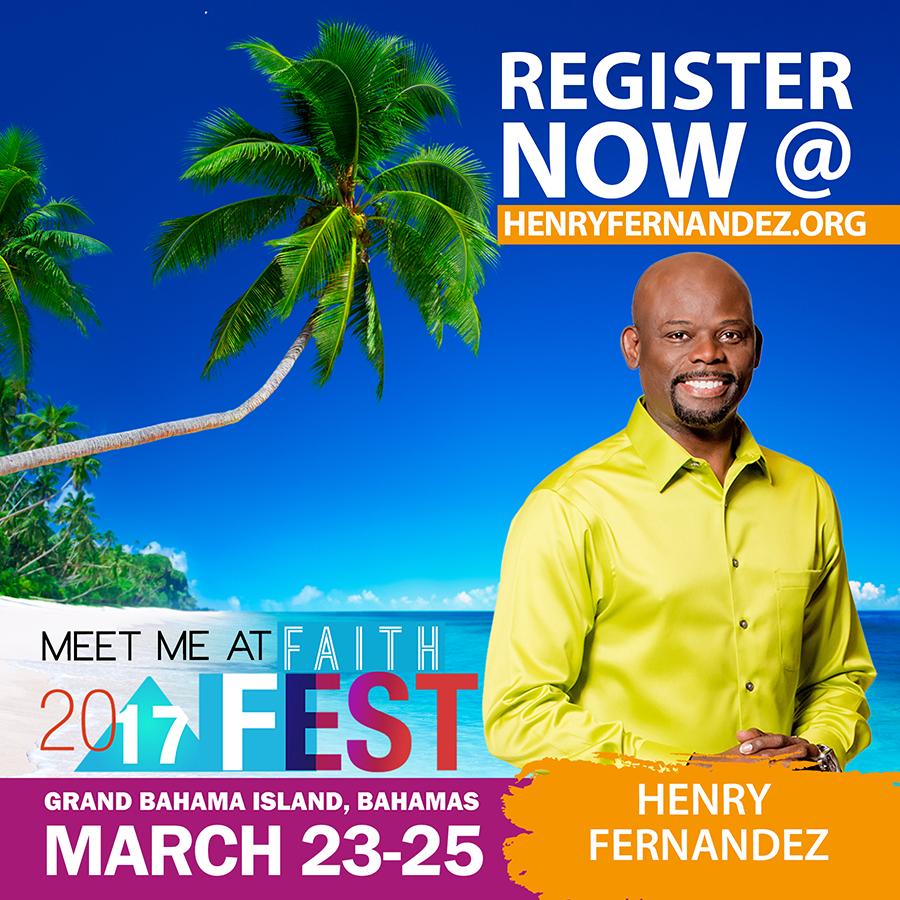 Organizers for the upcoming Faith Fest to Grand Bahama Island, taking place March 23-25, 2017 reported that rooms at the Grand Lucayan Resort is already completely sold out and they are indeed happy with the high interest level shown in the event.    More than 300 visitors from around the world have been booked for the cultural immersion and spiritual rejuvenation event.
With more than a month out, hotel bookings at the Grand Lucayan Resort had to be suspended as no more rooms are available at the Grand Lucayan Resort, said Bishop Henry Fernandez, Sr. Pastor of The Faith Center in Sunrise, Florida.
"Certainly, this is a sign that people really enjoy visiting The Bahamas and they are expecting something great from Faith Fest.  Those in attendance will include both returning guests to the island and those visiting the island for the first time," he said.
Originally scheduled for October 27-29, 2016 but was postponed due to damages the island sustained from Hurricane Matthew, Faith Fest is a collaborative effort between Henry Fernandez Ministries and the Bahamas Ministry of Tourism (BMOT).  The gathering is expected to pull hundreds of people from 7 countries and 19 states within the United States. 
"Visitors to Grand Bahama during the time of Faith Fest can expect to experience spiritual rejuvenation and physical relaxation.  It's a time when people can refuel from their busy day-to-day activities and experience transformation in their lives, while gaining a better understanding of the culture and most importantly, teaming up spiritually with the local Bahamian people," said Bishop Fernandez.
Joy Jibrilu, Director General at the BMOT said that the partnership with Henry Fernandez' Ministries has truly been a God ordained one. 
"We are grateful to Bishop Fernandez and his organization for the unwavering love, kindness, support and generosity shown to the people of The Bahamas, particularly following Hurricane Matthew.  Bishop Fernandez has personally led several hurricane relief efforts into Grand Bahama, giving much needed supplies to those people most affected by the storm, including the children at the Grand Bahama Children Home.
- more -
This demonstrative and non-conditional love for our country and people will forever bind us spiritually. 
"We look forward to sharing our warm hospitality, distinctive cuisine and culture of our beautiful country, 'the place where God lives' with our Faith Fest visitors," said Ms. Jibrilu. 
Among some of the planned activities at the Grand Bahama Faith Fest are spirit filled sessions with Bishop Fernandez, Sheryl Brady and Bishop Cardinal McIntosh, praise and worship from renown psalmists, James Fortune and Tye Tribbett, a comedy show featuring noted comedian, Marcus Wiley, beach-side exercise workout and an all-white party and concert with Jonathan Nelson, Raignor Rollocks, Simeon Outten and the Cooling Waters.
In addition to granting free admission to Grand Bahama residents wishing to attend Faith Fest, while in Grand Bahama, Bishop Fernandez will be hosting a special humanitarian relief event in West End, where he will be issuing supplies to assist the victims of Hurricane Matthew.