HAPPINESS FOUND IN THE SPIRIT OF GIVING "All for the Children"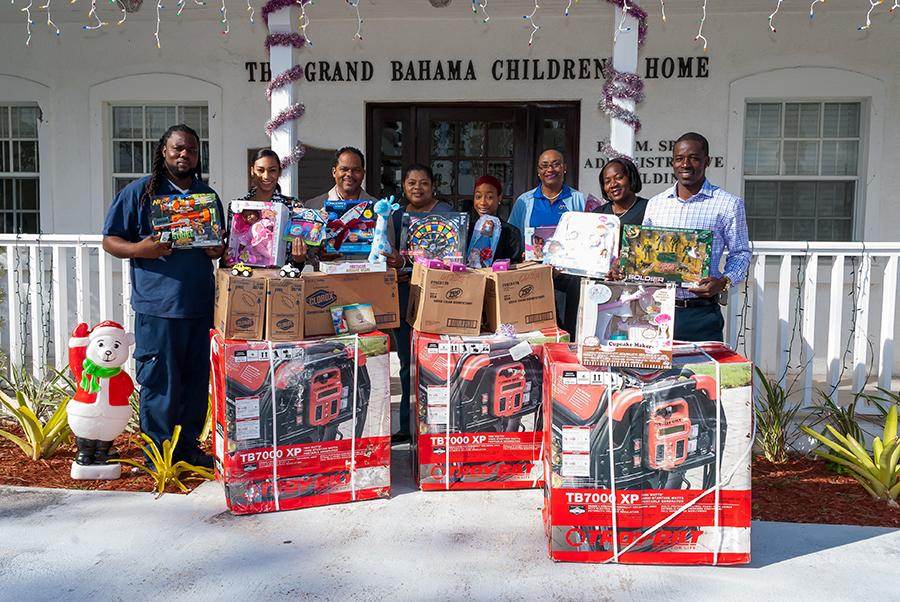 On Monday, January 9th, the Ministry of Tourism month-long toy drive culminated with several team members presenting gifts to the children of the Grand Bahama Children's Home.
 Ministry of Tourism Representatives along with Representatives from the G.B. Children's Home and NEMA
The toy drive, spearheaded by Area Manager, Sales & Marketing, Jennifer Gardiner of the Bahamas Tourism Office in Florida, allowed the children of the Grand Bahama Children's Home to experience the gift of kindness during the holiday season.
Monday's presentation also included the delivery of three brand new generators, which were previously donated by the Miami Dolphins after the passing of Hurricane Matthew.
Nuvolari Chotoosingh, Manager, Sports Tourism, Ministry of Tourism Grand Bahama
Nuvolari Chotoosingh, Manager for Sports Tourism, said that "We would like to thank our partners NEMA, the Miami Dolphins, Bahamas Customs Department, the Ministry of Finance, the Bahamas Police Force and the Defense Force for their assistance in getting all of this done."
With a total of twenty-eight children in residence, ranging from six weeks old to thirteen years old, the executive team from the Grand Bahama Children's Home expressed how grateful they were for the wonderful gifts brought by the Ministry of Tourism and the Miami Dolphins.
Enzy Jones, Assistant Administrator, G.B. Children's Home, said that "We are very appreciative of the donations and the gifts and I am sure the children will have a wonderful New Year when they receive their gifts."
The National Emergency Management Agency (NEMA), the Administrators Office, and the Ministry for Grand Bahama were also very influential in ensuring that all of the items were delivered directly to the Children's Home.
Tammi Mitchell, NEMA representative, said that "We are finally able to say that it was completed; we have ensured that everything was done that had to be done, so we want to thank everybody for finally closing this chapter."