H. Forbes Charter Services Blesses Five New Buses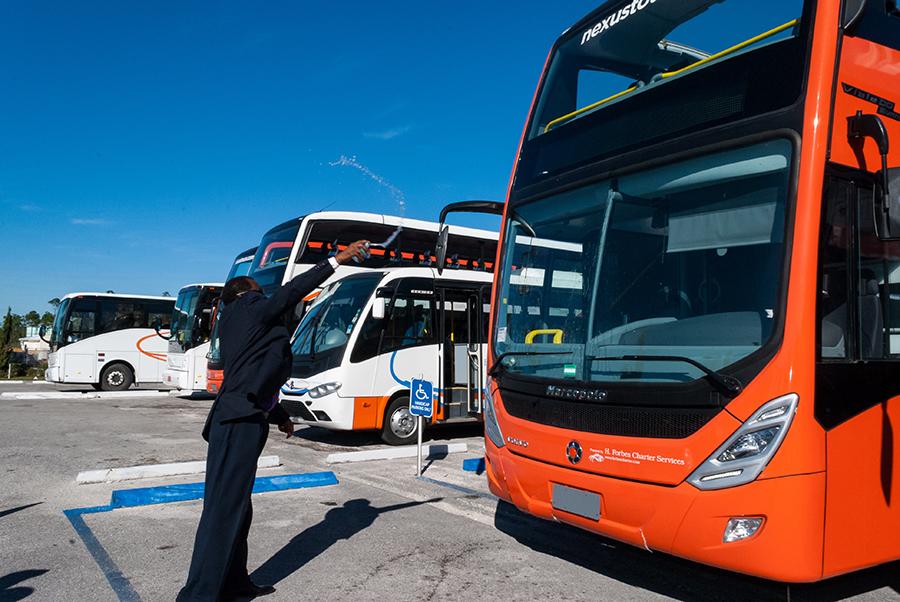 On Wednesday, January 25th, the owners of H. Forbes Charter Services, staff members, members of the Ministry of Tourism and representatives of the Grand Bahama Island Tourism Board gathered at St. John's Jubilee Cathedral to bless the arrival of five new buses.
The ceremony was officiated by Bishop Godfrey Williams and purposed to give thanks to God and send prayers for guidance and protection before the buses are put into service.
The company, which has been in business for over fifty years, remains the largest tour company and provider of ground transportation for Grand Bahama Island.   
H. Forbes' addition of five state- of- the art buses comes at a time when many stake holders are still in the process of revamping their product post Hurricane Matthew.
Renee Forbes, proprietor of H. Forbes Charter Services, noted that "We will add the new buses to an existing fleet of over thirty vehicles".
The new fleet features 29 and 85- seater eco-friendly double decker buses complete with handicap accessibility.
According to Elaine Smith, Coordinator for Product Development at the Ministry of Tourism, "The new and improved buses allow the company to appeal to a wider cross-section of travellers, including special needs groups".
Smith said that "This is a great step towards making Grand Bahama Island a more sustainable tourist destination". 
As Grand Bahama's economy continues to rebound, H. Forbes Charter Services remains steadfast in providing transportation services and tour experience for guests arriving in the nation's second city.