Grand Celebration Cruise Returns to Grand Bahama Island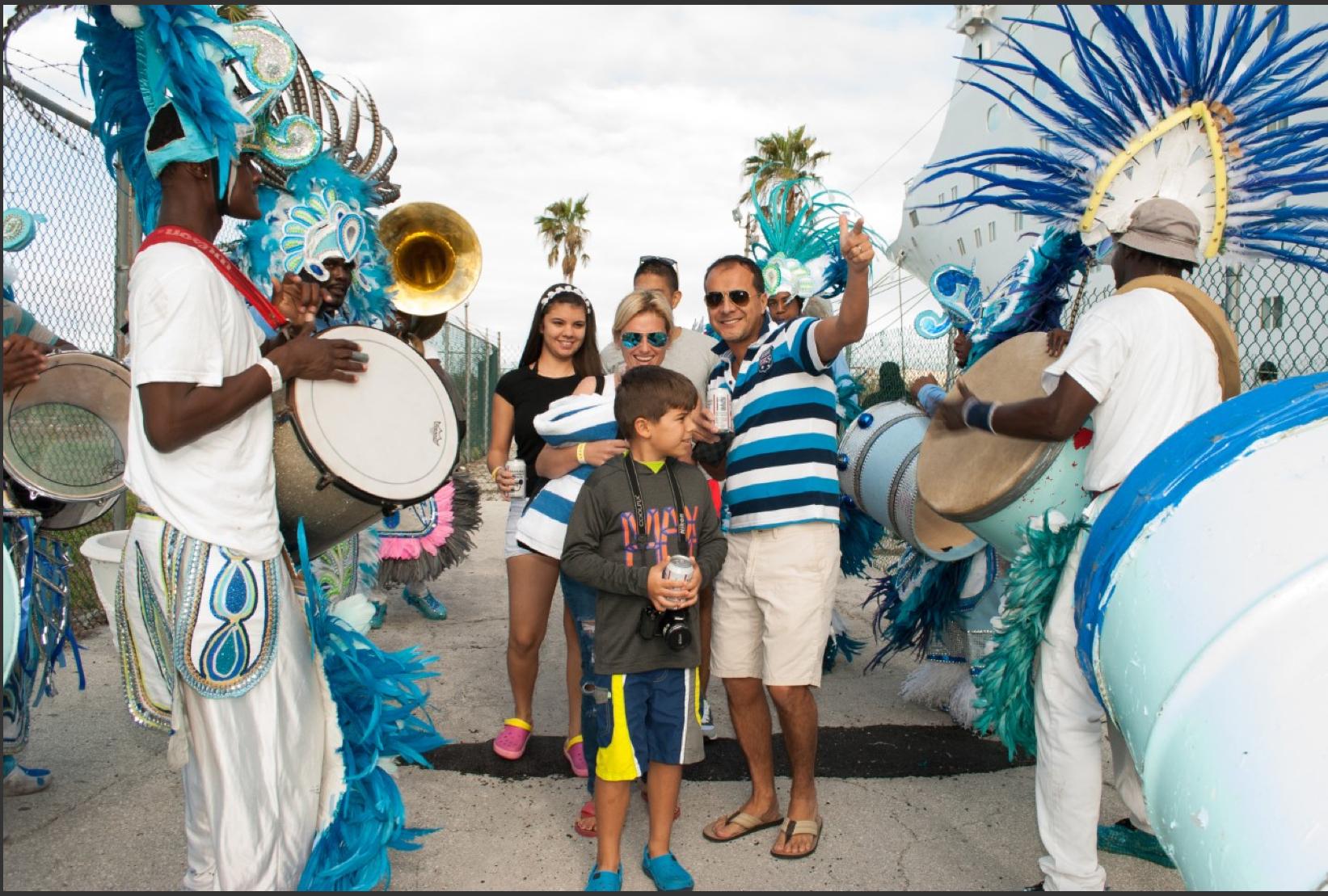 On Saturday, January 14th, 2017, Paradise Cruise Lines' Grand Celebration vessel returned to Grand Bahama Island after a three-month diversion to Bimini, due to Hurricane Matthew.
As a special welcome to the visitors who travelled aboard the vessel, Ministry of Tourism representatives and industry partners gathered at the Freeport Harbour to offer guests a warm greeting, to the tune of a live Junkanoo performance.
The repositioning of the Grand Bahama destination, in light of the devastation left in the trail of Hurricane Matthew, continues to yield positive results, as many of the island's key attractions and vendors are now back in full swing.
(Pictured from left) Uttam Chakrabonty,Hotel Director Grand Celebration; Betty Bethel, Director MOT; David Johnson, Consultant Grand Celebration; Hadley Forbes, Owner H.Forbes Charter Services; Jim Ward, Entertainment Director Grand Celebration; Erika Gates, Owner Grand Bahama Nature Tours; Shylock Edwards, Owner S&D Coach Tours
David Johnson, Consultant for the Grand Celebration, said that "We are impressed with the pace at which they (tourist outlets) have put their services back in order and now we are happy to be here disembarking some 1300 passengers on our first voyage."
Betty Bethel, Director for the Ministry of Tourism, said, "Tour and shore excursions went all out to bring back the experiences that are important to a vessel like this calling on us."
She added that it was equally important to have a number of the anchor properties back up and running, including Viva Wyndham Fortuna, Old Bahama Bay, Lighthouse Pointe and many others.
Speaking to the upcoming Tour De Grand Bahama signature cycling event, scheduled for February 4th and 5th, Ms. Bethel acknowledged that the South Florida participants now have an additional option for travelling and said that "Anyone coming over to cycle can now bring their bicycles with them on the vessel."
Mr. Johnson said that, annually, the vessel contributes some 45 million dollars to the island's economy, and delivers some 280,000 passengers to Grand Bahama,, which are net benefits that showcase the significance of this vessel to the local community. 
The Grand Celebration will continue sailing into Grand Bahama Island every other day from the Port of West Palm Beach.