GOOMBAY SUMMER FESTIVAL 2017 - Grand Bahama Island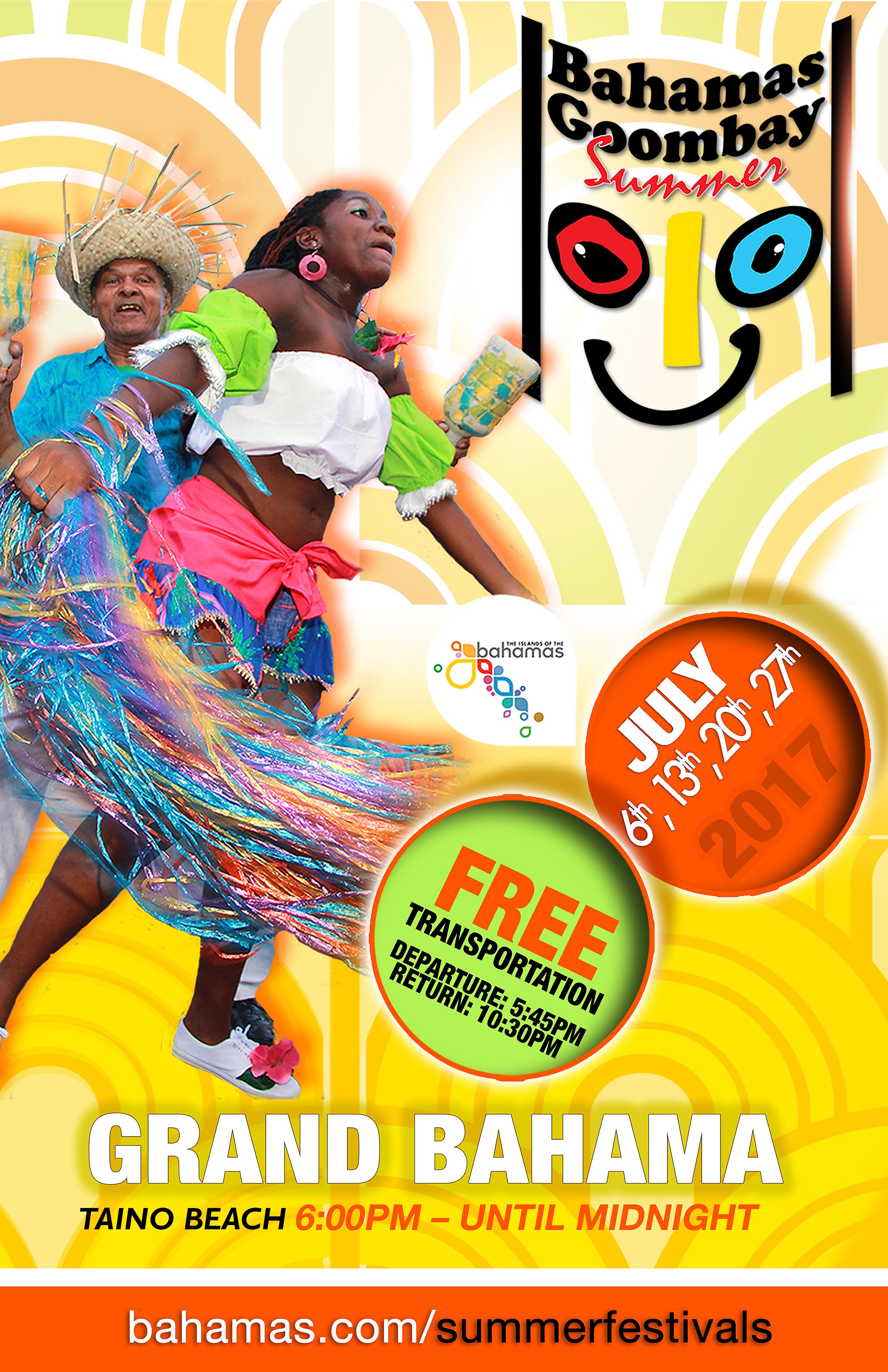 On July 6th, 2017 Goombay Summer Festival will officially kick off with four weeks of rich cultural excitement and Bahamian heritage celebrations for the entire family.
Goombay Summer Festival, launched in 1974, is a depiction of Bahamian rhythm and soul through the beat of goatskin drums.
The electrifying event, which attracts thousands of festival goers, is set for every Thursday in July, 6th, 13th, 20th and 27th from 6:00pm until 12 midnight at Taino Beach.   
As the opening night of this year's festival is an official part of the island's national Independence celebrations, attendees can look forward to experiencing the best in Bahamian cuisine, arts, crafts and entertainment.
Grand Bahamians, residents and visitors will enjoy conch and coconut demonstrations, nature walks, bush tea tasting and the ministry's signature People-to-People experience.
The year's event will feature headline performances by, Geno-D, Veronica Bishop, Puzzle, Wilfred Solomon & The Magnetics, Avvy, Dyson Knight, the Grand Bahama District Police Pop Band, Ronnie Butler, D-Mac, Ira Storr & the Spank Band and more! 
The Ministry of Tourism's Director for Grand Bahama Island, Betty Bethel, says the festival is designed to heighten the visitor experience, increase visitor spend and drive economic growth. 
Bethel adds that it also creates an atmosphere for participants to feel the rhythm, culture and character of Goombay, uniquely packaged into the down home flavors of Grand Bahama Island.
Through the continued support of The Grand Bahama Island Tourism Board, event title sponsor, along with BTC, GB Port Authority, GB Power Company, Maecal Electronics, Freeport City Council and Burnshouse, Goombay Summer Festival is sure to remain Grand Bahama's most exciting summer festival.