Florida Caribbean Cruise Association Gift Giving Ceremony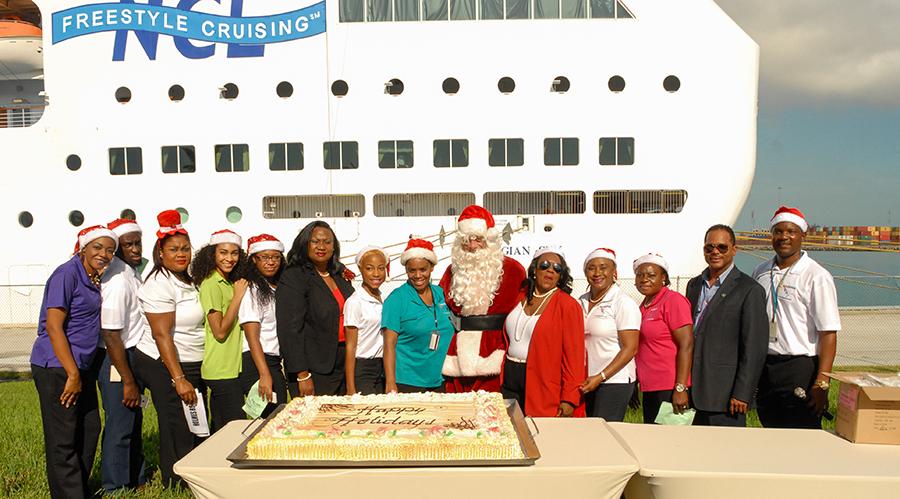 On Tuesday, December 13th, members of the Florida Caribbean Cruise Association, along with staff of the Ministry of Tourism, gathered at the Freeport Harbour once again to celebrate the Christmas Season with over 150 primary school students.
Ministry of Tourism Staff pictured with Santa
During the two hour event, students from five schools assembled to celebrate with food, fun, and special gifts.
Each gift was courtesy of the members of the Florida Caribbean Cruise Association (FCCA), which included hosts from the Norwegian Sky.
Nicholas Persson, Captain, Norwegian Sky, noted that "This time of year is all about giving back and making a better world through a great event for the kids."
The annual event, allowed both staff from the Ministry of Tourism and members of the FCCA  to share magical moments with the students from West End Primary, Holmes Rock Primary, Martin Town Primary, East End Primary, and the Beacon School.
Jean Michel Dhelin, member of the FCCA, noted that this was his fourth time participating in the event and he believes that the tradition should always be continued.
Nuvolari Chootosingh, Manager, Maritime Tourism, Ministry of Tourism, said that "This year is particularly special due to Hurricane Matthew which would have impacted so many of these kids, especially those from the Western District of Grand Bahama. It's nice to see them come out and enjoy themselves today."
Each child not only received a hot meal, but also shared a special moment with Santa Claus, his elves, and fellow classmates.
In addition to the quality time shared, each gift offered to the children was a special way to commemorate the event.
Thanks to Leno's Catering, NTS Productions, Norwegian Cruiseline- Norwegian Sky, TT's Party, St Mary Magdalene Church, S&D Coach Tours, Forbes Charter, the Florida Caribbean Cruise Association and the partnership with the Ministry of Tourism, the event proved to be a major success.