First Northern Bahamas Sports Symposium Press Conference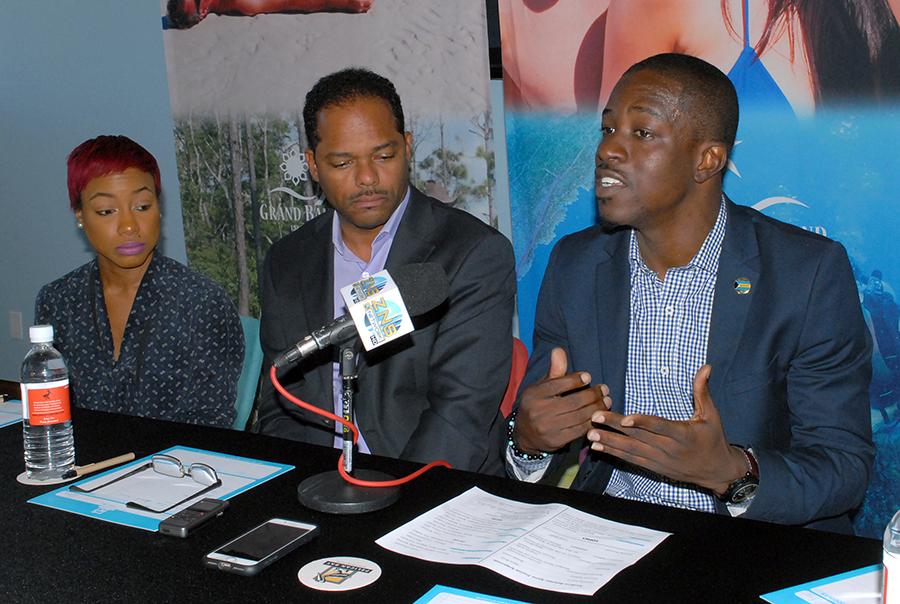 On Tuesday, March 21st,the Ministry of Tourism's Sports Tourism Department held a press conference for the upcoming Northern Bahamas Sports Symposium at the Pelican Bay Hotel.
Anya Hanna- Reception Services, Nuvolari Chotoosingh, Manager, Sports Tourism, Jay Philippe, Assistant Manager Sports Tourism
Scheduled to be held on April 1st,from 10:00 am – 1:00 pm, at the Pelican Bay Hotel, the symposium is dedicated to informing sports leaders or those interested in planning sporting events in Grand Bahama Island, Bimini, and Abaco, about the possibility of partnering with the Ministry to make these events successful.
As Sports Tourism is such a lucrative industry in the tourism sector, Nuvolari Chotoosingh, Manager, Sports Tourism, Ministry of Tourism, Grand Bahama Island, said that "Sports Tourism is huge business...but we have to spread the wealth here; we have to help islands such as Grand Bahama, Bimini, and Abaco grow their aspects of sports tourism".
With such diverse aspects on each island, it is imperative to leverage the possibilities that every island has to offer in order to ensure that The Bahamas is consistently known for putting on world class events. 
Chotoosingh noted that "In order to do this we must have partnerships; we need to work with the private sector in addition to the organizations from the various sporting bodies.
As a result, there will be a number of speakers who will make brief presentations to the persons invited to attend the symposium.
Topics will range from event planning, partnership, packaging, marketing, sponsorship, sanctioning, and amateur sports.
In order to obtain an invitation to the first sports symposium held by the Ministry of Tourism, a proposal must be presented to the Ministry of Tourism outlining the details for an international sporting event to be held on Grand Bahama, Bimini, or Abaco within the next 12 – 18 months.
Submitted proposals, however, do not guarantee that the event will be sponsored by the Ministry of Tourism, but rather opens the conversation for such ideas to become a reality sometime in the future.
All proposals can be submitted up to April 1st, and will be reviewed and evaluated based on the possibility of staging the event, the time frame as well as on the overall international appeal.
Currently, the Sports Tourism Department stages about 24 events for the year and is hoping that after the symposium the department will attract more world class events to all of the northern islands invited to participate.