Family Islanders Get Special Packages For Popeyes Bahamas Bowl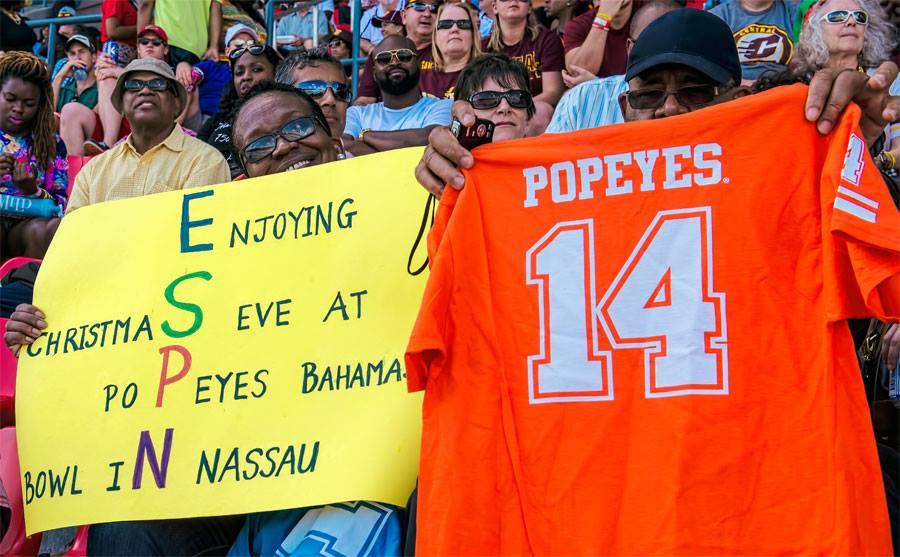 All roads lead to the Thomas A Robinson Stadium in Nassau this Christmas Eve for the Popeyes Bahamas Bowl, and it just got more affordable for Family Islanders to attend the exhilarating event on Thursday, December 24th, 2015.
 The Ministry of Tourism has secured domestic packages for Family Islanders for as little as $370, which includes airfare and hotel. 
Hotels that have signed on are Comfort Suites for $245 per night; Red Carpet Inn at $135 per night; Orange Hill Beach Inn at $158 per night and Superclub Breezes and Spa for $311 per night. For more information and for tickets visit www.bahamago/bahamasbowl.
Other offers include packages with Gateway Travel Services: 4 Days, 3 Nights; Air Included; Bahamasair Round Trip - Abaco to Nassau; Orange Hill Resort 373.00 per person; Red Carpet Inn $388.00 per person; Casuarinas of Cable Beach $448.00 per person; Bahamasair Round Trip - Grand Bahama Island to Nassau; Orange Hill Resort $391.50 per person; Red Carpet Inn $407.50 per person; Casuarinas of Cable Beach $467.30 per person.
More information on these packages could be found at Bahamas.com/bahamasbowl.
Last year's inaugural Popeyes Bahamas Bowl ended with a thrilling "Hail Mary" that easily became one of the greatest college football plays of all time. 
The play was so phenomenal that it was nominated for the ESPY awards and made ESPN's top 10 plays for the year.
Game day promises to be extra exciting.
Popeyes is going to have a big tailgate area that will be fun for the kids.
 There will be face painting, music and games.
 There will also be a faceoff between the Saxons and Valley Boys Junkanoo groups.
 Tickets, which are priced $10, $15 and $25, are now on sale at the Thomas A. Robinson stadium.