EARTHCARE and the Sustainable EcoTourism Committee celebrate World Wetlands Day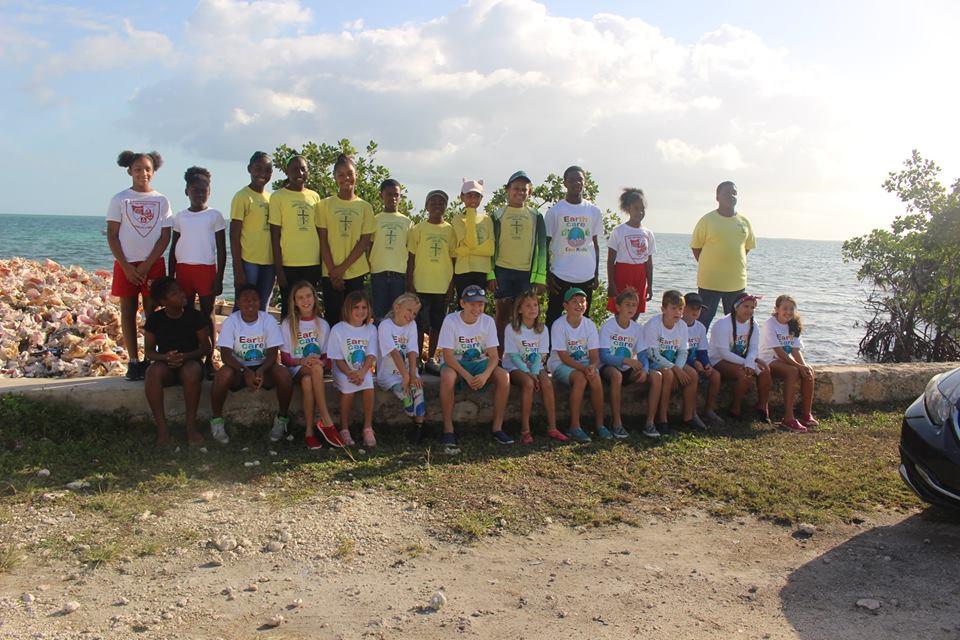 World Wetlands Day was held on February 2nd where EARTHCARE and the Sustainable/Eco-Tourism Committee in conjunction with the Ministry of Tourism & Aviation (MOTA) conducted a Mangrove Cleanup in West End, Grand Bahama Island.
Under the international theme "Wetlands and climate change- We are not powerless against climate change", Eco Heroes, students from West End Primary, Freeport Gospel Chapel School (Eco School) and Lucaya International School (LIS) (Eco School) all gathered to participate in cleaning the local mangroves. 
Photo Credit: Gail Woon 
Collectively, the group cleared a total of 145 lbs. of glass bottles, 98 lbs. of plastic and 3 lbs. of cans from the mangroves where plastics will be sent by EARTHCARE to New Providence for an environmental awareness project.
As wetlands can be vulnerable to climate change, they are impacted by changes in temperature, rainfall, sea level rise, and extreme events.  According to Gail Woon (Founder, EARTHCARE), "Jeffrey Pinder, Sr. Executive, Product Development, MOTA, informed the students of the importance of wetlands and mangroves to The Bahamas. He impressed upon the youth the need to take care of the environment now so that in the future they will be able to make a living from the islands' abundant natural resources. He urged them to come away with an attitude after the day's activities, an attitude that protects and nurtures our fragile natural environment. He also invited Mr. Keith Cooper of West End Ecology Tours to tell the students about his eco business and how the natural environment is so important to his livelihood".
Photo Credit: Gail Woon
At the end of the event, the students were also treated to a trip to Paradise Cove Beach Resort where they were given more information about Grand Bahama Island's natural wetlands and beautiful coastal areas. 
Gail Woon, EARTHCARE, said, "I am so pleased to see so many eco-minded students hard at work on their day off making our island a cleaner place to live. I have hope in my heart that these young people will become great stewards of the environment. The Bahamas is a signatory to the RAMSAR Convention which is devoted to protecting valuable wetland areas around the world. Our country faces serious challenges in this regard when one looks at megadevelopments in Bimini and Guana Cay to name a few that have destroyed large swathes of wetlands. I especially thank Jeffrey Pinder, the Sustainable Tourism Committee, Keith Cooper of West End Ecology Tours, Mr. Miller and the staff at Paradise Cove Beach Resort, Isabella Thompson, parent, teachers, parents and the students who made this day a success."
Photo Credit: Gail Woon 
Students who participated in the Mangrove Cleaning for World Wetlands Day were: West End Primary, Kayla Penn, Taylor Williams, Natalia Saunders, and Giarjanae Strachan; Freeport Gospel Chapel School, Savannah Horton, Jada Major, Shayla Taylor, Giano Major, Xaria Ingraham, Clarence Carter, Ryan Gibson and Saida Malcolm with Ms. Ray Fawcett, Teacher; LIS, Hannah Brand, Theo Massey, Brody Thompson, Gabby Thompson, Eliza Crutchfield, Angelina Pages, Lucy Gape, Harrison Gape, Rahim Fox, Gonzalo Espejo De Llano and Gaia Versolatto with Mr. John Massey, Teacher and EARTHCARE Eco Kids Team Leader, Tyler Riley of Sunland Baptist Academy and parent, Daphne Riley.
Photo Credit: Gail Woon