Back to top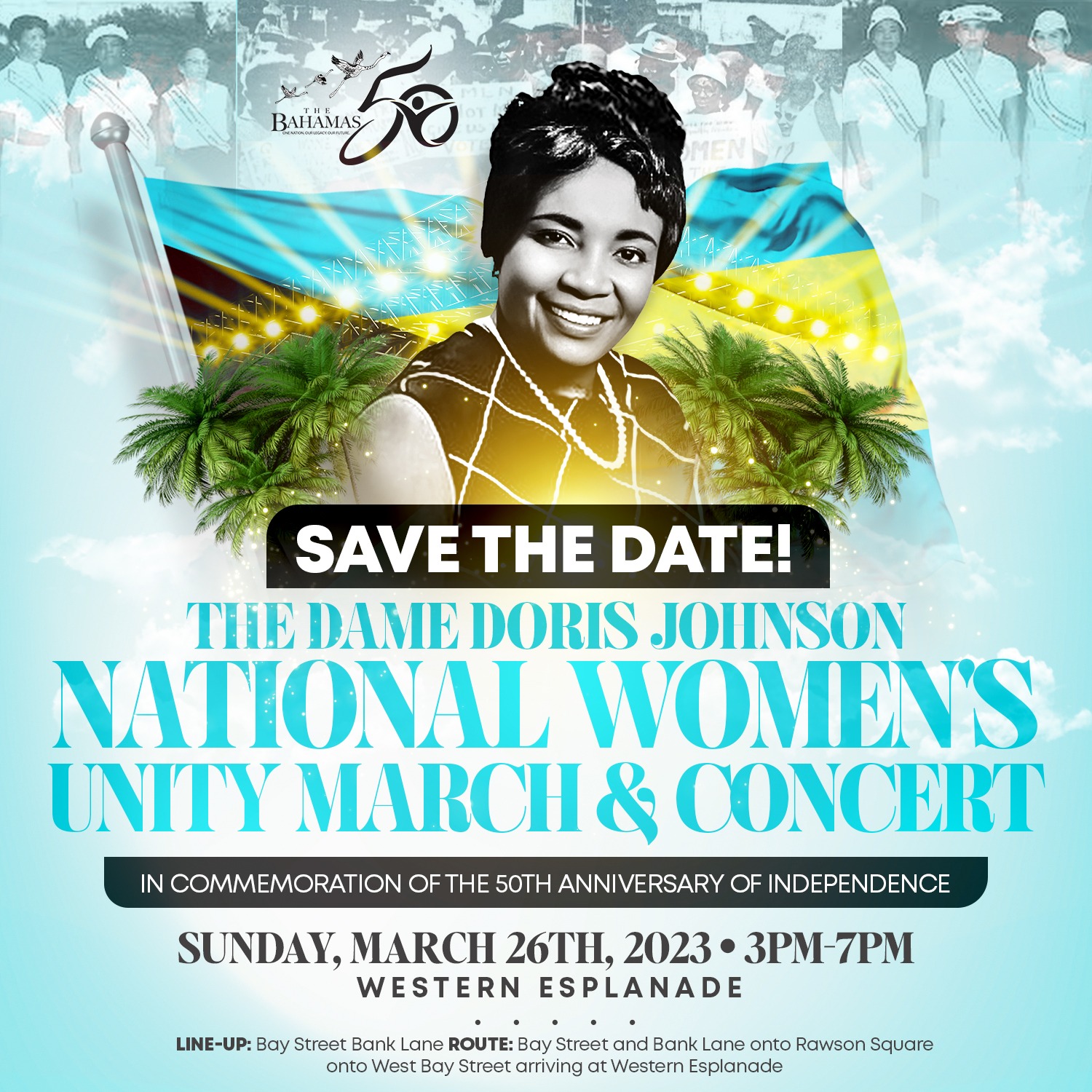 On Sunday, March 26th, 2023 The 50th Independence Secretariat will host the Dame Doris Johnson Women's Unity March and Concert.
This walk of solidarity will celebrate the notable achievements of Dame Doris Johnson and mark the significant national and international accomplishments of Bahamian women and girls in the areas of national development, social advancement and community upliftment.
As hundreds of Bahamian women and girls congregate at Bay Street onto Western Esplanade, we will unite in this walk of unity, celebrate the invaluable contribution of Bahamian women and forge a way for more advancement, more achievement and more equity.
The Independence Secretariat wishes to invite all government agencies, armed forces, religious groups, NGOs, corporate entities, schools and tertiary institutions, political organisations, advocates, families and social groups to register, to walk and unite in this significant event in our golden year of celebrations.
How to Register:
https://forms.gle/no9vro3dv2EGmXWN8
Deadline: March 17th 2023
About Event:
Date: Sunday March 26th 2023 Line-Up: Bay Street and Bank Lane Concert to follow at Western Esplanade
Route:
Bay Street and Bank Lane onto Rawson Square onto West Bay Street arriving at Western Esplanade
Important Times:
Line-up: 2:00pm
An alphabetical order of procession will be provided prior to the event. March Marshalls will guide groups and assist where necessary.
Start time: 3:00pm
Who Can Participate:
Women and Girls
Organisations, Schools Churches, NGOs, Corporate Entities and Government Agencies highlighting women leadership and their membership/team complement of women.
Families and Women Friend Groups are invited to walk together.
How Else to Participate:
The Concert that will follow is open and free to the general public.
Registered Food, Beverage and Retail Vendors owned by Bahamian women will be selected and featured. Please support their booths during your attendance.
If a company or private entity wishes to offer giveaways, gifts, tokens or paraphernalia they may wish to submit this request via bahamasindpendence@gmail.com
Virtual Solidarity:
Via our social media pages @celebratebahamas and website www.celebrate-bahamas.com we will share social media frames and filters to ensure Bahamian women and girls everywhere
can join and celebrate.
What to Expect:
3:00pm-5:00pm March
Marching bands will be placed among the procession
Music will also be provided by the Secretariat along the route Water will be provided along route
5:00pm-7:00pm
Live performances by Bahamians artists
Rally-like short speeches by selected presenters to motivate, inspire and encourage all attendees
Bahamian-themed Women's Village showcasing food, beverage, confections, artisans and retail vendors
Event Experiences - live painting, demos, interactive displays and booths
*subject to change
What to Bring:
Organisations are asked to ensure all senior citizens and members that require assistance utilise wheelchairs and like means of support. Motorised vehicles will not be permitted. Banner
Identifying flag, banner or junkanoo banner
See link here for banner template for your use as needed:
Dimensions 2ftx6ft
What to Wear:
Official uniform or identifying attire for your organisation Comfortable walking shoes
PRESS INQUIRIES
Danielle Bodie
General Manager
Domestic Communications
Bahamas Ministry of Tourism, Investments & Aviation
dbodie@bahamas.com