Couple Enjoys Dream Wedding In Harbour Island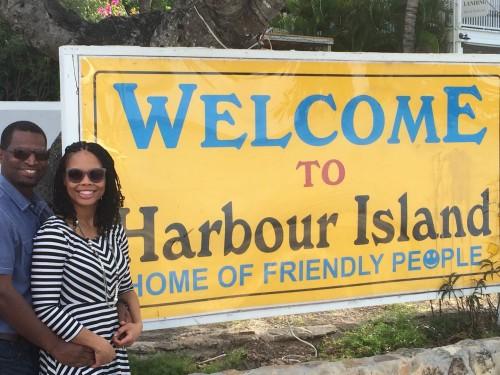 Duncan Town, Harbour Island - Deana and Henry Coleman is a couple who believes getting married in The Bahamas was a "kiss from God" and it showed throughout their romantic journey to January 16, 2015.
That's the day 16 couples got married on 16 Islands at 16:00 (4:00 p.m.).
It is one of Ministry of Tourism's biggest promotions that was launched on February 14, 2014.
However, before the promotion, the couple always dreamed of getting married in The Bahamas.
Deana always felt a strong tie to The Bahamas. Her grandfather, who was born in Harbour Island, was a Sturrup.
She visited The Bahamas once before for a family reunion on the island.
But what really drew the Texan beauty to The Bahamas was the fact that she is an avid fan of past Bahamas Faith Ministries President the late Dr. Myles Munroe.
"I said to Henry, 'I love Dr. Myles Munroe and I'm going to text him and ask him to marry us.' Secondly, generally, a bride goes home to be married. I'm from Las Vegas and that's so cliché. But I found out the Sturrups are from The Bahamas," Deana said.
"I said I wanted to get married at Atlantis Paradise Island. I came to canvas Atlantis and I wanted to get married at Ocean's Edge.  I went on Atlantis' website and I saw the special promotion. I saw the criteria. Two weeks later, we were together and we filled out.
"I feel like it was a kiss from God. When I picked the island I wanted to get married on it was Eleuthera. But when we had a skype by judges, one of the judges hailed from Eleuthera and he asked 'what island would you like?' So when we won Harbour Island, it was really like coming full circle. Every aspect of this promotion has been first class. We are treated as guests and they are very receptive and they are thankful for us choosing the contest and we are so thankful. At the end of the day, this is just a dream come true for us."
The Wedding Day
Deana and Henry were guests at Valentines Resort on Harbour Island. The team there and Ministry of Tourism representative June Dean made certain that all of their desires were catered to.
Deana was an easy-going bride, who wore a dress donated to her by Mon Cheri bridals. The lace, A-line shaped dress was an easy to wear piece that complemented her natural beauty.
She also wore a custom head piece, which tied into her naturally twisted hair.
Her theme was "Pink Sands Paradise." However, because of inclement weather, the wedding was relocated inside an intimate restaurant in Valentines.
Proprietor of Bloom Bahamas Kandice Hanna, who flew in from Nassau, provided the décor and floral arrangements.
The arrangements were orchestrated with orchids, proteas, heliconeas, gingers, roses and ornaments of pineapple to pay homage to Eleuthera.
Forty people watched the couple tie the knot at 4:00 p.m. Then the newlyweds and their guests were treated to a Junkanoo rush-out, where the bride received a custom Junkanoo headpiece.
The thunderous sounds of goat skin drums, cow bells and horns were hard to ignore and the couple and their guests danced the night away.
A New Beginning…
The next day, the newlyweds were still on a high from the magical night before.
On the way to Nassau to complete their "Bahamian adventure", the couple said not only were they looking forward to coming back, but that they were looking to promote The Bahamas.
"It was so wonderful," Henry said. "We had an outstanding time. It could not have been any better. The rain symbolized our relationship and what we also talked about. Rain means new beginnings and a fresh start."
"At first, it was disappointing to not get married on the beach but we went with the flow. Everyone at the resort was so accommodating. Plan B was just as beautiful as plan A. Plan B was God's plan. I was just so thankful and grateful to everyone," Deana said.
"We want to come back with the same excitement that we came down here with. We are excited to see where Harbour Island takes us. This is the destination wedding. The people are so warm and inviting. When people embrace you and you feel like a friend or a family member instantly that's where you want to be when you are in such an important time in your life. Personally, I believe that The Bahamas is the number one place to get married. It was awesome and we are overwhelmed and overjoyed."