Conchman Triathlon Continues Success In 33rd Year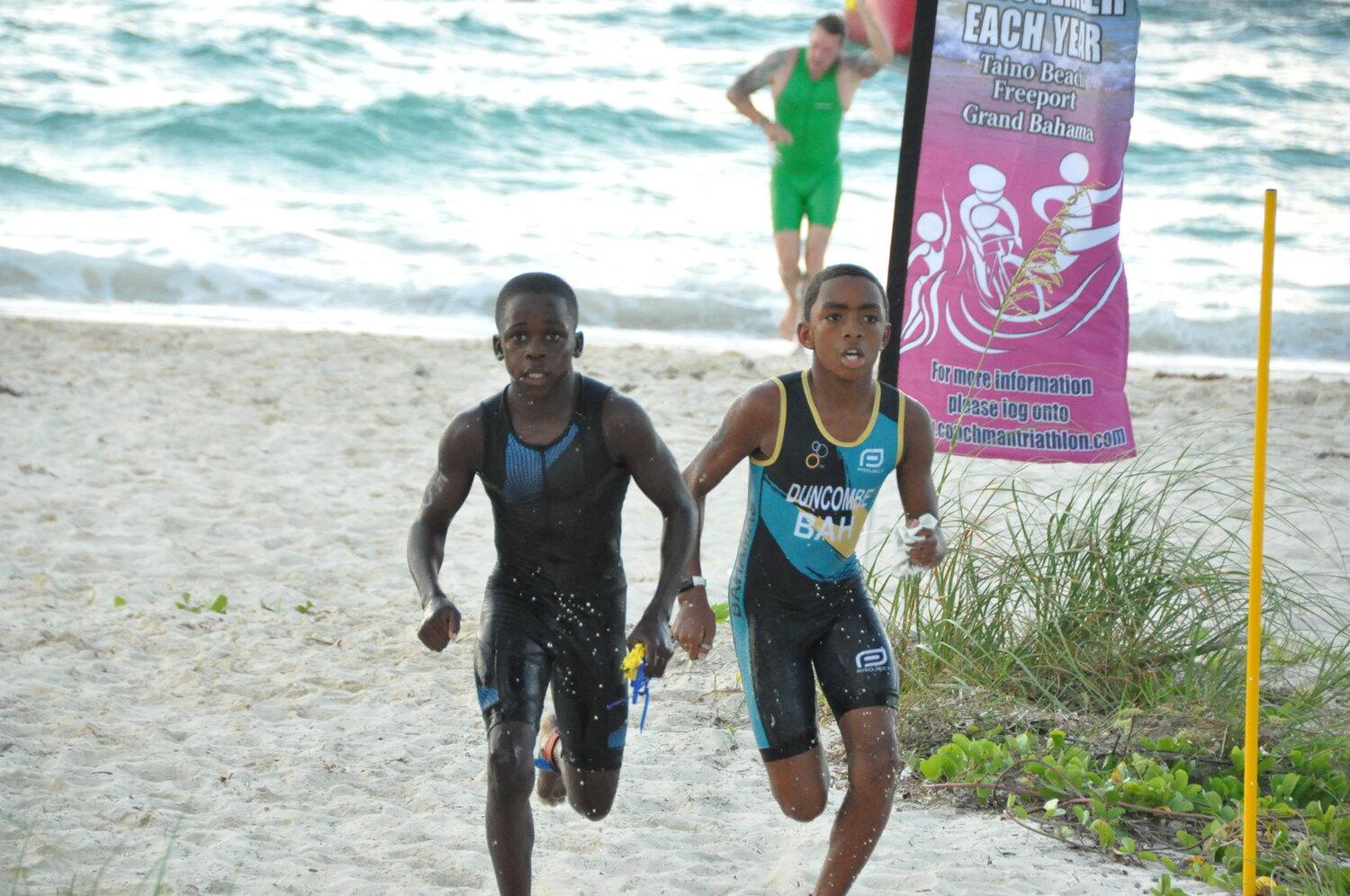 Another November, another successful event in the books for organizers of the Grand Bahama Port Authority (GBPA) Conchman Triathlon. The event celebrated its 33rd anniversary on Saturday, November 2, attracting 125 participants and dozens of spectators to Taino Beach for a day of intense competition.
As the longest-running triathlon in The Bahamas, Conchman has garnered considerable recognition domestically and abroad. Triathletes come from near and far to participate in the local sporting event and this time was no exception. This year's participants included 12 contenders out of New Providence and 11 international contenders from The United States and as far away as Switzerland. The visiting athletes came, not only to test their strength and endurance in the disciplines of swimming, cycling, and running, but also as a show of support for a still-recovering Grand Bahama.
Conchman Committee Chairman Christopher Baker said his team received a number of donations from participants who traveled for the competition. Their contributions will be handed off to the Rotary Club for further distribution.
It is not unusual for the Conchman Committee to successfully host this event after a major storm. The team celebrated its 30th anniversary triathlon just four weeks after Hurricane Matthew in 2016. Despite the challenges with travel to Grand Bahama after Hurricane Dorian, Baker said the committee was not deterred.
"The event went extremely well," Baker said. "We've been going 33 years and people expect us. They expect the triathlon to be put on and we feel that it's our duty to make sure it is. We've proven it is possible to do. I think the people in Grand Bahama appreciate it, especially as we try to get back to normalcy."
As is custom, the Conchman Triathlon comprised Olympic, Sprint, and Iron Kids categories. The Sprint distance consisted of a 750m swim followed by a 25k bike and a 5k run. These distances were doubled for participants in the Olympic category. In the end, Jamey Nix, Richard Ballance and Lisa Brewer took the top three spots in the Open Male and Female Olympic distance category. The overall male and female Sprint champions were Simon Lowe and Sylvia Bateman.
Medals were distributed to each participant who crossed the finish line, whereas athletes who finished in the top three in their respective age groups received the triathlon's signature glass conch shell trophy expertly crafted by Glass Artist Sidney Pratt. The glass shells have served as the triathlon's coveted prize for 31 years.
Florida Native Travis Horn will take one of those glass conch shells home as a souvenir after an impressive showing as a first-time Conchman participant. Hailing from Miami, Horn said he learned about the triathlon while on island as a medical volunteer post-Dorian.
"Today was absolutely amazing," Horn said. "I'm part of triathlon groups and running groups in South Florida and I'm looking forward to promoting this event for the next year because it was so much fun."
The Ministry of Tourism served once again as proud sponsor of the triathlon and several representatives attended in support of the event.  General Manager for the Grand Bahama Tourism Office Steven Johnson assisted with the presentation of awards and expressed optimism about the triathlon's growth in future years.
"We're already talking to officials about how to expand this event for 2020," Johnson said. "We look forward to increasing participation, particularly from the U.S., Canada, and Europe. Triathlons are a huge market globally and we see a great opportunity to boost tourism by having these international athletes come over to participate, and ultimately, make a holiday of their visit by staying to enjoy our beautiful island."
The 34th Annual GBPA Conchman Triathlon is set for Saturday, November 7, 2020. For more information about the Conchman Triathlon, as well as a full listing of this year's winners, visit www.conchmantriathlon.com.
Media Contact:
Nina Laing
Bahamas Ministry of Tourism  
1-242-350-8633