Coastal Awareness Month Comes To An End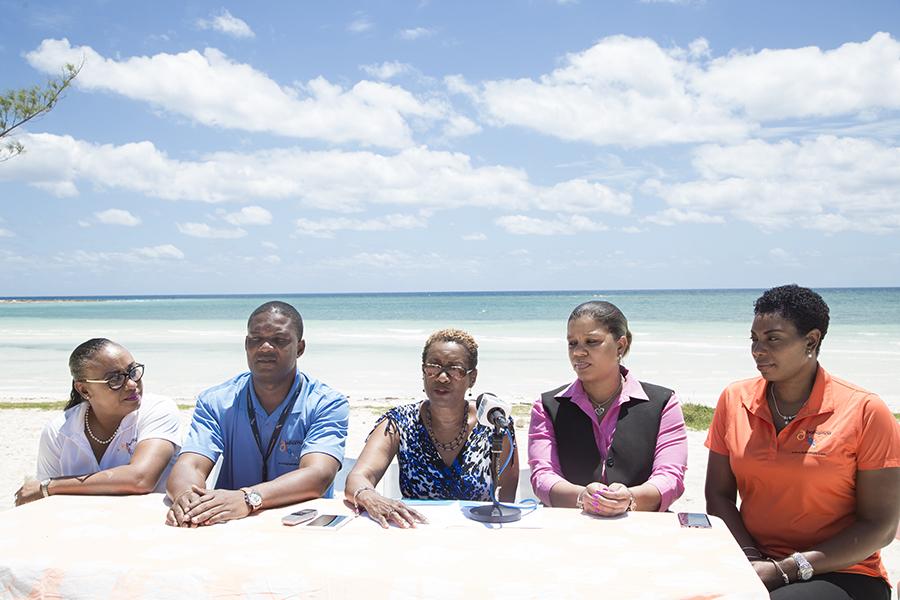 On Tuesday, April 25th, the Ministry of Tourism (MOT) held a press conference on Xanadu Beach to officially close out Coastal Awareness Month and make the public aware of the Sustainable Tourism Unit's initiatives towards environmental sustainability. 
 Elaine Smith, Coordinator, Product Development, MOT,Jeffrey Pinder, Sr. Executive, Sustainable Tourism Unit,MOT, Betty Bethel, Director, MOT, Sanique Culmer, Manager, Groups and Events, MOT, Tiffany Bowleg-Lewis, Manager, Guest Services, MOT
For over 10 years, the month of April has been dedicated to focusing on the environment as it plays such a critical role in the tourism product on Grand Bahama Island. 
According to Jeffrey Pinder, Sr. Executive, Sustainable Tourism Unit, MOT, GBI  "It is really exciting for us to dedicate an entire month every year to a cause that actually affects all of us".  
In fact, with threats of climate change, pollution, over-exploitation, habitat destruction, invasive species, and non -sustainable practices, human behaviour contributes to the failure of properly sustaining our ecosystem and environment.  
Pinder further noted that it is important to "Address this behaviour where persons do not properly dispose of garbage"  and keep the island clean, especially for those who come to visit Grand Bahama Island. 
Post Hurricane Matthew, Grand Bahama Island has been faced with a damaged coastline as well as a tremendous littering problem, which is evident by the many neighbourhoods and business areas that are still filled with trash.
Betty Bethel, Director, Ministry of Tourism, GBI, said that "We want to remind the community that we are an environment driven destination; most of our tours and attractions take place in our environment, so come with an expectation of having a clean, green, and pristine environment". 
In partnership with the Grand Bahama Port Authority's Keep Grand Bahama Clean Committee, the Ministry of Tourism aided in a "Partners Against Litter" Campaign where both organizations engaged in bringing awareness to the residents of Grand Bahama Island as well as distributing reusable felt bags for grocery shopping in conjunction with AML Foods.
In addition, both entities will conclude the month of Coastal Awareness with meetings at the Lions Club and a general clean up in Williams Town on Friday, April 28th ,between8:00am and 10:00am.
The Ministry of Tourism would like to continue promoting environmental sustainability through partnering with organizations as it relates to the Goombay and Junkanoo Summer Festivals.
According to Sanique Culmer, Manager, Groups and Events, MOT, GBI , "We are encouraging all vendors to use biodegradable take-aways such as plates, cups, etc., and move away from the Styrofoam products. In addition, we're asking them to use the biodegradable oil, all of which can be supplied by Bahamas Wholesale Agencies and Halt Industries".
She continued by adding that "We are asking all persons to dispose of the oils used at these festivals via our partner Yellow Tail BioFuel who will be converting the old oil into biofuel".
Additionally, vendors who use the biodegradable products will be offered discounted rates on booth prices.
The Ministry of Tourism's Sustainable Tourism Unit will continue to develop and raise awareness in the community as it relates to improving and preserving Grand Bahama Island's local environment.