Back to top
Coaches For Popeyes Bahamas Bowl Visit The Bahamas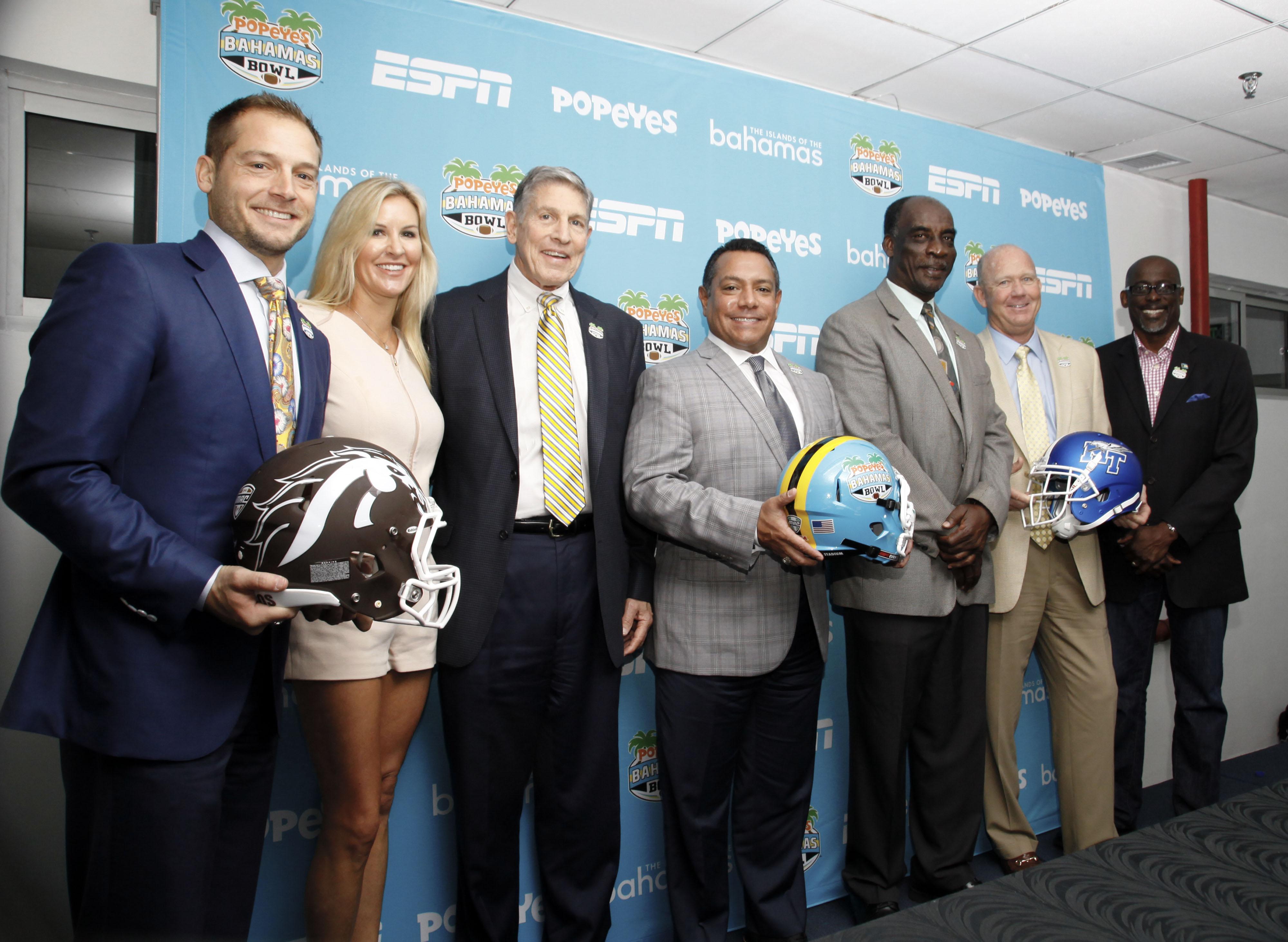 The Middle Tennessee Blue Raiders and the Western Michigan Broncos are getting ready for the second Popeyes Bahamas Bowl on December 24.
 During a press conference held recently at the Thomas A. Robinson Stadium, Permanent Secretary of the Ministry of Tourism Harrison Thompson welcomed the teams to The Bahamas.
 "Players, coaches and fans, who attended last year's game are still raving about the wonderful time they had here. We have no doubt that Middle Tennessee of Conference USA and Western Michigan of Mid-American conference will give us an even more exciting game this Christmas Eve," he said.
 "We're expecting families and fans of those two outstanding football teams to join us here in The Bahamas this Christmas season. To all those visitors, we encourage you while you are here, to trade in your winter wear for bathing suits, shorts and flip flops and enjoy our beautiful beaches, dynamic culture, delicious cuisine and friendly people. There's a lot about the bahamas we're sure you'll love. Popeyes, college football, ESPN and The Bahamas – now that's what we call a touchdown. And we're sure when you leave, you'll be saying that it is indeed better in The Bahamas."
 Executive Director of Popeyes Bahamas Bowl Richard Gianinni thanked the teams and everyone involved.
 "They are two outstanding teams and they have had terrific seasons. On Christmas Eve we are going to have a great party out here. These two teams are going to provide a great show," he said.
 Head Coach of Middle Tennessee Blue Raiders Rick Stockstill said his team is grateful to be in The Bahamas.
 "I'm very appreciative of everybody and the opportunity to play in this game. The players were excited to get here. But we look forward to this game. Our team is going to play extremely hard and we take pride in playing this game the way it's supposed to be played and we are looking forward to bringing our team here to enjoy The Bahamas and to compete against Western Michigan," he said.
 Head Coach of the Western Michigan Broncos Phillip Fleck said he is excited to be in The Bahamas for the first time.
 "These two teams are like looking in the mirror and everyone is in for a treat on Christmas Eve. Thank you so much for all of your hospitality. I've never been to the islands and I don't have any ties to the island, but it really is a treat. We are so pleased, privileged and honored to be here. Everyone has been so gracious, " he said.     

Both coaches and their teams will return to Nassau on December 20 to host a youth clinic, visit the Ranfurly Home for Children and make final preparations for their Christmas Eve showdown.
 Chief Marketing Officer of Popeyes Hector Munoz congratulated both teams for a spectacular season.
 "You both come with huge momentum and we are looking forward to an exciting game. I also want to thank ESPN for filming this and for their commitment to the game and the fact that this is going to be one of their key bowl games for the Christmas season – that is a big deal," he said.
 Popeyes recently opened a location in eastern New Providence and the popularity of the restaurant continues to grow.
 "With the opening of this restaurant and with the opening with future, I hope that this is demonstrates our commitment to Popeyes Bahamas Bowl as a title sponsor, demonstrate how committed we are on to the islands and the economy of The Bahamas," Mr. Munoz said. 
 It's estimated that last year more than 11 million households viewed the Popeyes Bahamas Bowl.
 Clips from Popeyes Bahamas bowl were played on 401 TV news segments and 1,587 articles were written about the game.
The event was also mentioned in over 56,000 social media posts.
 The game featured the Western Kentucky University Hilltoppers of Conference USA against the Central Michigan Chippewas of the Mid-American.
 In the end, the Hilltoppers won the game 49-48.
 The game made a mark on the NCAA Football season.
 A famous "Hail Mary" play got the game nominated on the ESPYs and easily became one of ESPN's most famous plays for the year.