Back to top
Bahamian Middle-Weight Champion Tureano Johnson Wins 'Throne Boxing'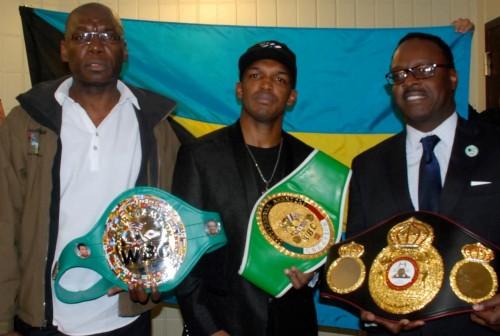 In the presence of a jam packed Madison Square Garden Theatre with The Hon. Dr. Daniel Johnson, Minister of Youth, Sports, and Culture leading Bahamian supporters, 'The People's Champion' Bahamas' boxing middleweight contender Tureano Johnson out fought contender Alex Theran to win the World Boxing Champions (WBC) Silver Championship and the vacant World Boxing Association (WBA) International middleweight belts.
Greg Rolle, Director of Sports for the Bahamas Ministry of Tourism joined the Minister, Tureano's family and a large contingent of Bahamians in New York as Johnson took to the ring on the debut event from Roc Nation Sport's "Throne Boxing" event that was televised on Fox Sports 1. Johnson landed and took power shots until referee Gary Rosato waved the fight off and declared Johnson the winner.
"Bahamians are all thrilled that our own Tureano Johnson's victory" said Minister Johnson. "Tureano's performance was nothing short of extraordinary as was his graciousness in victory" he continued. "Our islands continue to make great strides in Sports Tourism so Tureano's victory is a true celebration. We know the fight following this match will be even bigger and we are working closely with Tureano and his management to bring a fight to the Bahamas, with Tureano as the headliner."
The celebrity packed audience including entertainment mogul Jay-Z, pop star Rihanna, movie actor Jake Gyllenhaal, talk show host, Rosie Perez, producer Spike Lee among others witnessed Johnson's grand arrival in the ring as he proudly waved the Bahamian flag. Johnson was ahead on all scorecards, and simply needed to make it to the final bell to get the victory. In the immediate aftermath, he gave several emotional interviews with various media outlets but the real celebration began when he joined his family, Minister Johnson and his loyal fans after the media disbursed.
Johnson claims he's made major adjustments in his training regimen as he prepares for Theran, including a tougher weight training regiment, as well as tougher roadwork – both added mileage overall, and a faster pace on his usual four mile runs. Moreover, he believes a bit of technical boxing might be necessary against a tall southpaw, something he has in his back pocket thanks to nine years spent training in Cuba.
"You're training among some of the most phenomenal, experienced and intelligent fighters in the world in Cuba. I'm not much of a technical fighter, like the Cubans are, but I was able to learn some of the boxing skills which are a contribution to my 17 wins as a professional fighter," said Johnson.
His most important skill might prove to be his charm, though. On January 9, Johnson tweeted: "Who should be the co-feature on @RocNation Jan 9 card? I think the show needs some Bahamian flavor." It appears that boxing fans, and in particular the Bahamians got their wish.
The Islands Of The Bahamas continues to lead the Caribbean in Sports Tourism and has hosted several recent sporting events, such as the 2013 NBA Championship Heat's Training Camp, the2013 CONCACAF Beach Soccer Championship, the 2014 Popeyes Bahamas Bowl, the 2014 and 2015 International Association of Athletics Federation's World Relays.