The Bahamas Wins With Miami Heat Partnership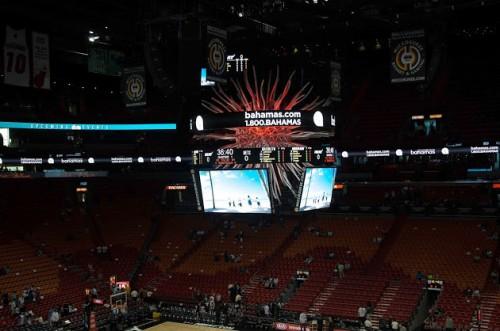 Its Culture, Cuisine, People and Beauty Exposed
PLANTATION, Florida (March 16, 2015) – Like the Miami Heat win against the Brooklyn nets, 104 to 98, on March 11, The Islands of The Bahamas also emerged victorious, as thousands of fans and millions more via television, witnessed the special game which prominently featured the culture, cuisine, people and beauty of The Bahamas in a special Bahamas themed night.
The game, held at the American Airlines Arena, featured The Bahamas in its lobbies, on its scoreboards, and other electronic devices.
The special night was part of The Bahamas Ministry of Tourism (BMOT) on-going five-year partnership with the Miami Heat. Also partnering with the BMOT on this initiative was Baha Mar, the 'New Bahamian Riviera' and largest resort in The Caribbean, scheduled to open on March 27, 2015 in Nassau.
Patrons at the stadium enjoyed conch fritters, and got a taste of The Bahamas' culture as Junkanoo Carnival models danced alongside The Miami Heat cheerleaders to Collin McDonald's "Jump and Carry On" Junkanoo Carnival music.
Throughout the evening, audience members were invited to escaped to several Bahama Islands via video clips of The Bahamas and some won trips to The Bahamas, tee shirts, fans and other prizes.
Also sharing in this special evening were eight persons from the Ranfurly Home For Children, who were flown in and hosted as VIP's to the game, courtesy of the Miami Heat Organization.
According to Greg Rolle, Director of Sports, for the BMOT, "The Bahamas has benefitted substantially from our partnerships with the Miami Heat, Dan Marino and The Miami Dolphins and the Florida Panthers, which is evidenced by our strong, double digit growth in visitor arrivals into The Bahamas".
"The Miami Heat organization has a strong visible brand and data resource. Connecting our brand with this type of brand, not only makes good marketing sense, by affording us the opportunity to expose The Bahamas to one of our key leading markets, but simultaneously, positions us closer to achieving our goal of being known as more than just sun, sand and sea, but as the preferred sports destination in the Caribbean," he said.
Executives of Baha Mar showcased the upscale, $3.5 billion Resort, to the 20,000 seat audience and held a special reception for some 250 distinguished patrons of the Miami Heat.
Matt Aubry, Director of Partnership for Baha Mar said he was happy to capitalize on the unique opportunity with the Miami Heat, extended by the BMOT.
"This year really speaks to all of us working to showcase the wonderful offerings in tourism that the Islands of The Bahamas have, more specifically, Baha Mar which is bringing back a level of luxury The Bahamas was known for in the past. The opportunity to speak to the Florida market through this activation and the partnership, was phenomenal for us and we are confident that we will reach a lot of people and educate them about how wonderful and accessible The Bahamas is," he said.