Bahamas Wedding Suppliers Featured At MOT's Signature Bridal Show In Atlanta, Georgia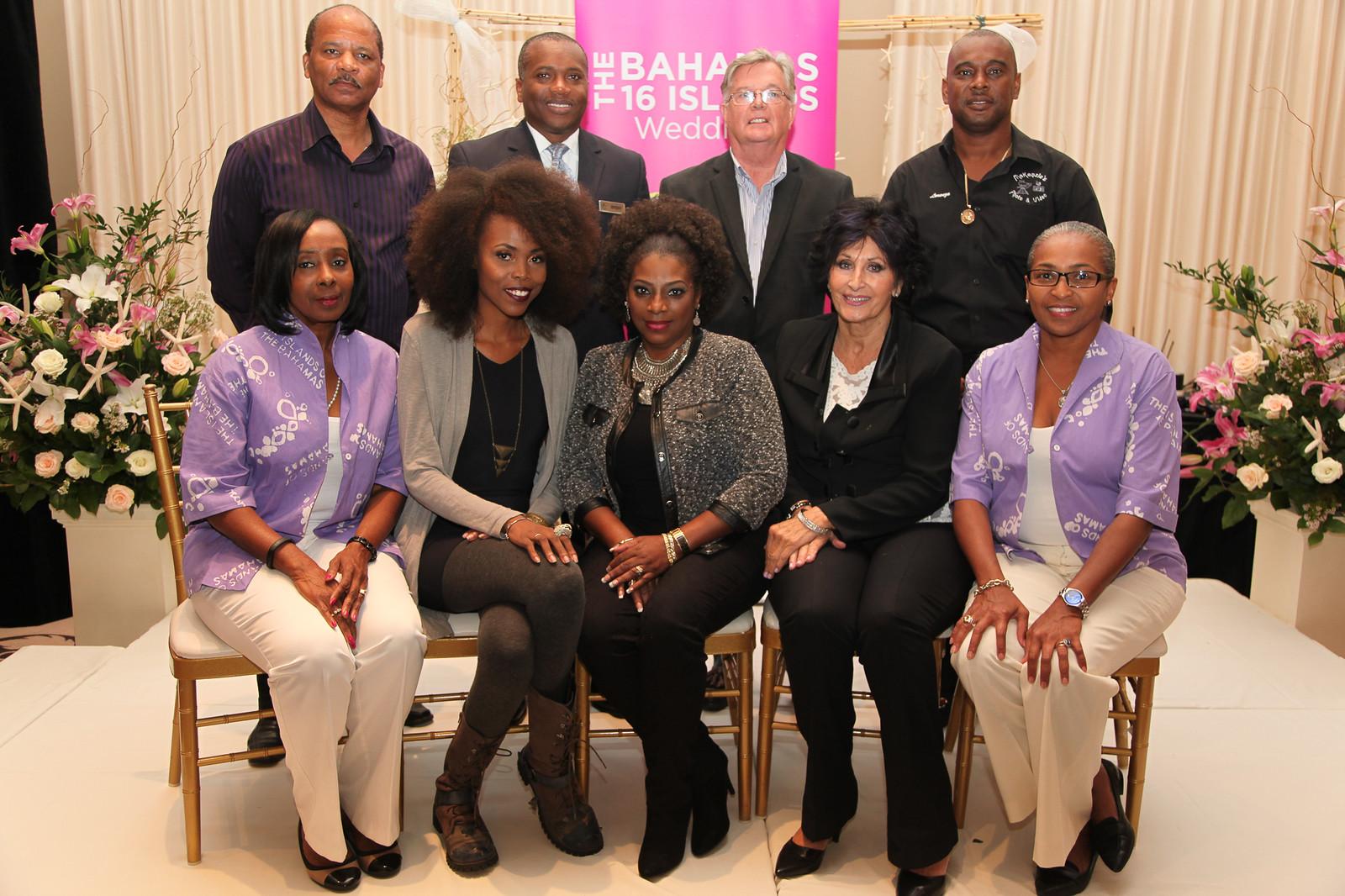 ATLANTA, Georgia (November 15, 2015)  - Several destination wedding and honeymoon suppliers from the Islands of The Bahamas were featured during the Ministry of Tourism's (MOT) launched of its Romance Circuit Signature Bridal Show, in Atlanta, Georgia. 
Freda Malcolm, Director of Romance, at the MOT said, "Because of The Bahamas' unparalleled diversity of its multi islands chain, and its romantic and natural beauty, The Bahamas has become of the most sought after destinations for weddings and honeymoons in the Caribbean. 
"Destination Weddings in particular have been increasing over the past few years and The MOT's romance team endeavors to attract these lovebirds to our shores - whether it is a beach, garden, historical monument, themed or church wedding - our aim is to set couples' weddings and romance experiences apart from any other type of travel making it a once in a life-time occasion," she said.
"The MOT is setting a new trend in how we interact with engaged couples desirous of having either a destination wedding or honeymoon in The Islands of The Bahamas," she said.
"With so many islands to choose from, our romance team launched today, it's first ever Romance Circuit - Signature Bridal Shows, in Atlanta, Georgia and the remaining shows will take place in eleven cities throughout the United States," she said.  
The exclusive Signature Bridal Show held at the Georgian Terrace Hotel in Atlanta, Georgia was an intimate and festive affair, which gave newly engaged couples residing in Georgia, an opportunity to personally meet with top Bahamian vendors and simultaneously, experience the diverse culture of The Bahamas.  
 Among the featured events were a Junkanoo rush out, delicious refreshments, fashion show and several Bahamian vendors, who provided each couple with a $250 credit toward their bridal service including:          JW Events and Nassau Florist, Hollis Cosmetics & Spa, Lorenzo McKenzie Photography and Videography Services, Chevette Williams Jewelry Designs, Kendra Beneby of Thatch Collection, and Abaco Beach Resort. 
 Bahamian fashion designer, Kendra Beneby provided exclusive resort wear for the fashion show. 
"My pieces represent an easy going yet luxurious side of island living," she said.  Kendra of Thatch Collection is about making wearable yet fashion forward pieces that will work for every woman. I not only cater to everyday wear, but bridal wears as well. This opportunity has allowed me to showcase my clothing line to a broader spectrum of people and definitely assist in making Thatch Collection a household name," she said.
Jewelry designer Chevette Williams said she "was thrilled to work with the MOT on this initiative which provided me with an opportunity to showcase and expose my one-of-a- kind, custom made designs internationally".
 "I work with brides to provide elegant, sophisticated and standout pieces that are customized and made to compliment their dress and unique style. The majority of my work incorporates natural products such as the conch shell; sea-glass, driftwood and the sand-dollar (to name a few) infused with beautiful Swarovski crystals, which give each piece a classy, high-end feel yet with an authentic, handmade, island flare. A bride wants to standout and be memorable on her wedding day, my pieces are designed to help her do just that," she said.
Veteran photographer and videography, Lorenzo McKenzie exhibited his professional high-quality digital photography services, including his coffee table albums and canvas enlargements as well as high definition video recording and editing.
 "We have captured hundreds of destination weddings in The Bahamas over the past twenty years and are just happy to showcase our professionally produced photography and videography services to the US market," he said.
Hollis Roberts, Co-owner of Hollis Cosmetics and Spa said "the new venture was most timely for us as it provided us an opportunity to not only showcase our diverse  spa services and unique make-up line, Hollis Cosmetics, but also widen our exposure internationally, especially as we expand our offices to include Nassau and February Point in Exuma".
"Our full beauty service ranges from facials, to waxing, nail and hair care, make up and full line massages for the bride and the groom," she said.     
As a participant in the Signature Bridal Show, each registered couple were given an opportunity to win a 4 days-3 nights stay at the forty acres Abaco Beach Resort, in Marsh Harbour, Abaco.
Brent Ingraham, Sales and Marketing Director, for the Abaco Beach Resort said, "partnering with the MOT on this Signature Bridal Show was not just good for the country, it's also good for us.  After visiting our booth, the resort team is confident that couples looking for something unique and different are sure to fall in love all over again - only this time with us. Our anything but ordinary wedding packages take the hassle out of planning and when requested, our wedding planner also works with the bride and groom to customize special details". 
In addition to the Bahamian vendors that exhibited, the MOT also partnered with Delta Airlines, who provided a complimentary round-trip airfare to The Bahamas from Atlanta for one lucky couple and David's Bridal, who provided several destination wedding dresses from its 2015/2016 collection for display.
Other partners in the Signature Bridal Show promotion are: The Bahamas Out Island Promotion Board, The Grand Bahama Island Tourism Board, Old Bahama Bay, Pelican Bay and Resorts World Bimini.
The MOT's Signature Bridal Shows are scheduled to take place in ten other key markets across the United States including Florida (West Palm Beach, Fort Lauderdale and Orlando) in January 2016; Texas (Houston and Dallas) in February 2016; Philadelphia, Baltimore and Washington, DC in April; and Boston and New York in June.