Back to top
Bahamas Participation in Palm Beach International Boat Show Hailed a Resounding Success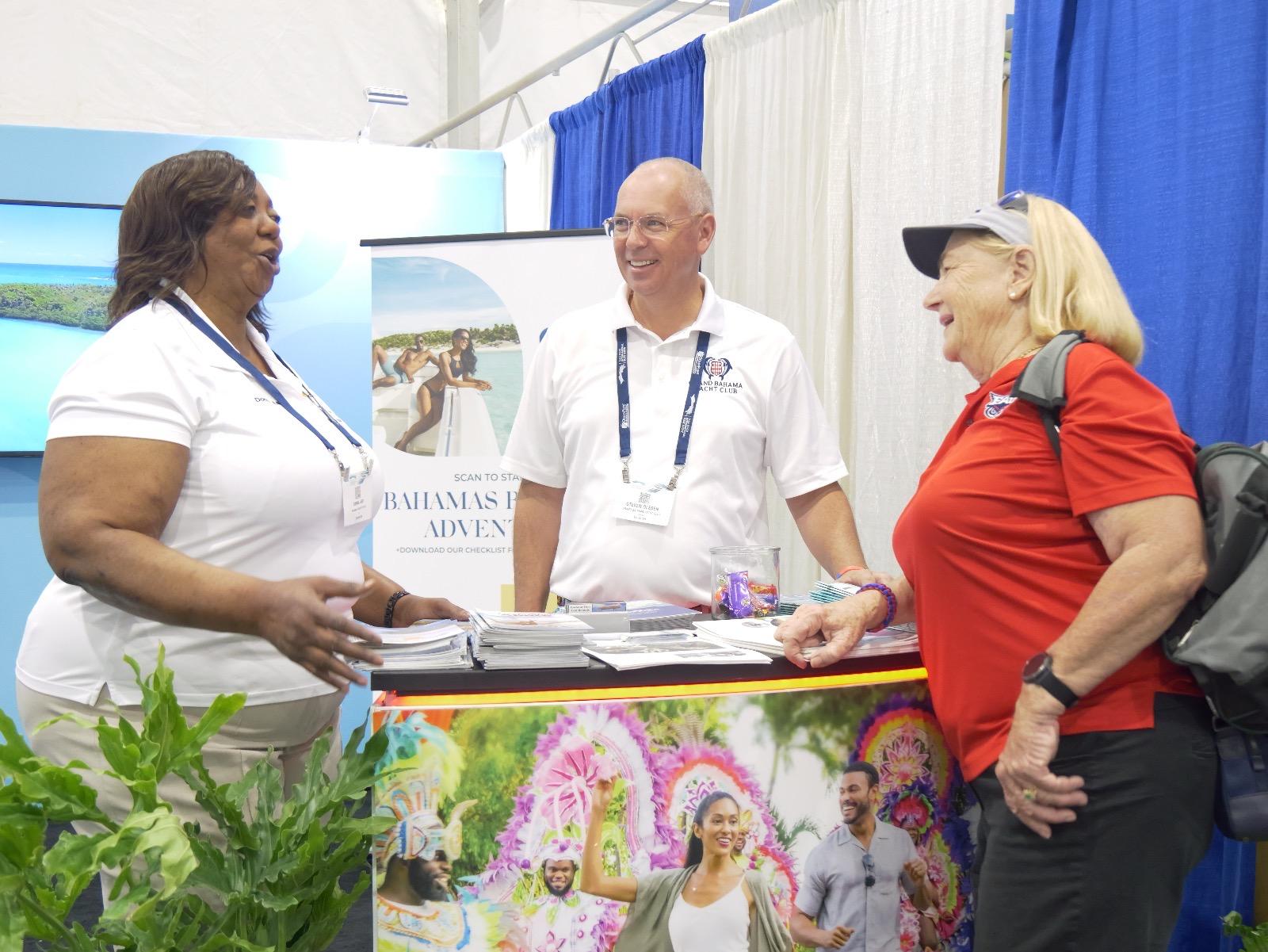 WEST PALM BEACH, Florida – 29, March 2023 – The Bahamas heightened its presence at this year's Palm Beach International Boat Show (PBIPS) through a co-branding collaboration with Worth Avenue Yachts, a world-class yacht brokerage firm specializing in the sale of luxury yachts, yacht charters and new yacht construction. This co-branding venture showcased Bahamas branding inside Worth Avenue Yachts' main tent area on their floating dock space over the four days of the 41st Palm Beach International Boat.
The prominent placement of Bahamas branding gave the Yachting Team of the Bahamas Ministry of Tourism, Investments & Aviation an unrivalled opportunity to display the unique offerings of the Bahamas's yachting sector to a large audience comprised of high net worth superyacht owners and superyacht charter operators. The Boat Show took place in downtown West Palm Beach, 23 – 26 March.
A leading event on the calendar of international boat shows, PBIBS features the latest in boating, yachting, and marine technology. This year's edition of the Boat Show attracted more than 55,000 attendees and 600 exhibiting brands. Some 600 boats were on display, ranging from 8-foot inflatables to superyachts nearly 300 feet in length.
"Each year, the Palm Beach International Boat Show presents The Bahamas with the great opportunity to showcase the allure of our island archipelago nestled in crystal blue water to the international yachting community," said the Hon. John H. W. Pinder III, Parliamentary Secretary at the BMOTIA. "This year, we've reached a new level in capturing the imagination of thousands of yachting enthusiasts."
Parliamentary Secretary Pinder added: "PBIBS also offers The Bahamas a focused opportunity to strengthen its reputation as the regional leader in yachting." "This week, we've had a series of very productive meetings, reconnecting with longstanding business partners and engaging with new partners to generate increased tourism business for The Bahamas yachting and boating sectors growing our economy at large."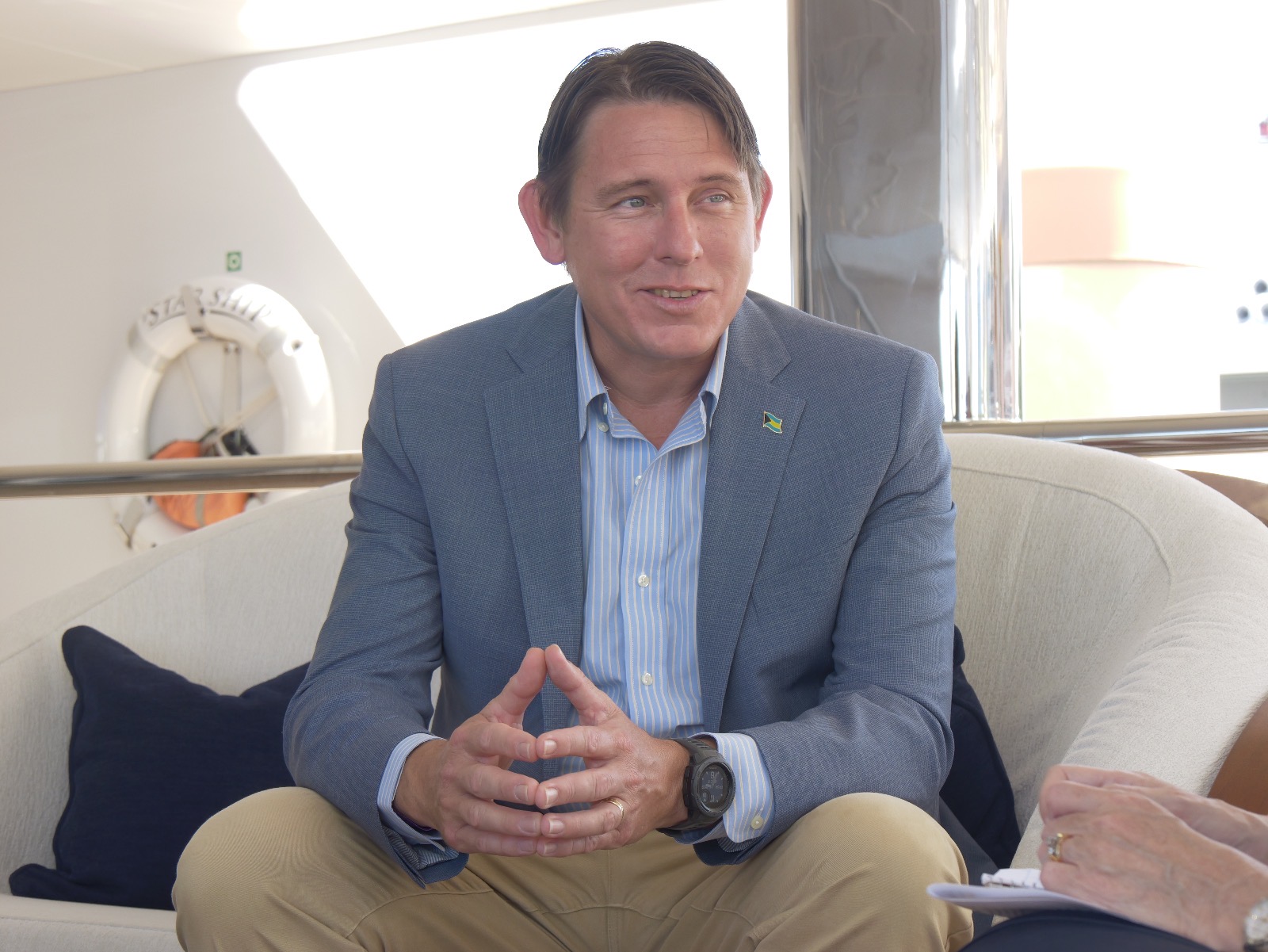 Pinder conducted meetings over two days with a number of industry partners and stakeholders. On Thursday, 23 March, he met with Eli Flint, Flexjet's President of Vertical Lift to discuss expanding private charter airlift and possible partnership with the air carrier.
He also held discussions with Michael Mahan, founder of Worth Avenue Yachts, on the new partnership with The Bahamas for this year's Palm Beach Boat Show. Later in the day, Pinder met and greeted professional athletes Kwon Alexander and Justin Hardee of the New York Jets and Duke Riley of the Miami Dolphins. The Bahamas team connected leading international event organizer Informa with these athletes to discuss off season training and second home ownership.
On Saturday, 25 March, Parliamentary Secretary Pinder engaged in meetings with IGY Marinas' senior executives, Bert Fowles, Vice President of Sales and Marketing and Ariana Hackelson, Sales and Marketing to discuss the yachting industry and The Bahamas' position in yachting and future partnership opportunities. A subsequent meeting was held with Randy Field, Vice President of Marketing of Informa to discuss the Bahamas involvement with the Palm Beach Boat Show, Fort Lauderdale International Boat Show and other opportunities to showcase The Bahamas.
Over the four days of the Palm Beach International Boat Show, staff of the Bahamas Ministry of Tourism, Investments & Aviation Yachting Department, joined by various industry partners including Odyssey, Nassau Yacht Haven and Romora Bay Club, showcased The Islands of The Bahamas as a top yachting destination, with opportunities throughout each day to interact directly with clientele visiting Worth Avenue Yacht's dock space.
Highlighting the four busy show days were two memorable gala events: Worth Avenue Yachts' Annual Private Client Event and Bahamas Night, a Bahamas themed soiree hosted by BMOTIA. Both events offered excellent networking opportunities for BMOTIA executives and industry partners to interact with clients and key players in the international yachting sector.
Boating and yachting represent one of the biggest growth sectors of the Bahamas tourism industry. The Bahamas Ministry of Tourism, Investments & Aviation annually participates in the premier international boat and yachting shows, including the Palm Beach International Boat Show, the Fort Lauderdale Boat Show and the Monaco Yacht Show.
About The Bahamas The Bahamas has over 700 islands and cays, as well as 16 unique island destinations. Located only 50 miles off the coast of Florida, it offers a quick and easy way for travellers to escape their everyday. The island nation also boasts world-class fishing, diving, boating and thousands of miles of the Earth's most spectacular beaches for families, couples and adventurers to explore. See why It's Better in The Bahamas at www.bahamas.com or on Facebook, YouTube or Instagram.
About Worth Avenue Yachts Worth Avenue Yacht was founded in 2011 by industry leaders Michael Mahan and Brian Tansey. Michael has been in the yachting industry for over 30 years, and has watched luxury yachting evolve from a niche, relatively unknown leisure industry to the global luxury yacht brokerage it is today. As the industry became more professional, more regulated, and more competitive as it matured, Michael recognized the need for a fresh and innovative approach to luxury yacht sales and charter—in fact, he believed an entirely new yacht brokerage business model was called for. For more information, please visit www.worthavenueyachts.com.
PRESS INQUIRIES

Danielle Bodie
Bahamas Ministry of Tourism, Investments & Aviation
Dbodie@bahamas.com