Bahamas Paradise Cruise Lines Brings New Offering To Nassau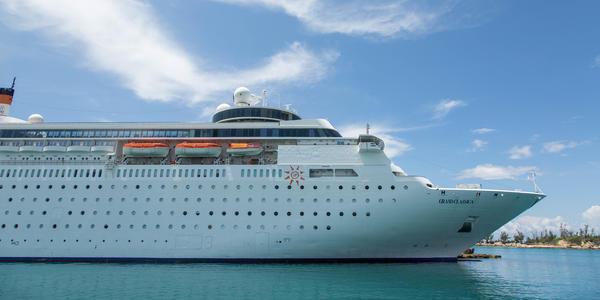 More than 250,000 stayover guests are expected to arrive in The Islands Of The Bahamas over the next year via Bahamas Paradise Cruise Lines, which recently introduced its popular cruise and stay program to Nassau.
 On October 14, the Grand Classica made its inaugural voyage to Nassau, where officials invited 200 guests to tour and experience the ship.
 The ship, which will depart from the port of West Palm Beach, is offering two packages for guests: a two-night cruise or a six-night stay in Nassau where travelers can stay at partnership resorts - the Melia Nassau Beach All-Inclusive, SLS Baha Mar or Comfort Suites Paradise Island.
 Senior Vice President of Sales for Bahamas Paradise Cruise Lines Francis Riley said the company is excited about what the cruise ship will offer.
 "We are excited about the numbers that this will drive to the hotels, restaurants and other places on the island. The unique part about this is that this will be the only destination and so they will spend time and money on this island," he said.
 Chief Executive Officer of Bahamas Paradise Cruise Lines Oneil Khosa also touted the Grand Classica as a convenient mode of transportation between West Palm Beach and Nassau.
 He added that because guests are staying over for six nights, they will also have the option to explore the Family Islands.
 "The 250,000 passengers that we are hoping to bring to Nassau will also penetrate the outer islands and so this is going to open a new chapter for those islands," he said.
 Senior Director of Cruise and Maritime Development Carla Stuart said the Bahamas Ministry of Tourism and Aviation is pleased to welcome the ship.
 "The arrival of stop-over visitors aboard this vessel now expands opportunities for those visitors to explore the Family Islands. We are certain that this new injection in the economy will be tremendous," she said.
 The Grand Classica can carry up to 1,600 guests and is dedicated to reflecting The Bahamas through its décor. 
 The ship has been traveling to Grand Bahama over the last decade. However, it added Nassau to its itinerary as Grand Bahama continues to recover from the ravages of Hurricane Dorian.
 On board are two restaurants, nine bars, two swimming pools, and four whirlpools. 
 For more information visit www.BahamasParadiseCruise.com.